Best Custom Cover Solutions for Outdoor Patios, Fire Pits, TVs, Machines, and More
Orders Over $99
10% OFF on Heavy Duty Tarps!
Max discount $50
OFFER VALID THROUGH April 1, 2019
Free Shipping on Orders Over $99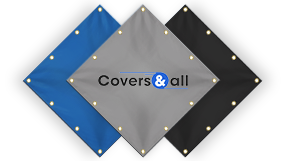 Personalized Covers from Covers and All
Need a Custom Cover?
We cover anything! Don't see the cover you need? We can create a custom cover for any size and shape. Our custom-made covers protect your belongings from harsh weather conditions and fit like a glove. We have a wide selection of fabrics and colors to suit any taste. Personalize your covers with your logo or name as well!
Click for Custom Covers
We value your trust
Our Customers Speak for Us!
Were exactly made to fit. Fast delivery, great fit, do your measurements and you will get what you order. Will order again.
-Tom W.
We just received our two made to order covers for our fire pit and our free-standing AC unit. They are very well made and I am hoping they will last a long time. Be careful with your measurements though, both of mine are a bit too long but we will ma...
-Kathleen S.
Great fit, good quality...
-ELAYNE N.
They made everything like I ordered in a timely manor and keep me informed on status. Very happy with them.
-David S.
I purchased the Memphis Grill cover sold by the manufacturer for about $150. It was light weight and flimsy and would not stay in place in a modest breeze. The company ignored my complaints so I searched online for a solution and discovered the Cover...
-Alan P.
Ordering was easy with good directions on how to measure. Covers all fit perfectly and appear to be of quality material (Ordered the upgrade "Tuff" cover). Delivery was faster than expected and free. I felt the pricing was fair considering these ...
-Mark M.
The website is easy to use, I received exactly the custom cover I ordered and it is of excellent quality and fits perfectly.
-Michael H.
I ordered a fire pit cover and it fits perfect ad it is made of a really good fabric
-Gerald T.
Happy with the ease of ordering. It came in a timely manner. Can't wait to use it.
-Kathy D.
I found this cover for our hot tub to be a great value for the money. It is well made and arrived fast to the correct specifications. Very happy with it.
-Jill M.
4.6

Overall Satisfaction Rating

Based on

2094

Rating from actual customers Read All Reviews
We Cover Anything!
Browse by Category