Grilling is an experience that brings out aromatic flavors and an irresistible appetite. These experiences outlast your grill and BBQ appliance. Cover them with grill covers to make your appliance last longer. The covers keep dirt and dust away and lend an aesthetical appeal with their vibrant hues. Therefore, measuring the grill becomes a question of protection and aesthetics. 
Knowing how to measure for a grill covers is a power that can come in handy when ordering customized covers for your grill appliance. 
Step 1: Hit the Nail on the Head with Appropriate Measuring Tools
The foremost thing to remember when measuring the grill is the tools. Measure square, round, rectangular, triangular, etc. appliances with the right set of tools. Below are the two must-have tools to measure grill covers size: 
Tape measure
Pen and a paper or mobile with a notepad
With the help of these two tools, you can get custom-sized grill covers for your precious appliance. They are available at Walmart, e-commerce sites, or any supply store. A perfectly fitted cover will shield your appliance from the weather elements from every nook and corner.
A tape measure is essential for measuring the appliance dimensions from top to bottom or left to right. The tape will be your go-to option for getting the right size cover.
A pen and paper are used for noting down the dimensions of each side. Our minds might be sharp, but it's impossible to remember the dimensions of your grill appliance as required.
Step 2: Customize the Dimensions as One Size Does Not Fit All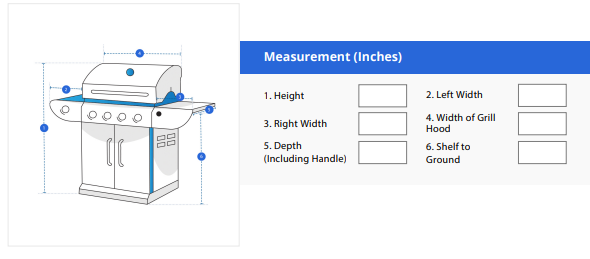 Picture this: one shoe size for all people in the world. Would it be a perfect fit? Would it make people happy and comfortable? The answer is probably not. Custom grill covers will fit your grill appliance like a glove and shield it from element damage due to exposure. 
Measure the Width: Measuring the width requires you to take the measuring tape from the left to the right corner around the periphery of your appliance. Try to read the instructions on the website for "How to Measure". It will help you get an idea about grill cover measurements.  
Measure the Height: How tall is your grill appliance? You need to measure the appliance height by noting the dimensions from the top to the ground level. If any protruding elements like a chimney or a table are attached, you need to measure the dimensions of it.  
Measure the Depth: You will need to measure the front of the grill to the back where the appliance will be installed. Measuring the depth will give you an idea of the space occupancy. Include any handles or knobs in your measurement. Use heavy-duty grill covers for appliance protection from regular wear and tear.  
Once you have your measurements, you can determine the size of the cover you need. The cover should be slightly larger than your grill to ensure a good fit.
Step 3: Customize the Size According to Shape and Accessories
Outdoor grill covers need to be customized according to the shape and accessories you get with your grill appliance. If it is a round kettle grill cover, you may need to take the diameter size and the height. 
If your grill is powered by gas, measure the size from one propane gas tank to another. Ensure the dimensions are accurate for a large grill cover because any exposure can damage your appliance irrevocably.  
For charcoal grills, you can measure the size from the center of the cooking gas. If a slate or a chimney is attached to the BBQ appliance, you may need to include them in your measurements.
A lot is at Stake if Your Grill Covers are Not the Perfect Size or Shape 
The quintessential property of custom grill covers is that they give protection from inclement weather conditions such as high UV radiation, rain, storm, winds, dust, dirt, etc.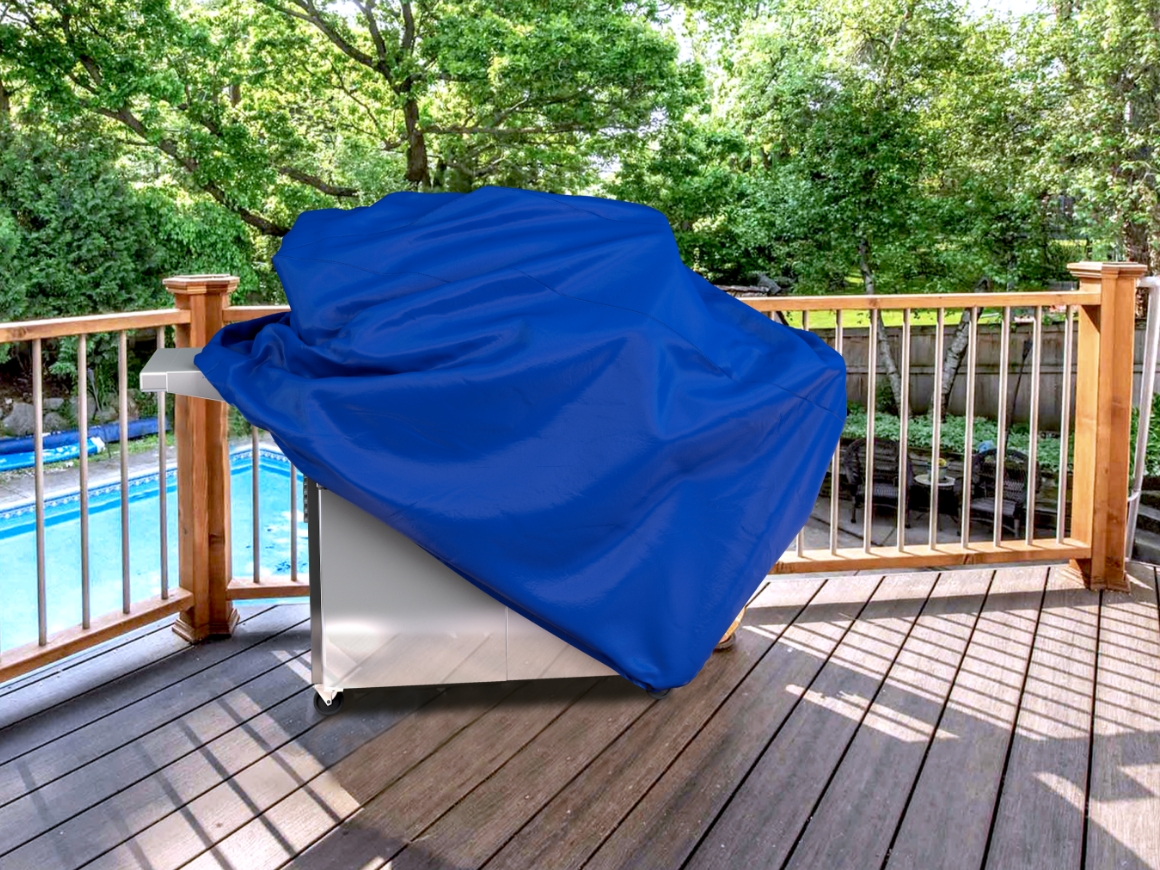 Here are some of the benefits a perfectly snug-fitted cover can provide for your appliance: 
A customized cover is designed solely according to your appliance. You can get built-in grill covers if the grill appliance is a known brand and the seller has provided exact measurements for the product to cross-check with your own. Regardless of whether you get standard-size grill covers or customized ones, they will protect your appliance from dust, dirt, debris, bird droppings, and more.  
Unpredictable rains and glaring rays of the sun are solely responsible for damaging the electronic components of your appliance. Buy waterproof grill covers that will keep the moisture at bay. UV-resistant covers are known for preserving the colors of the covers and preventing them from looking old and tattered.  
Eliminate heat discrepancies by using a cover on your grill. A perfectly fitted cover will ensure uniform temperature distribution while retaining crucial heat for evenly cooking meat and vegetables.  
Covers are easier to maintain than uncovered appliances. The cover may have to be washed regularly, but an exposed appliance will need to be cleaned thoroughly every time you need to use it. A clean, well-maintained grill can improve the overall appearance of your outdoor space. 
Some tear and abrasion-resistant covers are known to prevent scratch marks and frays. Prevention of such marks can prolong the shelf life of your appliance as they would be safe from getting visible marks or dents on them.  
There are several benefits of using a custom bbq cover as you can see from the list above. Your appliance will be ready for use every time you have sheathed it with the covers. 
Uncovered appliances are hard to use as they may get rusted due to exposure to outdoor elements. Rust can be difficult to remove and can damage the heating element of your appliance.
Measuring the grill cover would be essential to conquering your weather woes. You can get them in different colors and patterns to give an aesthetical touch to your outdoor/indoor space. Choose a classic black, gray, or white, or you can opt for delightful shades such as vivacious red, pink, blue, and purple.