Your outdoor couch is the epitome of relaxation and comfort, but without proper upkeep, its appeal can fade away over time. That's where outdoor couch covers come to the rescue! Not only do they protect your cherished couch from the elements, but they also add a touch of style to your outdoor living space. To ensure your outdoor furniture covers stay shipshape and preserve the aesthetics of your outdoor seating area, we've compiled six simple yet effective maintenance tips. So, let's dive right in and unveil the secret to everlasting elegance! 
1. Sparkling Surfaces with Regular Cleaning
Just like any other outdoor furniture, couch covers need regular cleaning to keep them free from dirt, dust, and stains. The best way to start is by giving them a good shake to remove loose debris. Next, use a soft-bristled brush or a cloth to gently wipe away any remaining dirt.  
For deeper cleaning, follow the manufacturer's instructions, as they may vary based on the cover's material. However, if there is no specific instruction provided with the cover and you want to give your beloved sofa a good refreshment, embracing a gentle approach is the ultimate key.
Start by moistening a soft towel or sponge to blot the afflicted area while using a moderate soap solution. This process will aid in restoring the lustrous sheen. Once cleaned, allow the covers to air dry completely before putting them back on your outdoor couch.
In the quest for an extra sparkle, a mild cleaner will do the job, but first, exercise caution! If you want to use the cleaner, it would be best to test on an inconspicuous spot. Avoid using harsh chemicals or abrasive materials, as they can wreak havoc the fabric, leaving undesirable discolorations on your cherished sofa covers. 
2. Cozy Cocoon: Ensuring Your Sofa Slipcovers' Safety during Harsh Weather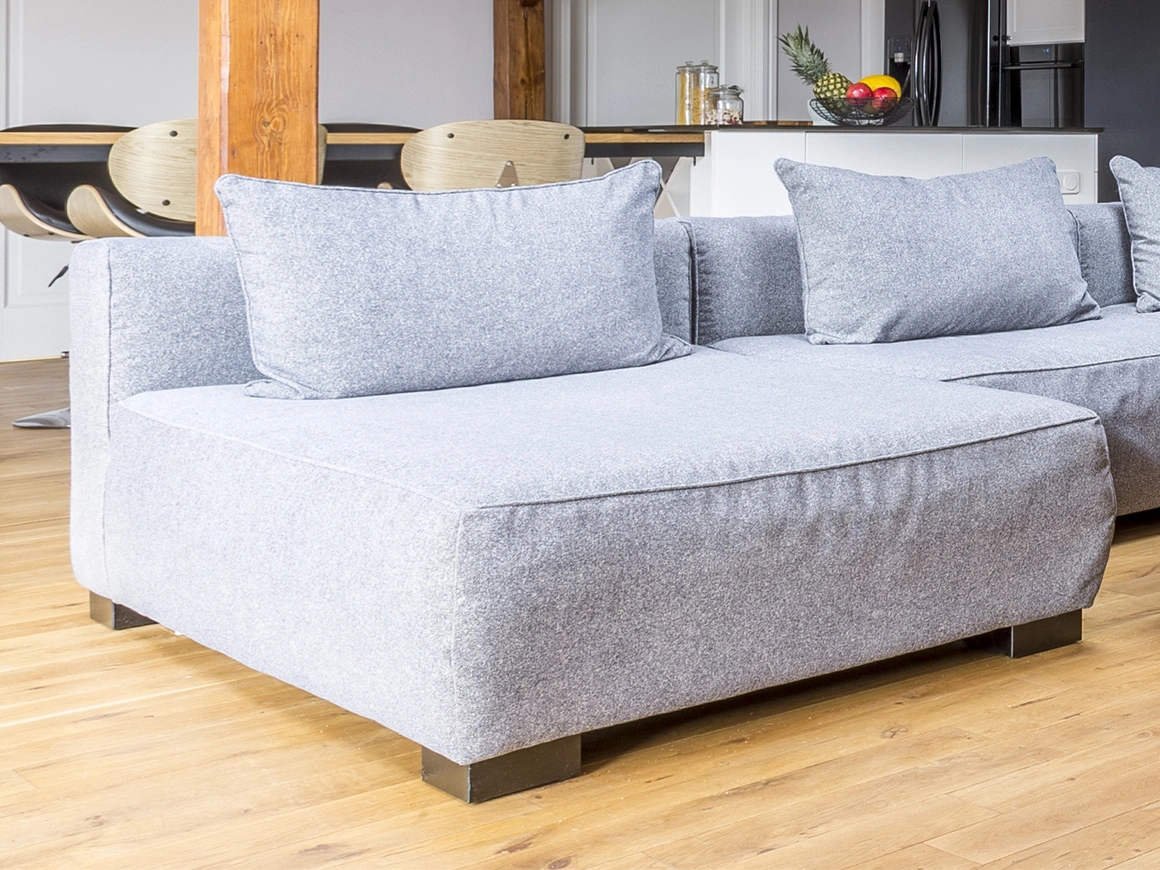 Even while couch protectors are made to endure the elements, they can still use additional protection when the weather is really bad. Consider temporarily storing the covers indoors if you anticipate a strong storm or a period of heavy rain. This little procedure can shield the waterproof couch covers from wind damage that could cause tears or scratches as well as potential damage from water pooling on them.  
For a more convenient option, invest in weather-resistant storage bags or containers specifically designed for outdoor furniture covers. The storage bags will keep the covers dry and safe during harsh weather conditions to ensure their longevity and optimal performance. Apart from safeguarding the covers they also keep them organized and readily available when needed. 
3. Know the Power of Periodic Checks & Expert Repairs
Regularly inspect your outdoor couch covers for signs of wear and tear. Check for loose seams, snags, or small holes that might lead to larger problems if left unattended. Addressing these minor issues early on can save you from the hassle of dealing with more extensive damage later. 
For small tears or holes, you can use patch kits that are readily available at most home improvement stores. Simply follow the instructions provided to mend the affected areas carefully. For more significant damage, consider reaching out to professional furniture repair services to ensure the best results.
By emphasizing the importance of conducting routine inspections of outdoor furniture covers and immediately fixing any damage, you can prolong your cover's lifespan to manifold.
4. Fade-Proof Your Style
While outdoor couch covers are designed to resist fading from sunlight, consistent exposure to harsh UV rays can eventually take a toll on even the most durable materials. To protect your covers from fading, consider using UV protectant sprays or fabric treatments. These products create a protective barrier that helps shield the covers from harmful sun rays, preserving their vibrant colors and overall appearance.
Additionally, arranging your outdoor seating area under shade or investing in an umbrella can significantly reduce direct sunlight exposure. This will benefit both the sofa slipcovers and the furniture underneath. 
Pro Tip: Use expert recommended fabric protectants to keep outdoor furniture covers looking new and vibrant. 
5. From Dull to Dazzling: Elevate Your Style with Seasonal Deep Cleaning
At the end of each outdoor season, give your sectional couch covers some extra TLC by performing a thorough deep cleaning. This step is particularly crucial before storing the covers for the winter months or during periods of low usage. Follow the manufacturer's guidelines for washing or dry cleaning the covers. 
Before packing them away, ensure they are completely dry and free from any moisture, as dampness can lead to mold and mildew growth. Storing clean and dry covers will not only protect them from potential damage but also make it easier to get your outdoor space ready when the next season arrives.
6. Always Have Well-Fitted Couch Covers & Outdoor Cushion Covers
A well-fitted couch cover instantly transforms your living space, adding style and protection to your beloved furniture. Its snug fit and high-quality fabric ensure a perfect blend of comfort and elegance. If you have a regular-fitting couch, then you can simply opt for standard size couch covers. If you have a unique sized couch, then you can opt for custom couch covers that will provide complete coverage, protecting your couch for a long time. You can also get these couch covers for sale especially during festivities. Companies run various attractive offers during the period wherein you can grab the opportunity to enjoy a discounted price. 
By incorporating these simple yet effective maintenance tips into your outdoor furniture care routine, you can ensure that your couch covers remain stylish, durable, and inviting throughout the years. Regular cleaning, protective storage, timely repairs, UV protection, and seasonal deep cleaning are the keys to preserving the beauty and functionality of your outdoor couch covers. If you adopt these habits, you'll be able to unwind on your outdoor couch for many more seasons to come.