If you're looking to protect your outdoor table from the harsh elements of nature, investing in the right table covers is crucial. With so many options available, choosing the right one can be overwhelming. In this article, we'll go over some key factors to consider when choosing the right table cover for your outdoor table.
What Features Should I Look for in Outdoor Table Covers?
Before anything else, let us quickly know what features you must keep in mind when looking for some outdoor table cover. Here are some of the critical features to look for: 
Material: The material of your table cover is crucial in determining how well it protects your table. A high-quality cover material should be weather-resistant, water-resistant, and UV-resistant to ensure maximum protection against all the elements. If you opt for a material that is not resistant to weather, water, or UV rays, the cover might not be effective in protecting your table from damage and wear.
Size & Shape: Your table cover should be an appropriate size and shape to ensure complete coverage and adequate protection. Measuring your table correctly is essential to ensure that you get the right cover size and shape. The table cover should be slightly larger than your table to accommodate any extra items or features on the table.
You should also look for custom table covers options as they reduce the worry of fit, you just give your dimensions, and get the fitted table cover for you. You get the option to choose from square table covers, rectangle table covers and round table covers depending upon the style that you prefer.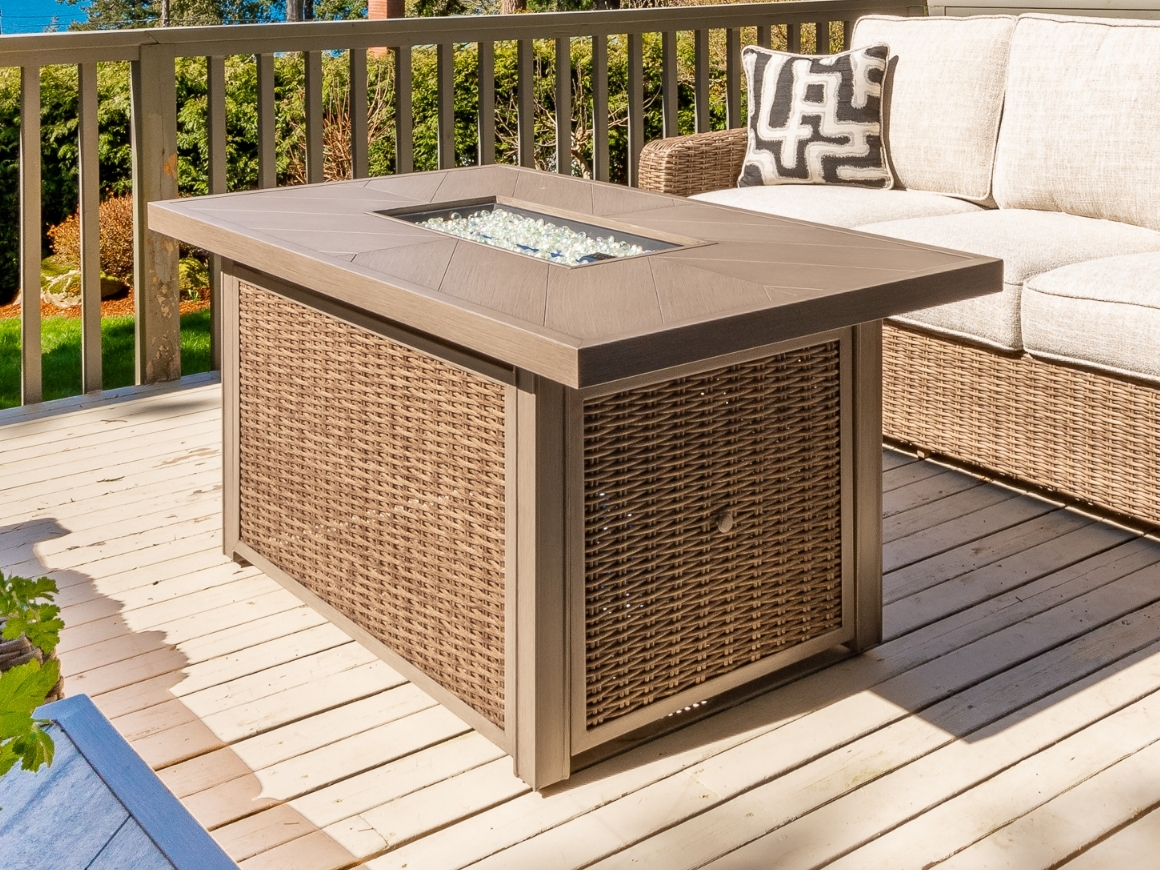 Adjustable Straps or Ties: To prevent your table protectors from blowing away on windy days, look for covers that come with adjustable straps or ties. These will help you ensure that the cover fits snugly around your table, protecting it from the elements and preventing damage.
Breathability: A breathable table cover is an essential feature to look for, as it helps prevent the buildup of moisture and mold. This is especially important if you live in a humid or damp area. Breathable covers allow air to circulate, keeping your table dry and clean, and preventing any unpleasant odors.
Soft Inner Lining: A table cover with a soft inner lining helps prevent scratches and other damage to your table's surface. This is particularly important if you have a delicate or sensitive table surface that can easily get damaged by rough cover materials.
Ease of Cleaning and Storage: The ease of cleaning and storage is an important factor to consider when choosing a heavy-duty table cover. Choose a material that is easy to clean and maintain, and a cover that can be easily folded or rolled up for storage when not in use. A cover that requires minimal storage space will make your life easier and ensure that your table is always well-protected.
By considering these features, you can select a patio table cover that offers optimal protection and convenience, ensuring that your table remains in pristine condition for years to come.
What Materials Suit Best with Custom Table Covers?
The best material for a table cover will depend on the intended use of the table and personal preferences. Some popular materials for table covers include:
Cotton: Cotton is a soft, natural fabric that is easy to wash and maintain. It is available in a variety of colors and patterns and is suitable for casual dining.
Linen: Linen is a more formal fabric that is known for its natural texture and elegant drape. It is often used for special occasions and formal dining.
Polyester: Polyester is a synthetic material that is durable, easy to clean, and affordable. It is often used for outdoor dining or in busy households where spills are common.
Vinyl: Vinyl is a plastic material that is waterproof and easy to clean. It is often used for outdoor dining or in households with young children.
Ultimately, the best material for a table cover will depend on your specific needs and preferences. Consider factors such as durability, ease of maintenance, and style when selecting a material for your table cover.
What Type of Protection Does a Fitted Table Cover Need?
When it comes to protecting your outdoor furniture, an outdoor table cover is an essential accessory. But not all covers are created equal, and finding the right type of protection for your table requires careful consideration.
Firstly, you need to think about the environment your table will be exposed to. If your table is situated in an area with direct sunlight, it's essential to choose a cover with a high UV rating to protect against fading and brittleness caused by prolonged sun exposure.
For furniture located near water features, pools, or areas with frequent rainfall, a waterproof cover is crucial to prevent the wood from swelling and rotting. A cover that is too thin or porous will only trap moisture, leading to the growth of mold and mildew.
Protecting your furniture from animal droppings, insects, and tree sap is equally important. Look for covers with a tight weave and minimal mesh to prevent these materials from leaking onto your furniture, causing damage to the finish and paint.
Unfinished materials such as raw wood and some metals require additional protection to prevent damage caused by exposure to the elements. Apply a waterproof stain to wood and powder coat metal frames to prevent corrosion.
For glass-topped tables, a padded cover is necessary to protect against chips and cracks caused by falling sticks or rocks.
The type of protection your table cover needs will depend on various factors, including the environment, the materials used to make your furniture, and the type of damage you're looking to prevent. With the right cover, you can keep your outdoor furniture looking new and extend its lifespan, ensuring you can enjoy it for years to come.
How to Measure your Table Protectors?
Measure the length and width of your table at its widest point.
Add a few inches to the length and width measurements to ensure a proper fit.
Choose a cover that is slightly larger than your table to ensure complete coverage.
If your table is irregularly shaped, take measurements of each section separately and add them together to get the total dimensions.
Keep in mind the thickness of the table when selecting a cover.
Consider the drop length you want for the cover. A standard drop length is about 6-12 inches, but you can opt for a longer drop length for a more elegant look
By following these simple pointers, you can ensure that you measure your table correctly and choose a cover that fits snugly and provides complete coverage.
We have, you got a better idea on choosing the right table covers. So, all that you to do is, consider factors such as material, size and shape, adjustable straps or ties, breathability, soft inner lining, and ease of cleaning and storage. Also, the material you choose for your table cover should depend on your specific needs and preferences. You should also consider the type of protection your table needs based on the environment, materials used to make your furniture, and the type of damage you're looking to prevent. By following these guidelines, you can select the right table cover that offers optimal protection and convenience.