With Summer in full swing, it's time for delicious cookouts, unwinding evening hangouts and patio makeover! To get your patio summer ready without breaking the bank, nothing beats Patio Cushion Covers!
Whether you're looking to add some color and pattern to your patio furniture or simply want to protect your cushions from the elements, choosing the right covers is crucial. Perfect cushion covers are not only the prerequisite for comfortable seating, but they help jazz up your space and make it look more inviting and cozier.
From material to size, a thoughtful selection of cushion covers can only elevate your patio style while ushering in comfort. So, check out these tips and choose the perfect patio cushion covers for your outdoor space to make the most of them.
Consider Local Weather & Climate
When it comes to choosing the perfect cushion covers for your outdoor furniture, taking the weather and climate into consideration is key. If you live in an area with unpredictable weather, it's essential to select a cushion cover that can withstand both rain and sun, and still look great after years of usage. Invest in outdoor cushion covers that are durable and weather-resistant yet comfortable and affordable.
Go for cushion covers that are specifically designed for outdoor use and ensure they last season after season. Not only should they withstand the elements: rain, water and sunshine, but stay safe from fading, tearing and mold and mildew growth. So, opt for high-quality, weather-resistant cushion covers to enjoy your outdoor furniture worry-free – without the need for frequent replacements.
Look for Durable Outdoor Cushion Cover Fabric 
If you need cushion covers that can really pay off in the long run, quality fabric is the cue! Since outdoor cushion covers and outdoor pillow covers run the chance of degradation at the hand of inclement weather, rain, dust, and UV rays can hamper the cushion's look and fiber quality. So, pick weatherproof fabrics that can bear uncertain weather without costing you a fortune. Here are a few durable fabric options that serve the best for outdoor usage: 
#1. Polyester
When it comes to versatility, durability and weather-resistance, polyester is an unbeatable choice. Unlike the itchy polyester from former days, this modern variant is super soft and stylish – perfect for outdoor cushion covers.
Moreover, its resistance to stretching and scratches makes it less susceptible to regular wear and tear. Thus, ensuring long-lasting usage. Its durability also lies in its resistance to mold growth – common cause of staining, rotting, and unsightly ambience. 
#2. Cotton Canvas
If looking for breathability and comfort, cotton canvas is not to be sneezed at. It's a versatile fabric that is highly durable and resistant to wear and tear. With its woven texture, it facilitates easy airflow and makes for a good fabric option for hot and humid climates where mold and mildew can be an issue.
Since it can be dyed easily, you get a plethora of colors, prints and patterns to choose from. You can dye it as per the matching schema to add a unique touch to your outdoor space. Plus, it's a practical choice when it comes to convenient cleaning and maintenance. For lasting outdoor usage, select heavy duty cotton canvas that is specifically designed to bear nature's brunt, resists water, and doesn't fade in direct sunlight.  
#3. Olefin
Olefin is an increasingly popular choice in the outdoor furniture industry for a reason! Not only can it survive the uncertain showers, snow and sun, it stays immune to fading and mildew growth. Its versatility lies in quick drying properties, which makes it resistant to spills or stains. It's an excellent option for homeowners and decorators who live in areas which receive frequent rain.
The combination of durability, resistance to elements, easy maintenance and recyclability adds to its popularity and makes it a lucrative fabric choice for custom cushion cover.
#4. T-Spun Polyester
Twice as durable as cotton or polyester-cotton blends, T-spun polyester lasts for years. It's best for homes with children and pets. It is highly resistant to mildew and abrasions, and protects against dust, stains and fading. Perfect to be used as outdoor cushion covers, the fabric can endure wear and tear due to elements. Plus, it's easy to clean and maintain. 
#5. Acrylic
Easy to style and design, acrylic is a fabric for varied weather conditions. Whether wet, humid or arid, this lightweight and easy to care for material hangs tough. Not only is it resistant to wrinkles, fading, and mildew growth, but also resists stains. It can be treated with water and stain repellent to ensure it stays looking its best season round season.
Unlike some other fabrics, acrylic will not fade or degrade in the sun, so it is ideal for bright and sunny climates. Dye it in a wide range of colors and patterns or make it look and feel like cotton, linen, or wool – this material is versatile in terms of design. Grab an acrylic cushion cover and design it the way it fits your personal style and complements your outdoor decor.
Find the Right Size & Shape
The right size and shape of patio furniture cushion cover is crucial for maximum comfort and style. Therefore, measuring the cushions with cushion inserts before making the purchase is essential. Because a little extra attention to detail can go a long way in enhancing the look and feel of your outdoor space. 
Instead of sizing the furniture, measure the existing cushion insert, as your old covers may have stretched over time. This will help ensure your new cushions fit perfectly on your patio furniture and provide maximum comfort for you and your guests. For a perfect fit, choose a custom size cushion cover.
Additionally, the shape of the waterproof cushion cover is just as important as its size. From square to round, rectangular to trapezoidal, the options are endless. Matching the shape of your cushion cover to the shape of your furniture will provide a seamless look and feel, as well as increase comfort by ensuring the cushion fills the entire space.
Select the Suitable Colors & Patterns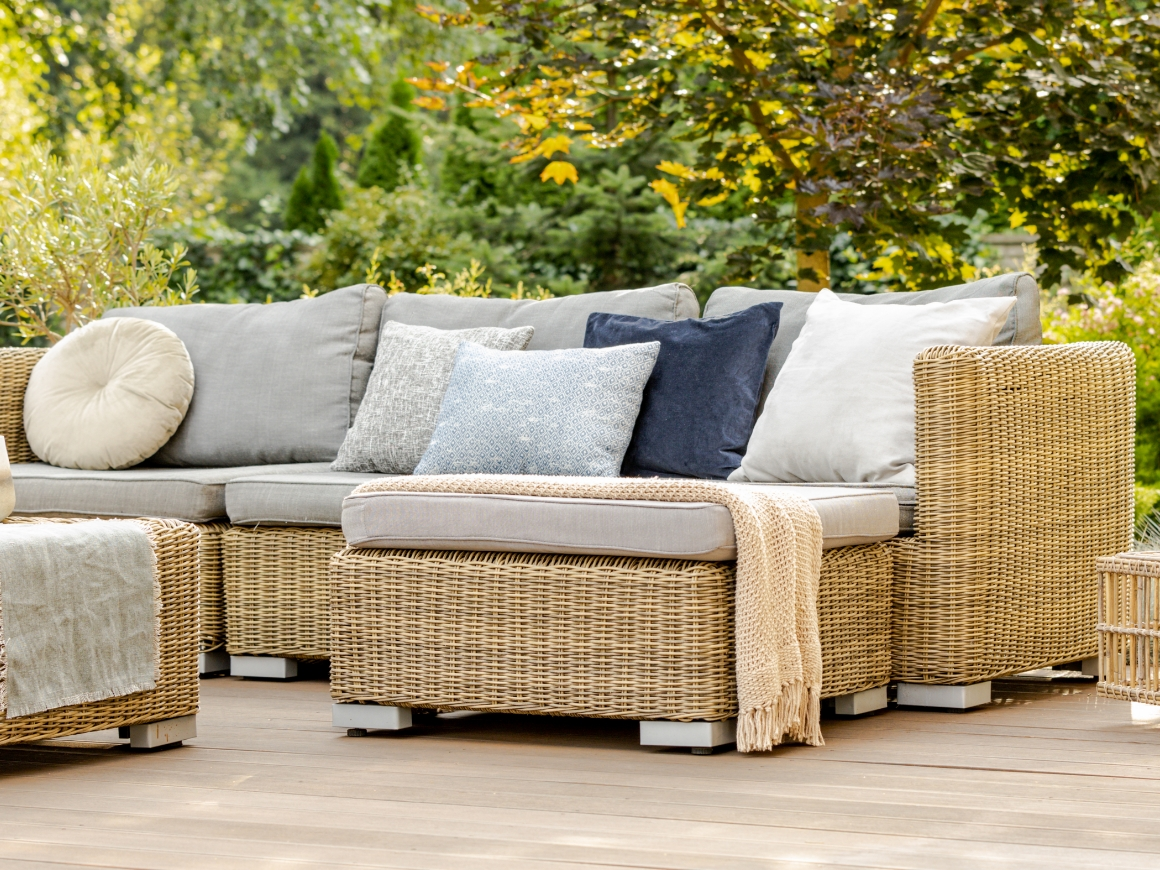 Creating the perfect outdoor living space is all about striking the right balance of style, comfort and functionality. Outdoor cushions are a great way to inject some personality into your outdoor décor. But this can only be achieved with perfect harmony of colors and patterns that look synchronized rather than overwhelming.
But this doesn't mean that you can't play with different colors and patterns. Mix and max to create a unique and inviting ambience. Whether you opt for bold, bright hues or muted, earthy tones, the right cushion covers can make a big difference in the overall look and feel of your outdoor space.
While selecting hues, remember to consider factors like the color of your furniture and any existing plants or décor. This will help you choose the right color palette and patterns that complement your surroundings. Here are some of the choices:
Primary Colors: Red, yellow, and blue colors will look excellent when one hue dominates cushion shade, while the other two remain as accent colors. 
Analogous Colors: Colors like greenish-blue, green, and blue are side-by-side shades that make attractive color combinations for your open space. 
Earth Tones: Brown, grey, and tans give a calm experience. Teal or bright orange colors give visual interest. 
Add Texture
Add texture to your outdoor space to create a sense of warmth and coziness. By mixing fabrics and using cushions with interesting details, you can create a space that is visually engaging and inviting. Mix and match different fabrics such as linen, jute, velvet, acrylic, and use cushions with similar tones but contrasting details or patterns to endow a unique and inviting ambience to your place. Here are some tips for inspiration:
Colorful Patchwork: Bring cheer to your space by incorporating colorful patchwork cushion covers. Spread cushions in bright color combinations over a neutral couch to brighten it up.
Monochrome Look: Looking for a way to add some style and sophistication to your living space without overwhelming it with color? Go for black and white monochrome cushion covers. Pair up rough and earthy black texture on a smooth white cover. Don't forget to experiment with different shapes to add some texture and interest to your home.
Funky & Eclectic Design: Funky and eclectic cushion covers are a fun and creative way to express your unique style and personality. From animal prints to abstract patterns, you can add a touch of whimsy and playfulness to your living space.
Choose the Cushion Edges
Cushion edges play a significant role in the overall look and feel of a cushion. It can elevate the look of your cushions and help tie the overall design scheme together. The choice of cushion edge largely depends on the design style and personal preference. Here are a variety of the edge designs you can go for: 
Box Edge: Made from three pieces of fabric and lined with welts or piping, this type of edges have a flat and shallow box-like shape. They are great for larger outdoor chair cushion covers, and bench seats but not for smaller seating or throw pillows.
Knife Edge: A simple, clean design with a straight edge perfect for minimalist design. It creates a rounded corner and a slightly flatter cushion, making them ideal for smaller spaces. These cushions are commonly used for chairs, lounges, throw pillows and sectional cushion covers. 
French Edge: Offering a clean, box-like appearance without additional welts or piping, French edges are a great option for chairs and lounges with added comfort. 
Select Outdoor Cushion Covers with Secure Closures
For hassle-free usage and regular maintenance, invest in outdoor cushion covers with zippers or sturdy tie-downs. The zipper closure not only facilitates easy placement and removal but endows your cushions with an impeccable tidy appearance. You can even go for tie-downs in different hues to give your cushions and patio seating a playful touch.
Easy Maintenance
To make the most of your outdoor cushion covers, their regular protection is crucial, even if your outdoor area is covered.
For an extra layer of protection, consider using water repellent fabric protector on cushions that are just water-repellent. 
To hasten the drying process after rain, prop up your cushions on their sides when not in use for the season.  
Place cushion covers in a cool, shady place to protect from harmful UV rays.