When summers sneak up with balmy mornings and chilly evenings, it's time to uncover your fire pit covers and enjoy the rekindling fire with your friends and family. Fire pits are a great way to extend your outdoor usage whilst exuding class and elegance. Keep it as a focal point and see how it turns your outdoor space into an oasis of serenity. But everything comes at a cost.  
The flying debris, dust, harsh UV rays, snow, rainfall, and moisture, are certainly the uninvited guests that can build over time and taint your brand-new fire pit instantly. Letting that warm glow gleaming so you can have your outdoor fun going depends on your pit's performance. To keep the fire ignited, we have shortlisted some helpful tips on how to take care of a fire pit.
1. Begin with Sanding
Sanding soaks up the heat and distributes it evenly throughout the fire pit. Offering an effective heat shield, sanding protects the metal bowl from intense heat. It is easy to install and safe to use. The only issue you might encounter is the long and tedious procedure.
2. Clean it Up!
Whether you have a wood-burning fire pit, metal fire pit, masonry fire pit, or gas-fueled one, every pit uses different cleaning methods. The right method will elongate the performance.
Gas Fire Pits/ Gas Burners: Gas fire pits are easy to clean just like grills. Simply remove the leaves, twigs, or any debris pieces from the glass or stone and you are done. Check for gas and its pressure and ensure that the vents are clear for the best protection.
Metal Pit: For metal pits use about ¼ cup of washing soda or soap and hot water. Remove the dust and debris inside out, and then start rinsing the fire pit thoroughly with clean water at the end and let it dry completely to prevent moisture.
Masonry Pit: For masonry pit cleaning, we would suggest giving a good scrub with a mixture of ½ cup of dishwashing liquid and hot water with a bristled brush, paver cleanser, or pressure washer. Upon cleaning, coat the pit to prevent staining.
For other kinds of fire pits, use a similar method to clean them comprehensively. Don't forget to give a complete bath to the grates as they also tend to accumulate grease, dust, and debris.
3. Cover the Fire Pit When Not in Use
Rust and moisture are the biggest enemies of your pristine firepit. If any kind of moisture gets trapped inside the firepit, it can lead to bacteria breeding and rusting the equipment, and leaving the furniture in shabby condition. So, the first plan of action should be to sheath your equipment when not in use. These fire pit protectors will safeguard the equipment from inclement weather conditions and rust. Moreover, it will reduce your cleaning time in the future.  
If rain and snow are your daily or often visitors, then ideally you should use only waterproof fire pit covers. As these covers will not only beat the downpours and harsh UV rays but will also keep the furniture clean and dry for long periods. However, we will recommend buying fire pit covers that are available with reliable tie-downs for fastening them firmly, especially on windy days. 
Not just the fire pit, but grills too need a safety grill cover. And likewise, other outdoor furniture also needs a sturdy cover to enhance their performance.  
4. Choose Correct Sized Outdoor Fire Pit Cover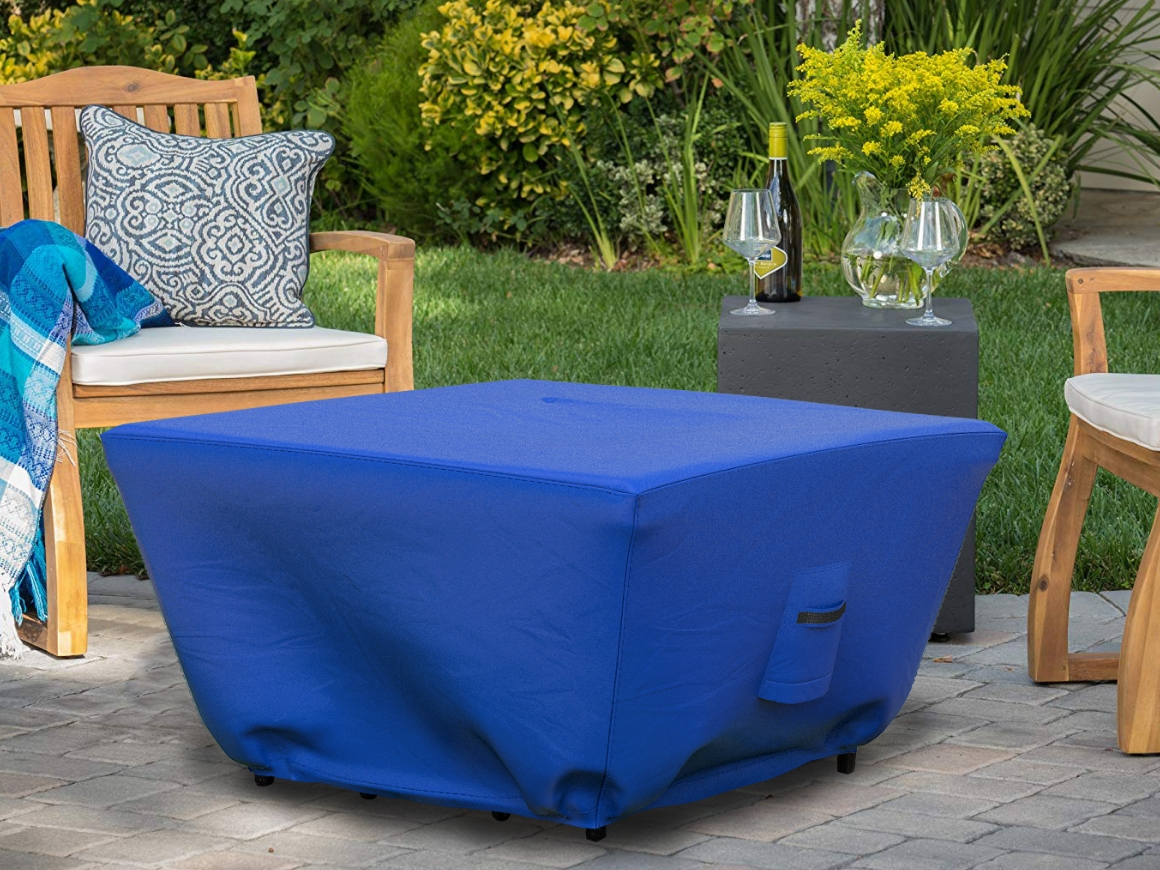 It might seem an unimportant attribute, but a correct-sized cover can take your fire pit protection game to a whole new level. Be it a large-size or small-sized pit, picking the correct size cover is crucial. Covers not only prevent debris, fallen leaves, water, and dust from entering but also offer an aesthetic appeal.
From large fire pit covers to small fire pit covers, you can choose the most appropriate one that fits your fire pit accurately. These covers also come in different shapes such as square fire pit covers, triangle fire pit covers, and many more shapes to offer you a myriad of options. Even if you have a custom-made fire pit, companies provide the option of tailor-made covers as well. 
5. Let the Fire Stop Naturally
If you forcibly extinguish the burning fire directly, it can possibly damage its' structural integrity leaving it warped or cracked. It's always preferable to let the flame die out naturally for longing the fire pit's life.
6. Never Use Accelerants
We know you are wanting your fire pit to ignite asap but using accelerants can be hazardous to your health. It can cause unbearable fire and smoke. It's better to use small bits of tinder to incite the flames.
7. Pull Out Ash After Use
Fire pits are meant to last longer but overlooking small things such as wood remains can reduce their lifeline. Plus, they are acidic in nature which is enough to destroy the pit. It's critical to remove ash after the fire cools down.
8. Use Caution When Disposing of Waste in Your Fire Pit
Never burn plastic or any other type of waste in or near your fire pit. When plastic melts, it can release toxic fumes and chemicals that pose a danger to both you and your fire pit. Furthermore, melted plastic can become sticky and difficult to remove, making it best to avoid burning it altogether.
9. Protecting Your Fire Pit from Heat Damage
Metal fire pits are often painted black to prevent discoloration. However, exposure to heat and burning wood will inevitably lead to discoloration and rust over time. To maintain a sleek appearance, it is recommended to touch up your fire pit periodically and conceal any rust spots that may have formed. If you are using a masonry fire pit, you can apply a spray coating to the interior that can withstand temperatures up to 600-650°C. This will help to safeguard your fire pit from heat damage and extend its lifespan.
By following these tips and choosing the best fire pit covers, you can double your fire pit's protection, lifespan, and performance for years.