Extending your exteriors, pergolas add a focal point to your abode entrance. Their charming structure adds a sense of privacy and shade to your patio. The partial open-top roof disrupts the intense sunlight, letting the cool breeze pass through. Whether you want to create a welcoming outdoor living space or block the sun, a pergola with lush green perennials or climbers acts as a splendid entryway.
Some prefer open spaces, while some like to add more shade to their yard for utmost privacy. So, without much ado let's find some fantastic pergola roof cover ideas to create a relaxing outdoor oasis.
Get Non-Retractable Pergola Awnings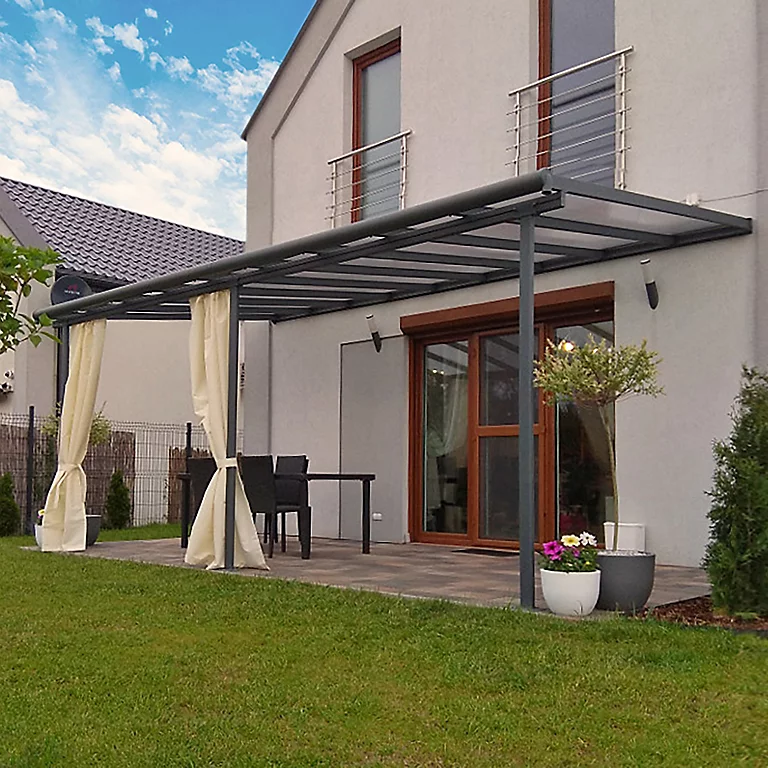 Summers can't go sans an amazing outdoor cookout session. While the pergola provides some shade, it isn't conducive when the sun is overhead, or a sudden rainfall/gusty wind knocks on your door. If you live in a region where downpours and snowstorms are constant, an awning can act as a perfect pergola shade cover.
Apart from covering the structure, a wide awning will make for an excellent canvas to experiment with some creative yet waterproof pergola roof ideas. Just fasten them to the columns and beams and you have a modish shade right in place!
Pro-Tip: Don't get overwhelmed by myriad options as to where to buy pergola covers, how to find the exact dimension of your space and so on! Look for what you exactly need as per your geographical location and requirements, measure your space, and voila! You are just a step ahead of extravagant outdoor decor.
Choose Retractable Pergola Roof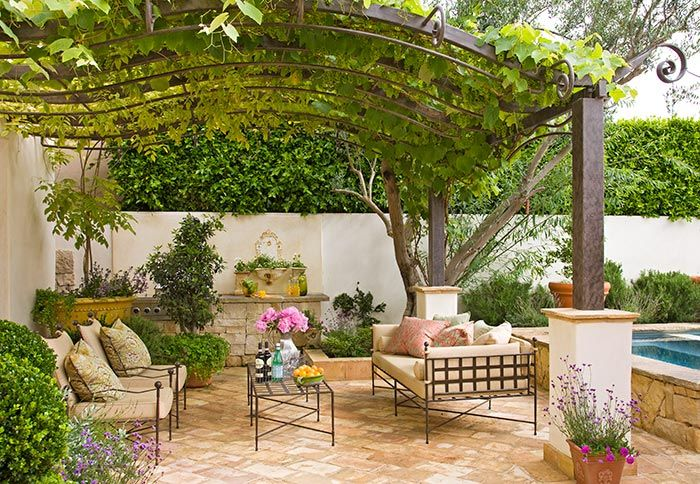 Your pergola roof does not need to block the sun permanently. Rather a retractable pergola roof/canopy allows the sun to peek through your awning whenever you wish to. Unlike non-retractable awnings, a retractable roof is a more permanent structure but with a slight twist. Their fabric can be retracted to enjoy the outside view. Aren't they quite a fascinating solution for a lavish extended outdoor?
Add Curtains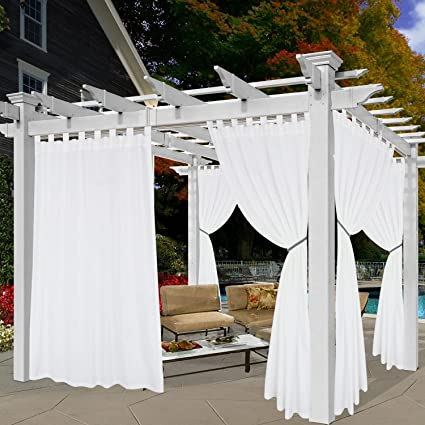 Building your little nook outdoors gives you the chance to take a nap, read books, or even spend quality time with your loved ones. If you feel that your pergola roof is not enough to provide you with much-needed privacy. Well, adding outdoor curtains can do the job! Rendering an exuberating beach vibe, they are easy to tie when you wish to let in more natural light.
Bamboo/Wood Awning
If you are a nature lover but time constraint has ceased you from upkeeping your plants regularly, then what's a better way than installing a bamboo pergola awning to bring in that much-needed greenery? Bamboo gives your structure a natural and rustic appearance without having to keep plants. Just sprawl them over the pergola roof and you have shade with warm natural light peeking right through each bamboo stick.
For that perfect whimsical outdoors ready for morning coffee and alfresco dinners, furnish your furniture with some rust-colored pillows & cushions. You may even go for matching patio furniture covers for a more harmonized look.
Go Green
Greenery? Yes, please! From flowering vines like Trumpet Vines and Chinese Wisteria to creepers such as Ivy and arching plants like Honeysuckle, create a surreal lush green scene. When arranged along your pergola, they help transform your patio into a mystical landscape. Their heavenly fragrance and striking gander add to the enchanting outdoors.
Pick Solar Shades
A solar shade sail on your pergola is a perfect way to turn your patio into a summer hangout spot. They provide excellent coverage and protection from the sun and come in various shapes and colors. Available in multifaceted options, a solar shade is a convenient solution when you love experimenting with your yard's aesthetics often.
Pro-Tip: For a modern yet functional approach, go for a waterproof pergola shade idea. It offers an unrivalled comfort that effectively blocks sun and rain.
Louvered Roof – A Modern Variation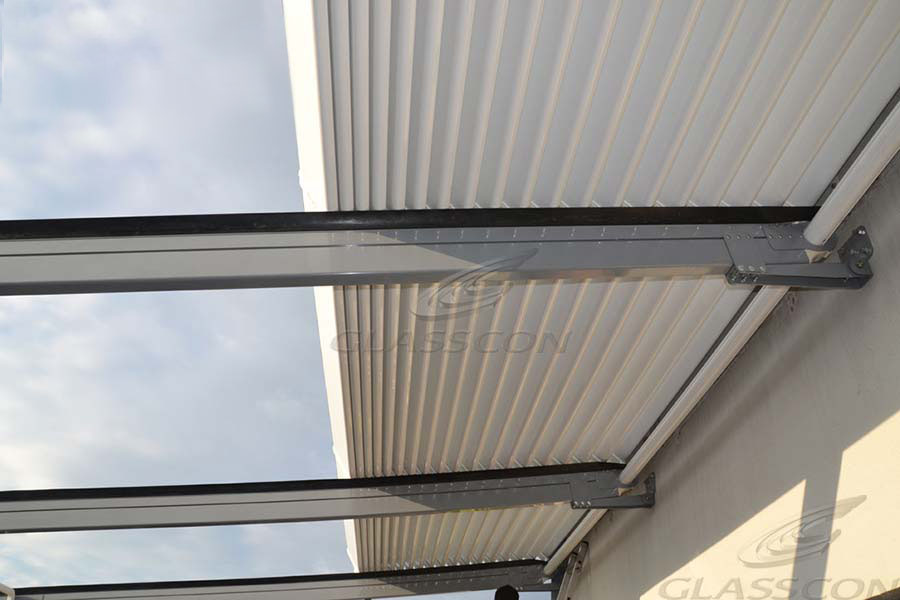 Being a hot addition to contemporary homes, a louvered roof is an intelligent pergola roof idea. This modern variation is like a conventional open slat pergola that can be closed either mechanically or manually as per your comfort.
Stringing Fairy Lights
Conventional or unconventional, a pergola with a string of fairy lights creates an enchanting mise-en-scène at dusk. Adding an accent piece of furniture and large potted plants render a fairyland-like décor – perfect for alfresco dining.
Pro-Tip: Your patio can be further adorned with an array of custom covers for a voguish yet remarkable appearance.
Blend 'em with Classic Style & Unconventional Designs
From classic to boho, style your pergola that bespeaks your personality loud and clear. Don't hesitate to experiment with the blend of myriad patterns and designs. Sometimes, the idea of mixing multiple patterns together can be overwhelming. But using them in moderation is the key. When in doubt opt for a white roof with traditional columns. Try mixing and matching all the out-of-the-wall elements together for harmonious aesthetics.
Try incorporating funky tables or stools adorned with striking custom covers complementing custom pergola covers for that vibrant yet unified look. For that interesting pop of color, hang bold colored lanterns, paper lanterns or glass balls with roses or candles at staggered heights.
Fabric or Canvas Roof for DIY Route
Looking for the best pergola cover ideas that work without breaking the bank? Trail the DIY route with fabric or canvas to create pergola canopies that are even more interesting than usual concrete ones. From top to bottom, just attach the material on the pergola rafter and you have a shaded outdoor extension with airy and lively ambience in a go. You can even use multiple strips of fabrics or canvas to weave interesting patterns for that intriguing visual interest.
Go Beyond the Flat Roof
Planning to redesign your pergola on the modern lines? Why go for a flat roof when you can raise its roof and aesthetics? The conical shaped roof resting on the beams not only makes your outdoors the rightful extension of your cozy living area but makes it alfresco-ready endowing it with an outdoorsy restaurant vibe.
To bring in some cozy and inviting appeal, install a fire pit in the middle with rustic furniture all around. Nothing can beat the chilling night with blazing fireplace in the middle and long conversations with your loved ones while roasting marshmallows.
Go for Static Paneling
Short on modern pergola roof ideas? Static paneling can be your go-to option. This growing trend of building pergola roofs from transparent plastic material is a surefire hit for a reason. The plexiglass or acrylic roofs come as a perfect waterproof pergola roof when creating semi-shaded outdoors as they promise a great view without any weather interference. Further, nothing can beat the contemporary visual appeal they bring when complemented with designer furniture, geometric lanterns and vibrant patio furniture covers.
Solar Panels for Eco-Friendly Approach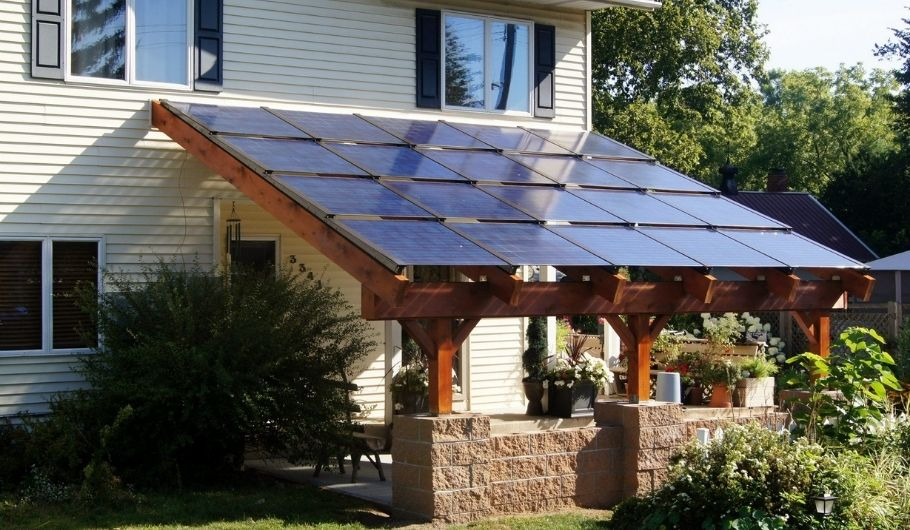 Need a cover for pergola that steals your neighbor's thunder? Why not become eco-friendly by installing solar panels as your pergola's roof. The easy to install modern solar panels not only help you limit your carbon footprint by producing your own electricity but keep your outdoors cool and shaded – perfect for an unwinding retreat.
Opt for Personalized & Private Design
The idea of having an open outdoor space that almost feels like a room is unbeatable. With plenty of free space and fragrant plants, you can add a hint of your personality. We love how an open-slat top combined with a waterproof covering followed by a set of curtains, can instantly add a luxe vibe to your outdoor space.
For optimum results, go for a waterproof pergola cover. This way you can enjoy the best of both worlds without having to rush indoors.