There's nothing more frustrating than getting your Christmas decorations down from the attic only to realize that your lights are tangled, several bulbs have broken, or that one of the arms of your artificial tree was bent during storage.
Packing things up the right way at the end of the holiday season may seem like a hassle, but there are some quick and easy solutions that will save you time now as well as next year when you're ready to deck the halls again.
Storage Solutions – Tubs, Bins and Bags
The best way to ensure your decorations make it to the next holiday season is to purchase a few containers that are designated for Christmas decorations only. In fact, label them as such. Buying bins in holiday-themed colors is another great idea. It makes finding your Christmas gear next year quick and easy. If your decorations just get mixed with everything else you have stored, it will really take some time to find what you're looking for when you need it.
Also keep in mind that large tubs can be great for general Christmas decorations, but they aren't the best way to store easily breakable glass ornaments. Small, compact containers are the way to go for those. Recycle some of the wrapping paper or tissue paper from your Christmas gifts and use it to wrap and protect these and any other fragile Christmas ornaments when you pack them away.
Most of the time, large tubs aren't long enough for the artificial tree branches either. Being precise and planning now can make next Christmas easier and more enjoyable
A Storage Bag Made Just for Your Artificial Tree is Here!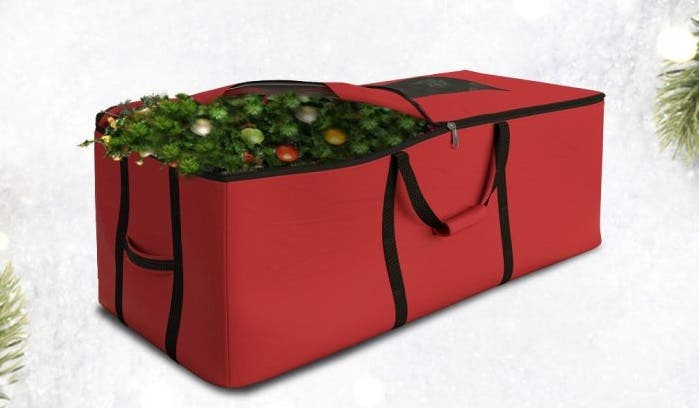 It's important to make sure that whatever container you use, it's going to repel moisture. If not, a leak in the attic or basement could quickly ruin all of your belongings. This is particularly true for larger investments such as your artificial Christmas tree. A waterproof Christmas tree storage bag is the best way to keep it clean, dry, and protected. This storage bag is made of 100% waterproof polyester and stores trees up to 9 feet tall.
As a bonus, this tree storage bag comes with an additional bag for your wreath and one specifically for secure ornament storage to keep those precious heirloom Christmas decorations perfectly safe. The set comes in the Christmas colors of red, green, or burgundy, so it will doubtlessly stand out among your other stored items.
Once everything's packed away, you can easily install a heavy-duty hook ( available at any local hardware store) to a rafter and use it to hang the bag, or simply put it on a shelf and store along with your other items.
Tie it Up! – Zip Ties Will Save You From a Tangled Lights Meltdown in 2020
You can save yourself the headache of tangled lights next year by using inexpensive zip ties. Wrap your lights in a tight loop and attach zip wires in 2-3 spots. When it's time to decorate again, simply remove the zip ties and unwind your lights. No tangles!
Recycle some of the wrapping paper or tissue paper from your Christmas gifts and use it to protect any fragile Christmas ornaments. Tissue paper is also useful when placed in between layers of stored Christmas lights to keep them from banging together in storage.