Your car is not just a mode of transportation, it's an extension of your personality. Whether you own a sleek sports car or a vintage beauty, protecting it from the elements is crucial. That's where car covers come in. But with so many options available, it can be overwhelming to choose the right one because you do not want to mar the look of your spanking new beauty.
Without much ado let us explore the differences between indoor and outdoor car covers, and help you decide which one is the best fit for your beloved ride. So, buckle up and let's dive in!
Indoor Car Covers
It is evident that if you have a garage or any enclosed space, you will use it to park your car for better protection. But if you think that parking your car indoors without covering won't impact much, well, let us unmask the myth. Whether parked in the garage or under a semi-covered roof, dust particles can accumulate on the car's surface and spoil the paint job in no time.
The dust particles might seem harmless but once they start mushrooming, there is no holding back. Not only will they wreak havoc on the factory-fresh look but can also lead to scratches, scrapes, and scars. Indoor car covers prevent the particles from setting on and protect the accidental bumps and scratches that can happen even in closed spaces.
Indoor car covers are specifically designed to keep your car safe indoors with a plethora of features.
Dust & Light Moisture: An indoor car cover must be able to protect from dust and light moisture.
Soft & Breathable: It should have a breathable design that can offer sufficient protection against some moisture. The soft and breathable fabric will ensure safety from these elements, no matter how long your vehicle stays inside the garage.
Mold & Mildew Protection: Even if a little amount of moisture gets trapped inside the car, it can lead to bacteria breeding and can become a home to mold and mildew.
Outdoor Car Covers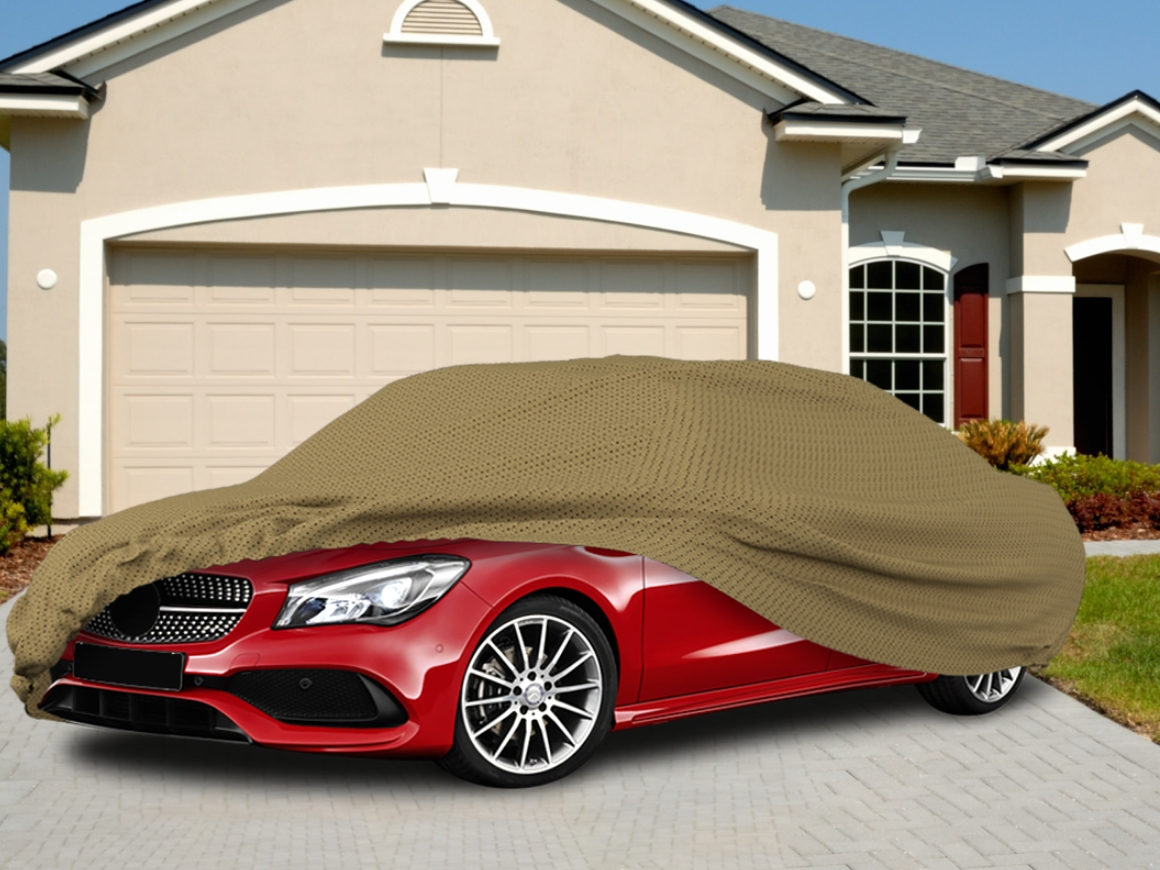 Outdoor car covers are designed to shield your car from mild to moderate and inclement weather conditions. Whether it is downpouring, snowstorm, intense sunlight, or debris, these covers have the ability to keep all these weather woes at a far distance. Moreover, the car covers do an excellent job of safeguarding against bird droppings, unintentional ball or door hits, tree saps, scratches, bumps, or chipping.
All in all, if you mostly intend to keep your car outside, these car covers will keep your beauty in an immaculate condition always. Besides, they won't let your fresh paint job ruin anytime soon.
Outdoor car covers are specifically built to shield your vehicle from the elements and come equipped with a range of features designed to ensure optimal performance.
Portablility: One of the standout features of outdoor car covers is their exceptional portability. They are lightweight and simple to fold, making them effortless to carry around and store in a compact bag when not in use.
Quick Installation: Installing and removing outdoor car cover is a breeze, with a simple and intuitive process that requires minimal effort. Some models even come with a remote-controlled car umbrella, allowing for lightning-fast setup and removal. 
Temperature Difference: Outdoor car covers provide exceptional protection from extreme temperatures. Whether it's shielding your car from the searing heat of the sun or insulating it from the biting cold, these covers offer reliable protection for your vehicle.
Protection from Sunrays: Outdoor car covers are crafted with special materials that offer maximum protection against harmful UV rays, while still allowing for optimal breathability and airflow. In fact, when it's hot outside, the cover helps to keep the car's interior cool and comfortable.
Tie-Downs: Since car covers do not hold much weight, it's necessary to hold them firmly from the bottom or sides. So, they do not slip from their place, especially during gusty winds.
Waterproof: Waterproof car covers are designed with special materials that provide an impermeable barrier to water, preventing it from seeping through to the car's surface. Waterproof car covers come in various sizes and styles, so it's important to choose one that fits your car snugly for maximum protection.
UV-Resistant: UV-resistant car covers are designed to provide effective protection against the damaging effects of UV rays from the sun. These vehicle covers are made of UV resistant materials that block UV radiation, preventing it from penetrating the car's paint, interior, and dashboard. With UV-resistant car covers, your vehicle will be shielded from harmful sun rays, helping to maintain its exterior finish and keeping the interior cool and comfortable.
Tearproof: Tearproof car covers are made of durable materials that are resistant to rips, punctures, and abrasions. They provide long-lasting protection for your vehicle and can withstand harsh weather conditions, such as heavy rain, hail, and snow. With a tearproof car cover, you can have peace of mind knowing that your car is protected from potential damage caused by sharp objects or accidental bumps.
Personalized Covers for a Distinct Appeal: Personalized car covers offer a bewitching appeal that reflects your personality and style. With the ability to customize your cover's color, logo, and even text, you can add a unique touch to your vehicle. Not only do personalized covers look great, but they also provide the same level of protection as standard covers. Whether you want to show off your favorite sports team or create a personalized gift for a car enthusiast, a customized car cover is the perfect option.
Extensive Range: Outdoor car covers offer a diverse selection of styles and colors to choose from, allowing you to find the perfect cover that suits your personal taste and complements your vehicle's aesthetic.
Choosing the Optimal Car Cover that Fits Your Vehicle
First, decide if your car will be parked in a garage or outside. Then, select a cover that is custom fit for your specific make and model of vehicle. Avoid generic covers as they may be either too tight or too loose. A tight cover can tear easily, whereas a loose cover may not provide adequate protection in strong winds.
When selecting an indoor or outdoor car cover, it is important to choose a trusted brand that offers a wide range of custom car covers such as Sedan covers, SUV covers, Hatchback covers, and many other car covers to meet your protection needs. Whether you own a Porsche or a Toyota, you can find a car cover tailored to your specific year, make, and model.