Does a dent or scratch on your premium car fade away your smile? Why leave it at the mercy of nature when you can save your prized possession with a car cover. Whether you keep your car in a garage, carport, or driveway, it shields your vehicle against dirt, debris, scratches, rain, sunlight, and whatever Mother Nature throws at it. However, with multiple choices in terms of materials and sizes available in the market, selecting the best car covers can be overwhelming. But fret not! With these easy tips we've got you covered!
Why Do You Require a Car Cover?
Whether you park your car outdoors or indoors, it is susceptible to damage due to weather elements, and outdoor conditions. Rain can corrode your car's paint job, and intense sunlight can damage your car and its interior. Additionally, birds and bugs' droppings lead to stubborn stains.
Parking under a tree poses a serious threat to your vehicle as its sap, nuts, twigs and other natural debris can cause dings and scratches. Even dust can slowly grind your car's paint down over time. Regardless of where you park your car, a car cover is essential for protecting it from these threats and ensuring it remains in pristine condition.
Types of Car Covers
When it comes to car covers, there are a few diverse types to choose from. Each type has its own benefits and drawbacks, so it's important to consider your needs before deciding.
Indoor Car Covers: Indoor car covers are designed to protect your vehicle from dust, dirt, and other indoor pollutants. They are made from lightweight materials and are often less expensive than outdoor covers. If you park your car in a garage or carport, an indoor cover is a good choice.
Outdoor Car Covers: Outdoor car covers are designed to protect your vehicle from the elements, including rain, sun, and wind. They are made from heavier, more durable materials and often come with additional features like UV protection and waterproofing. If you park your car outside, an outdoor cover is a must-have.
All-Weather Car Covers: All-weather car covers are designed to provide protection in any weather condition. They are made from heavy-duty materials that can withstand rain, sun, wind, and even snow and ice. If you live in an area with extreme weather conditions, an all-weather cover is the way to go.
Custom-Fit Car Covers: Custom-fit car covers are designed to fit your specific make and model of vehicle. They offer the best protection because they fit snugly and cover every inch of your car. They are often more expensive than universal fit covers, but they provide the best protection.
Universal Fit Car Covers: Universal fit car covers are designed to fit a variety of different vehicles. They are less expensive than custom-fit covers, but they may not provide as much protection because they don't fit as snugly.
Specialty Car Covers: Specialty car covers are designed for specific purposes, such as covering a convertible top or protect a vintage car. They may be more expensive than other types of covers, but they provide specialized protection that can't be found in other covers.
#1. Determine Your Needs
The first step in choosing a car cover is to determine your protection needs. If your vehicle is parked outdoors, you need to protect it from harsh weather conditions, including sun, rain, wind, and hail. If you park your vehicle indoors, you still need to shield it from dust, debris, and potential scratches.
Indoor Use Covers: While you can use outdoor car covers for indoor use, an indoor car cover is generally recommended. Typically made of lighter and breathable materials, indoor car covers are more manageable for frequent use. They prevent heat and condensation build-up, perfect for indoor use.
Plus, they have a form-fitting look that hugs and highlights your luxurious car's edgy contours. Since they are soft and non-slippery, it protects your new car's paint job and adds to its pristine look. Warding off dust and debris, they protect your car against minor scratches, dings, etc. Further, prolonging its life and keeping it squeaky clean.
Outdoor Use: Generally made of waterproof and heavy-duty materials, car covers for outdoor use are designed to repel water and dry quickly. They are also finished with an excellent UV coating that protects your car against fading and damage caused by prolonged exposure to sunlight. To combat strong gusts of wind, they come with hooks and straps that secure the cover from ballooning.
#2. Choose the Right Material
Once you have determined your protection needs, the next step is to select the right material for your car cover. Car covers come in different materials, including polyester, polypropylene, cotton, and nylon. Each material has its pros and cons, and your selection depends on your needs and budget.
Polyester car covers are a popular choice as they are affordable, lightweight, and easy to maintain. They are water-resistant and can provide protection against UV rays. Polypropylene car covers are also lightweight and water-resistant. They are best for indoor use and can provide protection against dust and debris.
Cotton car covers are more expensive but are breathable and provide better protection against UV rays. Nylon car covers are the most expensive but offer the best protection against harsh weather conditions, including rain, snow, and hail.
#3. Look for Waterproof or Water-Repellent Covers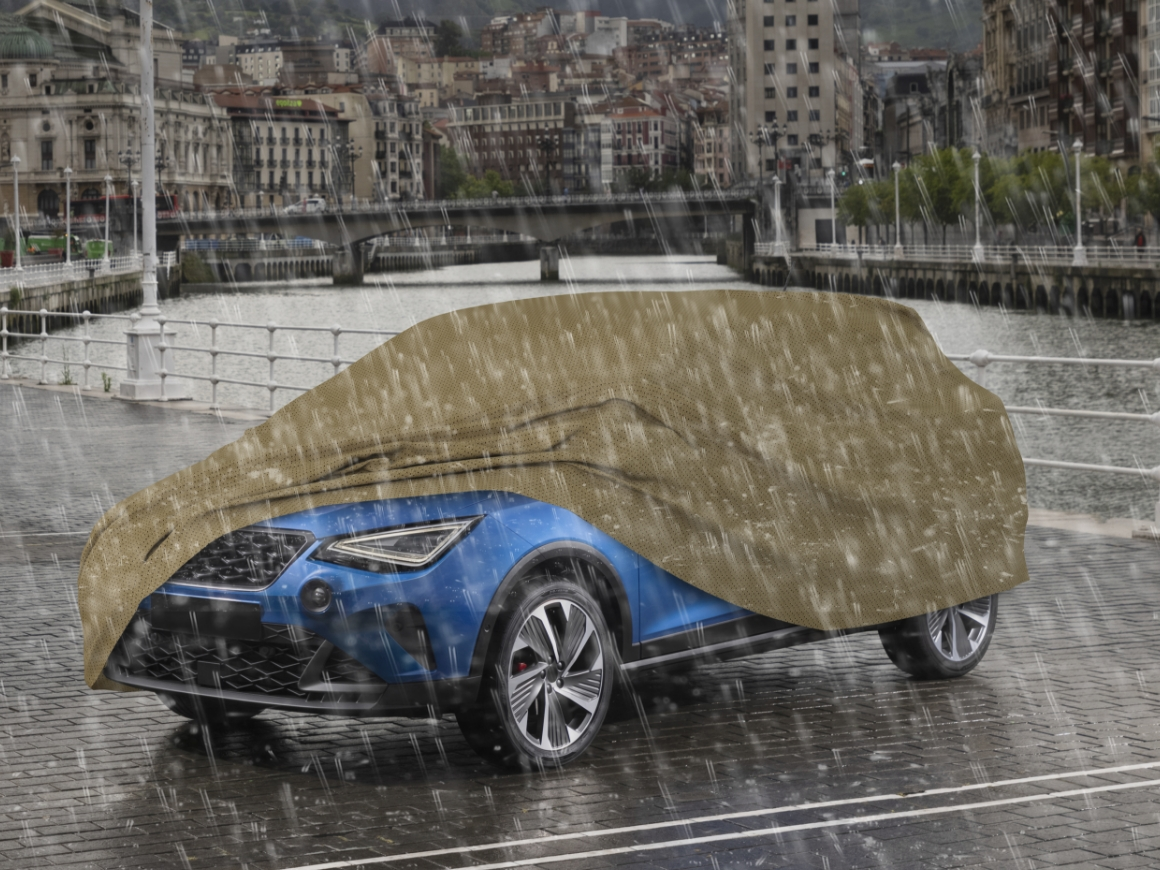 When it comes to protecting your car from the elements, water is one of the biggest threats. Rain, snow, and even morning dew can seep into your car's exterior and cause damage over time. That's why it's crucial to choose a car cover that is either waterproof or water-repellent.
Waterproof car covers are made from materials like vinyl or PVC, which are completely impermeable to water. These covers can keep your car dry even during heavy rain or snowstorms. However, they may not be as breathable as other materials, which can lead to moisture buildup and potential damage to your car's paint job.
Water-repellent covers, on the other hand, are made from materials like polyester or nylon that are treated with special coatings to repel water. These covers are designed to let moisture bead up and roll off the surface, keeping your car dry and protected. They are also more breathable than waterproof covers, which helps to prevent moisture buildup.
Look for options that are labeled as either waterproof or water-repellent, depending on your needs. Keep in mind that some covers may offer a combination of both features, providing maximum protection against water damage. By choosing a cover that is designed to keep water out, you can ensure that your car stays dry and protected no matter what the weather throws at it.
#4. Check the Fit
The next step is to check the fit of the car cover. A poorly fitting car cover can cause damage to your vehicle by allowing dust, dirt, and debris to seep in. Before making a purchase, measure your vehicle to ensure you get the right size. You can also find car covers designed specifically for your car model.
Whether you buy a hatchback cover, Sedan cover, or SUV cover, see if it is custom-fit or contour-fit. Although both contour fit and custom fit car covers are designed to provide a snug and tailored fit to your specific make and model of vehicle, there is a slight difference.
Contour fit covers are pre-cut to fit a range of similar vehicles, such as sedans, sports cars, or SUVs. These covers are designed to hug the contours of your car and fit snugly without any sagging or flapping in the wind. They offer excellent protection against scratches, dust, and other types of damage, while also being gentle on your car's finish. Contour fit covers are a great option for those who want a well-fitting cover without the higher cost of a custom fit.
Custom fit car covers, on the other hand, are tailored to fit your exact make and model of vehicle. They offer the most precise fit possible, ensuring that every curve and contour of your car is fully protected. Custom fit covers are often made from higher-quality materials and may include additional features such as mirror and antenna pockets. While custom fit covers may come at a higher price point than contour fit covers, they ensure the ultimate level of protection for your car.
#5. Consider Additional Features
When purchasing a custom car cover, it's worth considering some extra features that can provide added convenience and protection. Mirror pockets, for example, are designed to accommodate your car's side mirrors, ensuring a snug and secure fit. This feature can be particularly useful for custom fit covers, as it ensures that every inch of your car is fully covered and protected.
Tie-down loops are another great feature to look for, especially if you live in an area with high winds or storms. These loops allow you to secure the coves to your car using ropes or bungee cords, preventing it from being blown off during strong winds.
Other features to consider include antenna pockets, which allow you to fit the vehicle cover around your car's antenna without damaging it, and breathable fabrics, which can help prevent moisture buildup and promote air circulation.
When selecting these features, it's important to choose ones that are specifically designed for your vehicle type and size. This will ensure that the cover fits snugly and provides optimal protection. By selecting a cover with these extra features, you can enjoy added peace of mind knowing that your car is fully protected from the elements.
#6. Choose the Right Color
Finally, choose the right color for your car cover. While this may seem like a minor consideration, the color of your car cover can affect its effectiveness. Lighter colored covers reflect sunlight, keeping your car cooler in hot weather. Darker colored covers absorb sunlight and can make your car hotter.