What's a voguish couch without a stylish cushion setup? Not just are they comfort essential, but they add a touch of effervescence to the outdoors. The intriguing part is nobody will know that you have played with our décor prudently without exaggerating yourself.
They brighten up the space, reflect your personality, and transform the entire vibe in a jiffy. An exquisite way of adding details to your décor, you cannot underestimate the power of these cute cozy cushions.
To achieve Instagram-worthy interiors, mastering the art of cushion placement and seamlessly integrating them into the overall decor is crucial. So, ready to cue the cushions wrapped in colorful accents?
Here are some of the smart ways of revitalizing your outdoor décor with custom cushion covers for a stunning appeal:
A Quality Fabric – Comfort & Durability
No matter how expensive your outdoor cushion covers and cushion inserts are, if it does not meet the comfort and durability, your effort will go in vain. Considering the different weather conditions, buy patio cushion covers that are durable and can brave inclement weather conditions without sacrificing aesthetics.
Quick Tip: Look for polyester-based breathable fabrics that serve for a lifetime. The outdoor cushion covers should be able to resist intense heat, downpours, dust, debris, etc., offering you a lifetime of service. Moreover, cushion inserts should possess uber-comfort material that easily conforms to your body shape and does not get slackened easily.
Tryout Matching Different Materials
To take your space a notch higher, try matching the walls with the same texture for a cohesive look. For a more ethnic vibe, opt for cushions with intricate designs such as embroidery, sequins, appliqué, or quilted patchwork. These unique details will add character and depth to your space.
Sync Your Cushions with Existing Exteriors
To achieve a well-coordinated and sophisticated look for your home décor, it's important to select cushion colors and patterns that integrate with your existing interiors. Opt for cushions with complementary shades, textures, and prints that match your furniture and overall aesthetic.
Tip: Keep in mind that when purchasing decorative cushions and covers, it's crucial to consider your home interiors to create a cohesive and polished look.
Say No to Ill-Fitted Cushion Covers
Gone are the days when buying a custom-made cushion cover was strenuous with no one-size-fits-all solution. Which means either compromising on the fitting or having a limited pair of multiple-sized and shaped cushions. But not anymore, a few companies have initiated designing custom cushion covers that hug the silhouette of your cushion beautifully, offering a sleek and classy look.
Shape Matters
Are you the one who ends up buying the same shape cushions to play safe? Honestly, it's wishy-washy and boring. Try to break the monotony with uniquely shaped cushions for a bewitching appeal.
Along with seemingly endless sizes, you can also get custom shape cushion covers. This feature lets you have bespoke covers in any shape you desire. Now adding endless covers for your uniquely shaped cushions will be a breeze for you.
Tip: Mix and match the different shapes and sizes to add more depth and flair to your outdoors. From square cushion cover to rectangle cushion cover, and oval cushion cover, you will love our collection of custom cushion covers online.
Play with Colors & Prints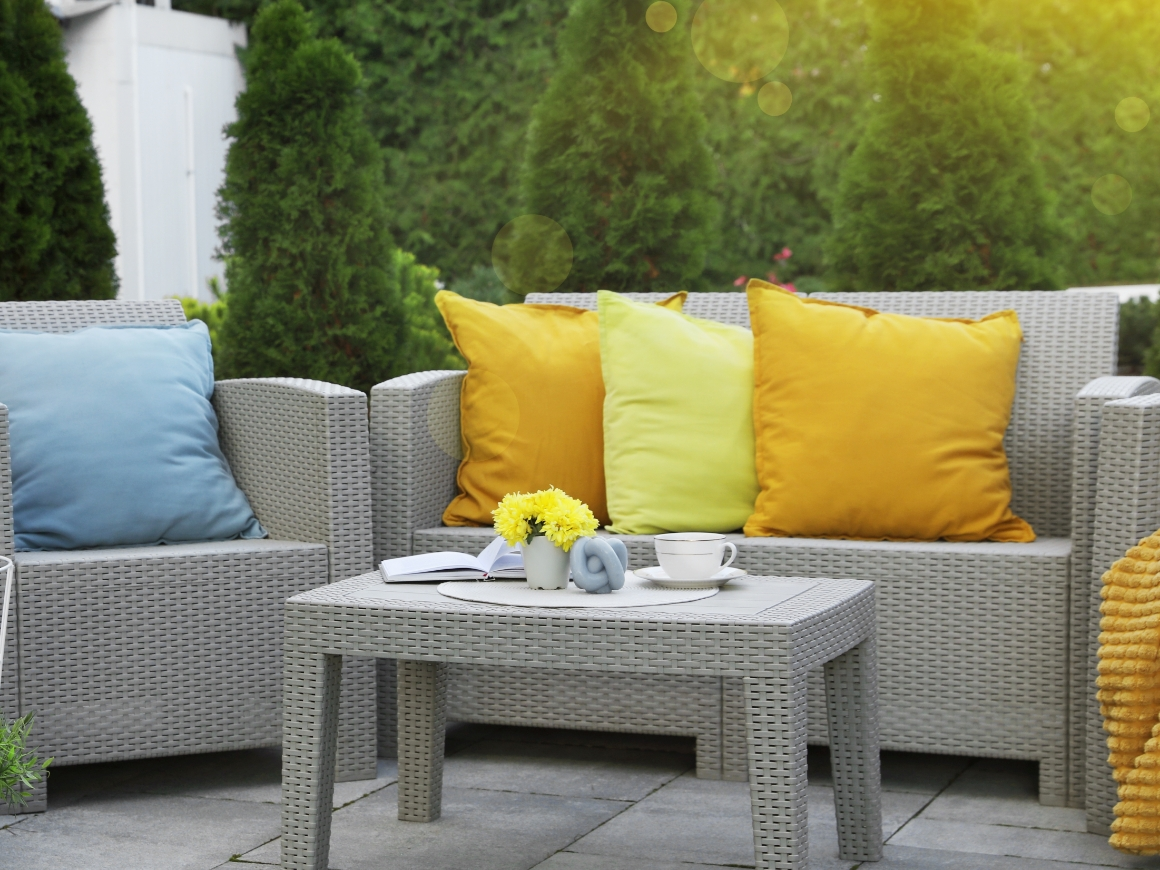 Take the liberty to materialize your offbeat ideas by choosing different colors and prints to spruce up the décor. For instance, choose one set of prints with fine detailing and another with bold and eccentric hues that complement each other.
Is it a Match or a Drab?
If your new sofa comes with matching cushions that blend in with the furniture, keep them aside right away! It can make your living room look dull and uninviting. Opt for cushions that contrast with the couch/sofa's color and complement the rest of the decor. The difference it makes to the entire space will surprise you.
How Many Cushions is Too Many?
Giving your décor an edge needs some math. Don't be stunned, all you need is to understand how many cushions you need to quirk up your space rather than crowding. However, you don't have to follow any specific rules. You can simply go by your preferences. But there is no harm in adding soberness to your hard work.
Let's say you have a 2-seater sofa, you can add three large cushions. For 3 or 4-seater ones, a set of 5-cushions are apt to elevate the aesthetics. To spice up a bit more, add a mix of different-sized and shaped- cushions.
Allow the Cushion Covers to Embody the Essence of Each Season
Cushions have the power to elevate the ambiance of your home by reflecting the mood of the season. For indoors, we don't have to think twice about the fabric. While for the outdoors, the right cushion covers will keep your décor happy and classy. It becomes more fun when the cushion cover matches the feel of the ongoing season. The right fabric-based furniture instantly connects you with the season.
For summer décor, opt for UV-resistant, bright hues, and refreshing floral prints that are pleasing to the eyes. During winters, create a cozy atmosphere by selecting rich fabrics like velvet, silk, brocade, etc. in darker tones that exude warmth and comfort.
Let Your Cushions Reflect Your Personality
Personalized cushion covers can elevate the style and character of your furniture instantly. Whether you're aiming for a specific ambiance in your outdoor living area, the right covers can transform the entire space. From traditional to contemporary design, the personalized cover will exude every bit of your personality, leaving everyone awe-inspiring.
Choose from a vast array of styles, ranging from traditional to contemporary, and an endless selection of colors and patterns.
Make Sure they Have Seamless Zippers
Prioritize your needs for outdoors. When your furniture is exposed to the outdoor elements, it becomes imperative to seal them with seamless zippers. Remember, the more seamless the zippers are the more elegant it looks.
A large, zippered opening facilitates a convenient and hassle-free experience while inserting or removing the cushions. Moreover, they act as a barrier to prevent any contact with other surfaces that may damage the zipper's surface.
Tip: Avoid small openings as they can damage the fabric, leading to costly repairs or replacements.
Custom Waterproof Cushion Covers
To fully enjoy your outdoor patio or balcony with couches, it's crucial to invest in waterproof outdoor cushion covers. Without them, you will not be able to use them during rainy seasons. Waterproof cushion covers prevent water absorption and facilitate quick drying, making maintenance hassle-free.
Safeguard Your Outdoor Furniture Cushion Covers
Don't let the weather take a toll on your outdoor furniture. With the help of custom outdoor cushion covers, you can keep your furniture protected to keep them pristine. Living in an area with lots of rain or sun can be damaging to your outdoor furniture but covers provide a simple solution. By keeping your furniture safe from the elements, you can extend its life and save money in the long run. Whether you have expensive outdoor furniture or just want to keep your patio looking great, investing in outdoor pillow covers is a smart choice.
So, Ready to Fluff up the Décor with Cozy Cushions?
While they may seem like small details, the right cushions can have a big impact on your living space. Think of them as the finishing touch to your sofa ensemble – without them, your decor just wouldn't be complete. Cushion snuggled-in cushion covers are an easy, affordable way to breathe new life into your home. So, why not try out some of our interior tips for cushions and take your living spaces to the next level?