Entertaining in the open air is a joyful experience. Whether you are cooking delicacies at a BBQ or getting a tan under the shaded area of the poolside, an outdoor area is just perfect for all this. Patio furniture covers are a necessity today because they help elevate the outdoor lifestyle simply by covering your furniture and appliances during inclement weather.  
The covers create an al fresco living experience that you have always dreamt of. Savor the flavor of transformation with vibrant covers that make your outdoor space usable when you want it.
Let's Take Cover When Faced with Inclement Weather
A lovely winter morning may be greeted by sudden hailstorms, ruining your outdoor seating experience. A perfect solution would be using outdoor furniture covers to shield the furniture from moisture. Unpredictable weather conditions can cause impairments that can damage your furniture forever.  
Custom patio furniture covers serve the dual purpose of keeping your furniture clean while ensuring their readiness for use whenever the cover comes off. This is only possible because the covers keep away unwarranted elements such as rain, snow, sleet, and more.
People may think that only moisture and the winter season are the culprits in diminishing the quality of your outdoor furniture. But the summer season can be as harsh on your furniture as the rainy or winter season.
Did you know? Intense sunlight is the major reason to cause discoloration of your furniture and covers. You could always invest in UV-resistant covers that keep the colors intact to maintain their pristine condition. So, think twice before you ask, should I cover my patio furniture in summer?
Springtime may be a beautiful time of the year, but it can also bring exposure to rain, bird droppings, and pollen that can reduce the lifespan of your furniture. Patio furniture covers are the ideal choice to increase the shelf life of your furnishings.  
Why Pay for Upkeep When You Have Covers?
Let's face it. We are not just talking about protection but investing money in outdoor lifestyle covers. They don't just keep your furniture spick and span but also prolong the life of your furniture. 
Quality cover that is backed by the promise of a warranty would be a good investment. This would help reduce the number of replacements for your furniture when they are covered. Frequent replacement is not only costly but requires effort.
Heavy-duty patio furniture covers help extend the shelf life of your furniture while minimizing upkeep costs. You should look for fabric that is waterproof, UV-resistant, tear, and abrasion-resistant.
A waterproof cover will shield your furniture from moisture damage. A tear and abrasion-resistant cover will likely prevent scratch marks, rips, ruptures, and frays. This helps preserve the quality of the covers for a long time, especially if they are backed by a warranty.
Add Vibrancy to Any Space with Colored Covers
The necessity of covers is undisputable as they help shield your furniture from humidity, moisture, intense sunlight, dust, dirt, and pests. Do I need to cover my patio furniture? This is a common question that people ask.
The best outdoor furniture covers elevate your outdoor lifestyle simply by staying onto your furniture while Mother Nature wreaks havoc with the outdoor area. They don't just protect but also beautify your outdoor living space with their vibrant hues and attractive patterns.
You can get exciting color options in outdoor chair covers that will transform your landscape immediately. You can be the talk of the town with your vivacious color choices or classic shades.  
Get matching outdoor table covers to complement the area and bring a seamless aesthetical appeal to your landscape. Color choices are an essential feature, you can go through various websites to understand the colors that would suit your deck area.  
Covers are Easy to Maintain, Furniture is Not!
Outdoor patio furniture covers made from polyester or canvas fabric are easy to maintain. You can simply wash them with your hand using a mild detergent and they will look as good as new.
Polyester or nylon is generally safe to wash in a washing machine. You can go through the washing instructions on the fabric label to understand safe washing techniques.
The same cannot be said for furniture. Once the fabric on the outdoor sofa is ruined it is difficult to wash and rinse it clean. The wrought iron stand or a center table once broken is difficult to glue back.
You may need the assistance of a professional to repair and maintain the condition of your outdoor furniture. This might cost you a fortune and may not give you the desired results.  
Covers Revamp the Furniture in Style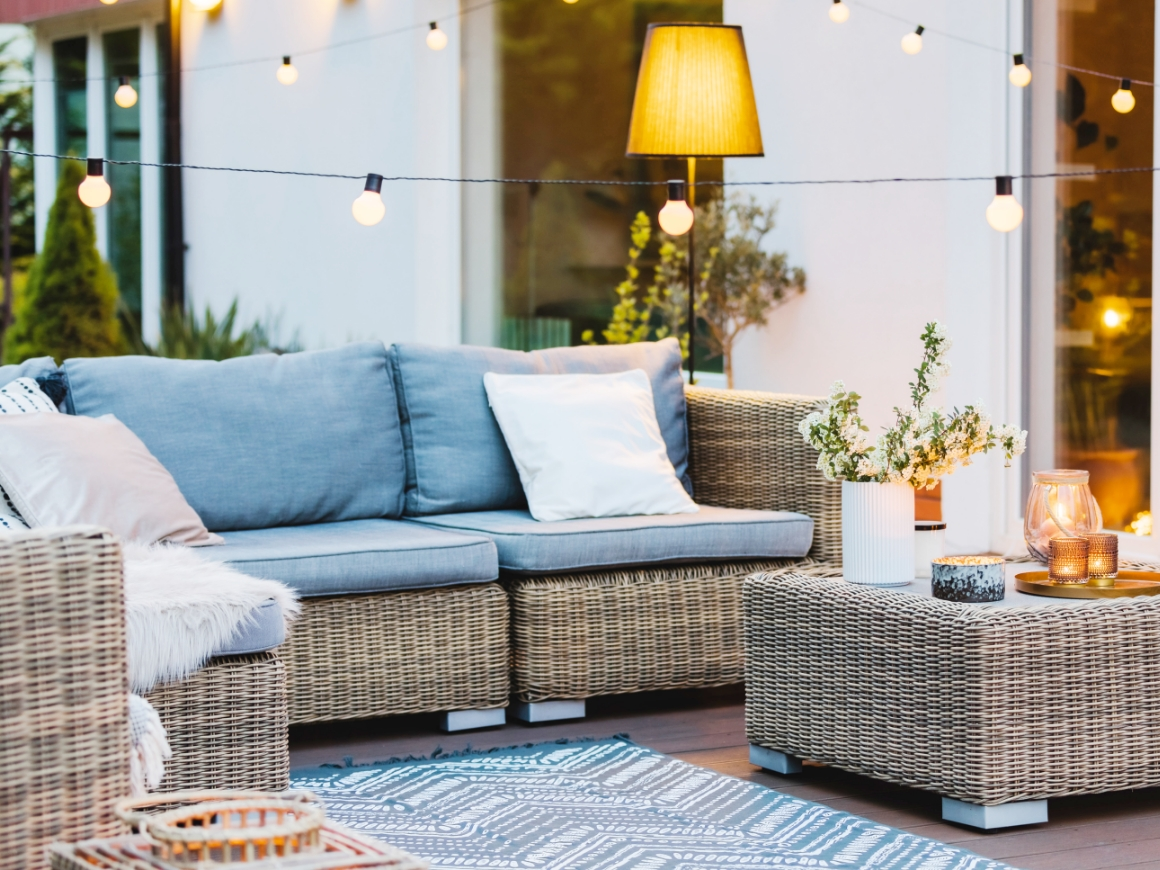 The covers are an affordable solution to conceal the impairments on your furniture. If you see a blemish on your outdoor sofa or a dent in your table, you can easily conceal it using custom covers.  
The most important thing to consider while revamping is the fabric and the option of customization. Let's look at the kind of revamping the covers can cater to:
Concealing external damage: The covers help beautify your outdoor area by concealing external damage on your outdoor furniture. For example, your old couch may have sustained scratches and rips making them look tattered, a patterned couch cover would fit snugly onto the couch making it look as good as new.  
Bringing colors to your patio: You can use waterproof outdoor furniture covers that are available in patterns and hues of your choice. They will spruce up your outdoor living area and make a remarkable impression on your guests. You can also bring a contrast effect to your patio with dark and light color tones.  
Saves from Repairs: Sometimes, all we want is for our outdoor furniture to look great without investing effort and time to repair it. The furniture covers for chairs, sofas, cushions, pillows, etc. can enhance the patio area immediately. You can delay or avoid repairs on your furniture when you use furniture covers.  
The covers beautify and conceal irreparable damage on your outdoor furniture easily. They are an investment as they are easy to maintain and can be replaced affordably. The covers also enhance weather protection for your outdoor lifestyle without any hassle. These are the primary reasons to buy patio furniture covers.