Backyard events are typically viewed as informal, but for those of us with mild fall weather, making Thanksgiving an outdoor gathering is a great opportunity to show off your extended outdoor living space. With just a few simple tricks you can host a fall soiree that will be sure to impress your guests — and maybe you'll even create a new Thanksgiving tradition!
Set The Table
For the Thanksgiving table, I recommend that you go with natural colors when it comes to the place settings. Beautiful burnt oranges, deep reds, creamy whites, and warm yellows will all make for a lovely fall gathering look.
If you don't already have matching Thanksgiving dishes, mix-matched plates with a sprinkling of antique items, like a stainless steel gravy boat will bring a nice rustic vibe. Be sure to include cloth napkins! A wrought iron or wooden farmhouse style table with a simple table runner can be a lovely addition for your Thanksgiving decor, but if you're using a plastic pop-up table, you're going to want to throw on a fall colored table cloth.
When it comes to your centerpiece, you will want to go with items that won't blow away in the autumn breeze, like mini pumpkins, dried corn husks, or squash, which will all also make for great weights for lighter items such as leaves, fresh herbs, and loose flowers. Medium-sized pumpkins in hues of white or light blue surrounded by pine cones, cranberries, and eucalyptus can also make for a beautiful centerpiece!
Fresh fall flowers such as sunflowers, stonecrop, orange dahlias, and goldenrods are sure to brighten up your table and you can easily mix in leaves, cranberries, and branches for added textures.
What's For Dinner?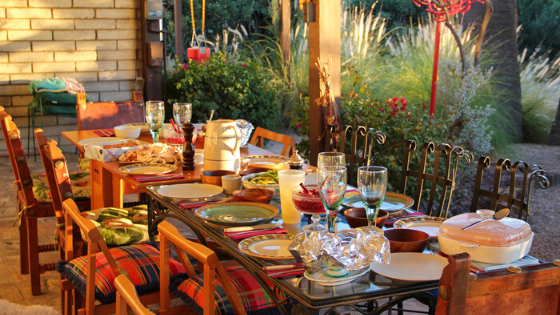 Everyone loves the traditional holiday foods — a juicy turkey, creamy mashed potatoes, stuffing, and cranberry sauce. But mixing it up and taking advantage of all of the beautiful tastes and colors of fall is fun too!
Sauteed butternut squash brings the perfect hint of sweet to the table and adds a beautiful fall yellow while a kale salad with shredded carrots, broccoli, red onion, and pumpkin seeds offers a deep green with a hearty fall taste.
Roasting root vegetables such as turnips, parsnips, rutabagas, or Brussels sprouts is an easy way to bring fresh fall harvest foods to the Thanksgiving table. They can all easily be chopped, drizzled with olive oil, salt and pepper, and roasted in the oven.
A few tiny twists on the classics are also a great way to brighten up the table. Go with whole fresh cranberries for your sauce instead of canned and try swapping out ( or including them in addition to ) your regular mashed potatoes for a delicious mashed sweet potato remix that is sure to please your guests. Youl can also add a little sprinkle of cinnamon or nutmeg for a bonus treat.
Consider using chafing dishes to keep your sides warm, especially if it's cool outside. There's nothing worse than lukewarm mashed potatoes!
You can't forget the Turkey! Be sure to dress up your bird with a few brightly colored garnishes before bringing it to the table — loose cranberries, roasted purple potatoes, and fresh herbs such as rosemary, sage, and thyme will make your main course pop. Adding a few seared citrus fruits such as limes, oranges, or lemons can bring a lot of color and also make a great flavor enhancer for turkey!
You'll want to have at least one of the traditional holiday favorite desserts on hand like a pumpkin or apple pie, but finger foods like mini pumpkin muffins with dried cranberries or pumpkin cheesecake cupcakes sprinkled with freshly grated nutmeg are also a guaranteed hit.
Keep Guests Comfortable
If there is even the slightest possibility of a cold front or rain, you'll want to provide heat in the form of a fire pit or outdoor heaters that use propane or electricity, and have a quick backup plan in place for covering your dining space such as using a pop-up canopy or the ability to quickly move your set up under an existing covered patio awning. While a canopy isn't as secure as an awning you can easily add canopy weight bags to prevent it from moving around in the wind.
Keeping the fire pit going as it gets into the evening will help keep guests toasty but in addition you will want to provide a few cozy throw blankets and keep guests comfortable with some warm drinks — like a hot pumpkin spiced tea. In anticipation for your holiday event, it's important to keep your fire pit covered so that it's clean, dry, and ready to use for your party.
Light Up The Night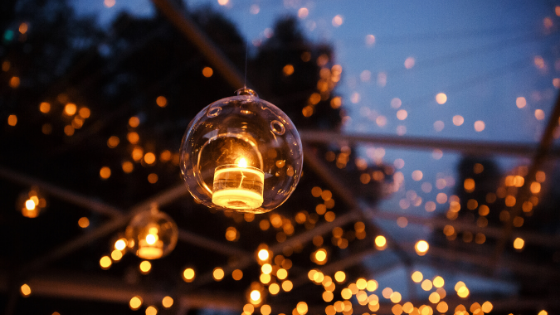 While a fire pit creates some pleasant outdoor lighting on a cool fall evening, guests will want to meander around the backyard after dark. String lighting or strategically placed lanterns in nearby trees are great for that warm and cozy affect.
Carving a few extra pumpkins and placing tea lights inside makes for a fun fall look. Fall scented candles scattered about the patio will create just the right ambiance and keep things smelling fresh while tapered candles in a candelabra will make a lovely centerpiece at the dinner table.