Does thinking about empty walls, nooks, and corners wasting away as dead space exasperate you? Don't worry, it happens to the best of us. Your dead space; however, is holding a wealth of household potential.  
Use Empty Walls as an Organizer
Many of us have trouble organizing our daily or monthly schedule, but the solution could be as simple as putting down your thoughts on paper and sticking that piece of paper, daily chore chart, or monthly budget, on an empty wall.
Put up a whiteboard, place hanging pockets, paint the wall, and use the wall as an organizer, calendar, or checklist. You could even use this as an opportunity to create a family command center.
Make a Reading Corner

Do you have a library or a bookshelf but no reading space? Transform a corner into a reading nook. Place a comfortable reading chair and a table with hand pockets and cup holders and put a lamp to read during the evenings.
Additionally, you could use it as a fun reading corner for kids; they could cuddle up with a book and enlighten themselves. You could also personalize your space with eccentric and vibrant chair covers. This personal and private reading corner serves as a perfect transformation.
Work From Home Station
Working from home is the new norm. You could utilize a small corner space by assembling a study table and an ergonomically designed chair. You can use custom covers to lend a chic look to the furniture and safeguard it from dust and wear and tear when not in use.
Paint the wall with a bright color such as lime green or yellow to add a little bit of levity. You could also use personalized table covers with a motto or creed of your choice to keep your spirits high during work hours.
Memory Lane Wall or Alley
Think back to all the wonderful memories you have created over the years; wouldn't you like to have a dedicated space to reminisce? Decorate a wall with happy and fun memories that you would like to share with others by hanging pictures that encapsulate joy on to the walls.
You could also put up posters, postcards, bills, artwork, or any collectibles to get the conversation rolling with your guests. You could also put pillows with personalized photo pillow covers in the areas surrounding this space to give your guests a peek into your memories.
An Ottoman for Additional Seating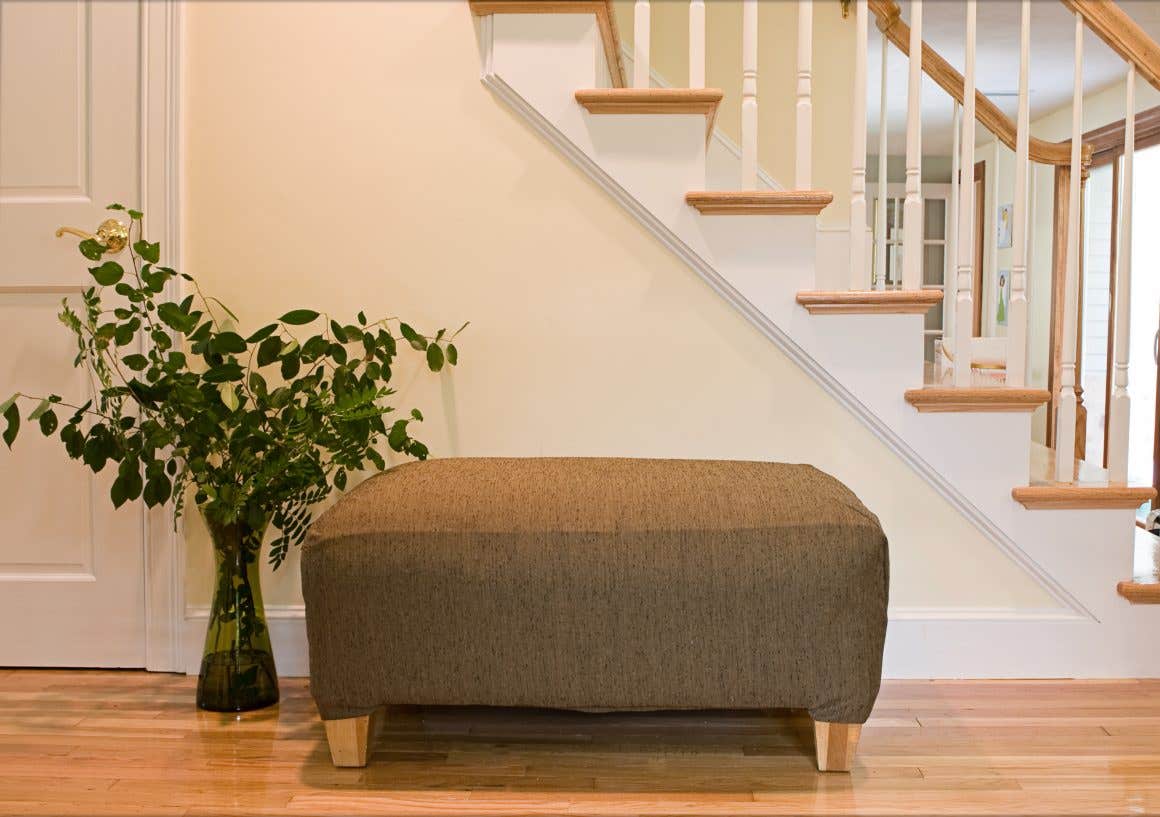 Looking to add a little bit of additional seating within a living room with dead space? Opt for an ottoman with custom covers to make it stand out. An ottoman can be used for storage, organization, simple seating, and more! Spot a book, newspaper, or toy lying around before the arrival of guests? Just stash it away in the ottoman and have a spotless house.
Window Sill Dead Space
Large windows make a room airy, allowing sunlight to pour through, but the window sill could look forlorn and empty if not properly adorned with tasteful decoration. Plants, decorative ceramics, or coffee table books provide a point of interest for the eye on the windowsill, eliminating the dead space.
Take this idea one step further by also placing lounge chairs near the window sill to make it a comfortable seating area. These lounge chairs could be covered with chair covers to add a colorful hint to the room and protect them from dust and wear and tear.
Storage Cabinet for Utilizing Bathroom Space

A storage cabinet is ideal for bathrooms. The space under the sink area or behind a bathtub is perfect for a storage cabinet. Towels, bathrobes, soaps, shower gels, shampoos, and other toiletries could be neatly stacked and organized in the storage cabinet.
You could use a corner shelf to keep a diffuser and feel the fresh aroma in the bathroom. Bubble baths are particularly enriching when a fresh floating scent is infused within the bathroom space.
Nightstand in Bedroom
A great way to utilize the corner space in your bedroom is by installing a floating nightstand with mounted ceiling lights. These, together, invite modern comfort into your bedroom by providing easy and accessible storage and mood light for when day turns to night.
A floating nightstand gives easy access to your TV remote, reading glasses, books, phone, and charger. Install a long skinny lamp beside the nightstand, if you have space, it would give you additional light for reading or watching TV in the evenings or cloudy days.