Patios are an extension of your living space. The outdoor furniture and appliances relegate a story of your lifestyle with their flawless condition and impeccable shine. However, unsuspecting enemies such as dirt, dust, inclement weather, and bird droppings may cause irreparable damage. Choose the best custom covers to safeguard your invaluable possessions from outdoor elements. Let's take a look at 7 features that will help you make up your mind about the right product.
#1: Avoid the Noise, Understand the Choice
A variety of brands are available in the market selling various types of custom outdoor furniture covers. The material is the foremost feature to be analyzed. Vinyl and polyester are two of the most common fabrics that are available for the outdoor protection of your possessions.
Vinyl 
Lightweight and portable, these outdoor custom covers are inexpensive, resilient, and water-resistant. If you are looking for a temporary solution to cover your outdoor possession on a budget, then this is the best option for you. Vinyl's stiff composition makes it a perfect cover for windy weather. It can easily conform to the shape of your furniture or appliance, protecting it from dirt and dust.
Make sure that the company offers you the option to customize the size or the vinyl may not be able to give comprehensive protection. Vinyl is water-resistant and not waterproof. This means that if water remains accumulated on the cover, there are chances that it may permeate the surface. This will trap the moisture within the cover leading to mildew growth which can damage your furniture and the cover.
Vinyl inhibits breathability that allows moisture or air to pass through the fabric without trapping heat or condensation. Choose vinyl for protection from moderate weather conditions only.
Polyester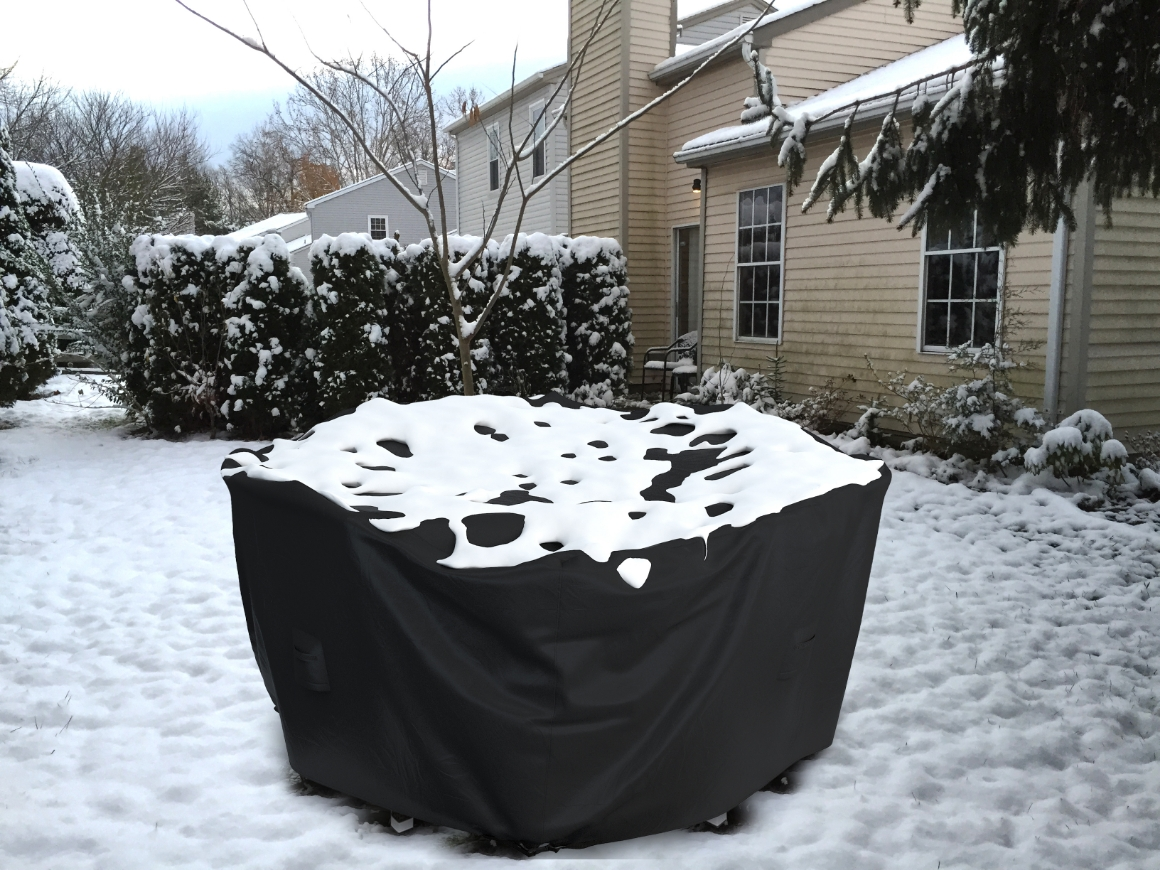 The outdoor custom covers made from polyester are waterproof, tear, and abrasion resistant. Covering your outdoor belongings with polyester covers gives them protection from flying debris, dust, dirt, bird droppings, heavy rainfall, and intense sunlight.
Polyester is a breathable fabric that allows moisture to evaporate quickly and prevents the growth of mold and algae. The custom waterproof covers minimize damage from water and fare exceptionally well when encountered by natural elements present in the environment.
Choose polyester if you are looking for heavy-duty fabric that will give protection from extreme weather conditions.  
#2: If It's Worth It, Then Go for It 
Moving your patio furniture every season can be tiresome. Replace inconvenience with weatherproof covers that ensure protection from UV radiation, sudden showers, snow, sleet, wind, dirt, dust, etc. Buy worthy custom patio furniture covers to avoid frequent replacements.
How will you know which cover is worthy? Look for the authenticity of the brand, check the quality of the fabric, and analyze the reviews. You should also check the process of manufacturing, and whether the fabric goes through the rigorous process of quality checks before being dispatched. 
Durability and natural effectiveness from outdoor elements should be a priority when deciding the quality of the covers.  
#3: Customize the Size the Way You Like 
Many of your possessions are sized differently. To procure the right size product, get custom patio covers available in altered sizes. Look for options that allow you to modify the size of the cover according to your requirement.
A cover that is too long may touch the ground repeatedly resulting in frays and tarnishes. It may come in contact with moisture on the ground after experiencing surprise showers. This may not give you complete protection from outdoor elements rendering the purpose of sheathing useless.
Measure each piece of your outdoor furniture or equipment. Measure the height and width including the depth of the furniture to get accurately sized covers. You can use a rope for measuring the circumference of circular-shaped objects. The custom furniture covers with precision fitting are worthy of your investment even if they are steeply prized.
#4: Secure Tie-Downs for Complete Protection  
A kitchen on the patio eases life outdoors. You can enjoy fresh meals from the kitchen rejoicing on the deck. Get custom outdoor kitchen covers to keep the landscape spick and span. Secure the outdoor furniture using straps, elastic hems, Velcro, zipper, leg ties, grommets, push clips, etc.  
The fasteners keep the covers firmly secured onto your furniture pieces while giving a neat outlook. They enhance wind resistance as the covers remain immobile when accosted by gusty winds. Use any of the fasteners listed above that are suitable for your outdoor furniture to keep your patio furniture covers secure during inclement weather.  
#5: Beat the Unpredictable Weather with Weatherproof Covers 
The weather can be challenging in some regions. Understand the climatic hurdles of your geography and choose custom covers that best solve your predicament. Some of these covers fare better in high UV radiation areas responsible for discoloration. Use UV-resistant square patio furniture covers for equal dimensional furniture that may be exposed to direct UV radiation for a prolonged period. Protection from UV radiation can help preserve colors and keep the covers in pristine condition.  
Some geographical regions experience heavy rainfall, use waterproof covers to protect your belongings from moisture retention and damage. It is recommended to use grommets, webbing, and double-stitched hems for wind resistance. They fortify the covers and prolong their shelf life.  
#6: Air Pockets for Breathability 
Covers made from artificial material such as polyester may experience a foul odor when left unattended for a long duration. Covers that come equipped with air pockets get optimum breathability that prevents odor formation.  
#7: Installing the Covers Should be a Piece of Cake 
Round outdoor furniture covers for circular tables/chairs should be easy to install and remove. Some covers come with handles for effortless maneuvering while some offer tie-downs. A drawstring can easily be manipulated to tighten the noose around the outdoor furniture while a push clip facilitates quick closure minus the complications.  
The covers should be lightweight yet sturdy enough to withstand the elements. Look for covers that come with the added features listed above and give you ultimate protection from outdoor elements.