Have you ever wondered how some tarps manage to keep everything underneath bone-dry despite the relentless downpour and others start dripping water after a few showers? The answer lies in understanding the differentiation between water-resistant and waterproof tarp materials.
When it comes to protecting your belongings from water and rain, the choice between waterproof and water-resistant tarps becomes crucial. While both options offer a degree of protection, understanding the distinction between the two is essential. To help you make a judicious selection, we have meticulously curated an array of essential factors on waterproof vs water-resistant tarps and help you select the right tarp for your needs.  
Waterproof and Water-Resistant Tarps: Differentiation
The line between waterproof and water-resistant tarps is where the magic happens. Waterproof tarps offer impervious protection against water and moisture, even when submerged. Their impermeable surface ensures dryness but often compromises breathability.
In contrast, heavy duty water-resistant tarps repel water for a limited time, eventually succumbing to saturation. These tarps are breathable, making them ideal for situations where light rain is a concern, but prolonged exposure to moisture isn't expected.
Waterproof Tarps: Features
The heavy duty waterproof tarps crafted from robust materials such as polyethylene, vinyl, and waterproof canvas provide utmost protection against rain, sun, and debris. Here are their features: 
Complete Protection: Waterproof tarps form an impervious shield against water, making them a perfect choice for applications where absolute dryness is paramount.
Durability: These tarps resist not only water but also rips, tears, and abrasion, making them suitable for demanding environments.
UV Protection: Many waterproof tarps come with UV protection, extending their lifespan by shielding them from sun damage.
Ideal Uses: Large waterproof tarps find their niche in applications like boat and car covers, construction sites, field covers, roofing, and industrial settings.
Materials: Clear PVC tarps, Iron Horse Polyester, Vinyl Laminated Polyester, and Vinyl Coated Polyester are some of the top options available.
Water-Resistant Tarps: Features
Water-resistant tarps are typically made from canvas or nylon, treated with substances like waxed paraffin to repel water. These tarps provide protection against light moisture and resist water infiltration. Here are their features:
Limited Protection: Water-resistant tarps offer moderate defense against moisture and are suitable for areas or applications experiencing light rain exposure. 
Breathability: These tarps allow air to pass through, reducing the risk of condensation buildup underneath the cover. 
Applications: Water-resistant tarps are well-suited for camping, covering firewood, equipment protection, and light trucking. 
Materials: Canvas tarps with oil and wax coating, heavy-duty UVR poly tarps, and heavy-duty poly tarps are popular choices. 
Waterproof Tarps: Material Choices
Custom Waterproof Tarps: Imagine having the perfect tarp that fits your exact specifications. With custom waterproof tarps, you can enjoy precisely that. These tailor-made tarps are designed to fit your unique requirements, ensuring a snug and effective cover for your belongings. Whether you need a tarp to shield your outdoor furniture, construction materials, or vehicles, custom tarps provide the perfect fit. 
Heavy Duty Waterproof Tarps: When it comes to providing unparalleled protection, heavy duty waterproof tarps take the lead. Crafted from durable materials, these tarps are built to withstand the harshest of conditions. Whether it's heavy rainfall, snow, or extreme winds,

heavy duty tarps

have you covered. These robust tarps are ideal for construction sites, industrial applications, and any situation where uncompromising protection is paramount. 
Poly Tarps: Poly tarps, made from polyethylene material, are a popular choice for those seeking waterproof protection that is versatile and cost-effective. These tarps are not only resistant to water but also provide protection against UV rays, tears, and mildew. Whether you need to cover your outdoor equipment, garden supplies, or create a temporary shelter, poly tarps offer a reliable solution. 
Vinyl Tarps: Vinyl tarps are renowned for their robust composition and formidable durability. Crafted from high-quality vinyl material, these tarps not only repel water with utmost efficiency but also offer steadfast resistance against tearing, UV rays, abrasion, and mildew. They are available in a versatile range of sizes, thicknesses, and colors to safeguard your valuables from various demanding applications. 
Clear Vinyl Tarps: Clear vinyl tarps are a unique blend of practicality and transparency. These specialized tarps, crafted from thick, durable materials, offer exceptional protection against rain, wind, and other environmental factors, while providing a clear view of the covered items. Ideal for applications such as porch enclosures, patio covers, and temporary walls, they offer a versatile covering solution. 
Water Resistant Tarps: Material Options
Water-Resistant Canvas Tarps: Canvas tarps, treated with substances like waxed paraffin, offer reliable water resistance. While they may not be completely waterproof, they provide effective protection against light moisture. These tarps are commonly used for landscaping, construction, and painting projects, where a moderate level of water resistance is sufficient. 
Nylon Tarps: Nylon tarps, crafted from denier nylon fabric, stand as a resilient choice for a wide array of applications. They can repel light moisture and provide a degree of protection against water. Their tear and abrasion-resistant nature ensures durability, making them well-suited for diverse needs. Whether for industrial, agricultural, construction, or residential purposes, nylon tarps offer dependable protection that withstands the rigors of demanding environments.
Waterproof Tarps: Applications
Heavy Rain and Storms: Waterproof tarps are essential in situations where heavy rain, storms, or torrential downpours are expected. They provide complete protection against water penetration, keeping your belongings completely dry. 
Flood Prevention: When there's a risk of flooding, waterproof tarps can be used to create barriers and divert water away from sensitive areas. 
Boat and Vehicle Covers: Waterproof tarps are ideal for covering boats, cars, and other vehicles to prevent water damage and rust. 
Outdoor Events: If you're hosting an outdoor event and want to ensure that your equipment, stage, or seating area remains dry, waterproof tarps are a reliable choice. 
Construction Sites: Waterproof tarps are commonly used to cover construction sites and protect building materials, machinery, and equipment from rain. 
Emergency Shelter: In emergency situations, waterproof tarps can be used to create temporary shelters that provide protection from rain and moisture. 
Water-Resistant Tarps: Applications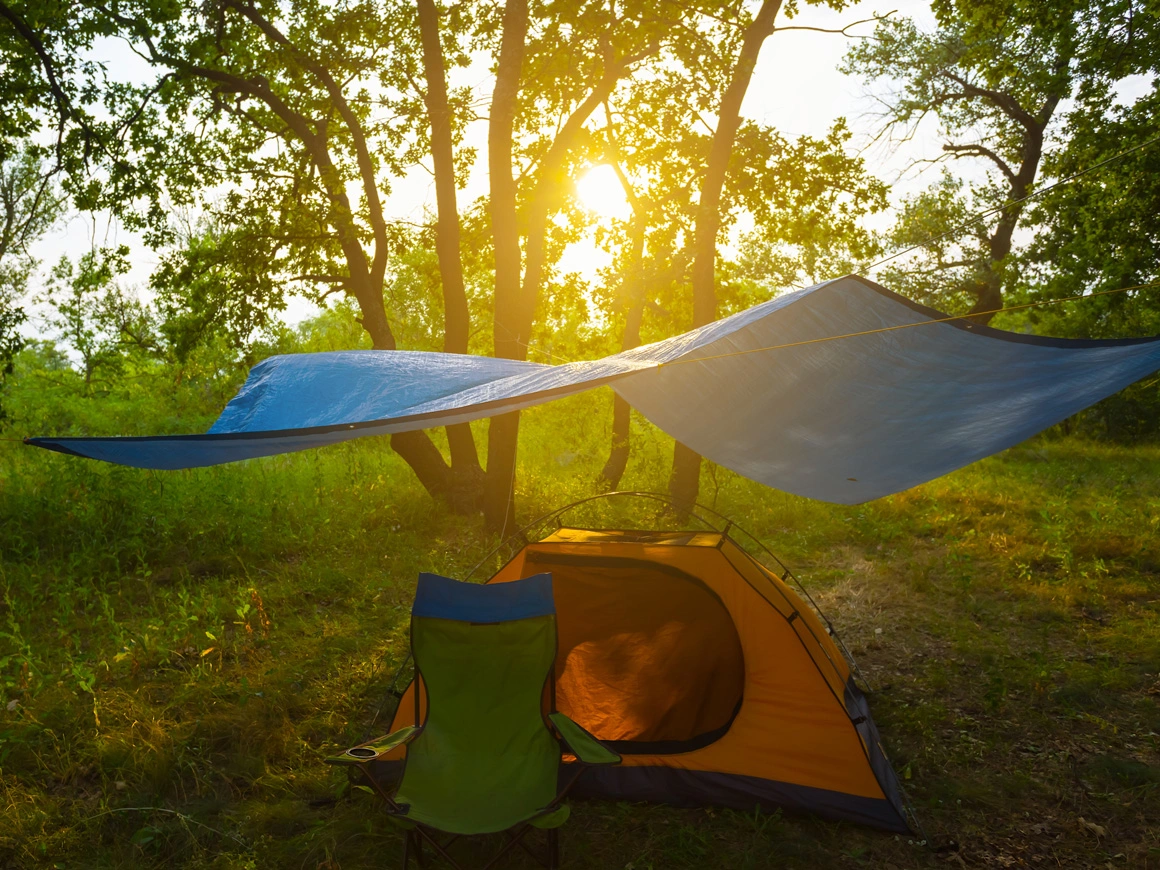 Light Rain and Drizzle: Water-resistant tarps are suitable for situations where light rain or drizzle is expected. They can repel moisture and prevent items from getting damp. 
Outdoor Storage: When you need to store items outdoors and want to protect them from occasional moisture or dew,

standard size tarps

can be a cost-effective solution. 
Camping and Recreation: Water-resistant tarps are great for camping trips, picnics, and outdoor gatherings where protection from light rain or morning dew is needed. 
Privacy and Screening: These tarps can be used for privacy screens, dividing spaces, or creating barriers, offering some protection from light rain or mist. 
Lumber and Firewood Covers: Water-resistant tarps are suitable for covering stacks of lumber, firewood, or other materials that need partial protection from moisture. 
Temporary Shade: In areas where sun and light rain are common, water-resistant tarps can provide temporary shading and protection from light precipitation. 
In nutshell, the choice of the best waterproof tarp or water-resistant tarp depends on your specific requirements and the level of protection you need for your belongings or activities. If you're looking for uncompromising protection against heavy rainfall and extreme conditions, heavy duty waterproof tarps are your go-to option. On the other hand, if you need a tarp that offers a balance between protection and breathability, water-resistant tarps are the way to go.