We are here to let you know how to cover skylight from outside. It is a practical solution rooted in centuries of architectural evolution, allowing us to expertly manage light, temperature, and privacy. The ingenuity of integrating natural light while preserving interior comfort has always been a pursuit.  
In ancient Rome, the ingenious use of skylights, known as "cavum aedium" illuminated the interiors of grand villas, reflecting an early understanding of the importance of balanced lighting.  
Today, skylight covers play a crucial role in not only maintaining the delicate equilibrium of light and temperature but also in boosting energy efficiency and aesthetics. The renowned architect Frank Gehry's innovative designs often incorporate skylights as integral elements, seamlessly blending art and function. Gehry's sentiment aligns, "Architecture should speak of its time and place, but yearn for timelessness." 
As you are already planning for exterior skylight covers, remember that this is a fusion of history, innovation, and practicality. It's the art of balancing ancient wisdom with modern sensibilities, channeling light's timeless beauty while embracing contemporary comfort and efficiency.
Materials Needed
Skylight Cover 
Measuring Tape 
Mounting Hardware 
Screwdriver 
Weatherproof Sealant (optional)
Steps to Cover Skylight from Outside
1. Precision in Measurement
Initiate a flawless fit by commencing with meticulous measurements. Accurately assess your skylight frame's width and length. Form the basis for a cover that seamlessly integrates and ensures optimal safeguarding. 
2. Tailored Cover Selection
Craft your skylight solution to perfection. Whether you require light control, enhanced insulation, or a fusion of both, explore our range: custom pyramid skylight covers, flat bent skylight covers, barrel vaulted skylight covers, or rectangle/square skylight covers, for a perfect tailored match. 
3. Cover That Matches
Go for the cover that aligns with your vision. Order a skylight cover that mirrors your skylight's dimensions and suits your needs. Unveil possibilities with Covers & All's diverse selection of skylight dome covers. 
4. Prep for Perfection
Set the stage for successful installation by clearing away dirt and debris from the skylight area. An immaculate surface forms the basis for a smooth and lasting fit, ensuring optimum functionality. 
5. Seamless Mounting Setup
Navigate installation effortlessly by adhering to the manufacturer's guidelines. Designed for your convenience, mounting hardware is usually provided to simplify the setup process for your cover. 
6. Place with Precision
Gently position the custom covers over the skylight frame, aligning the mounting holes for a secure union. This alignment not only ensures snug placement but also promises unwavering protection. 
7. Firmly Fastened Assurance
Harness the power of provided screws and a trusty screwdriver to anchor the cover firmly onto the skylight frame. Bolstered security is paramount to a sustained barrier against external elements. 
8. Eliminate Gaps, Enhance Shielding
Guard against potential vulnerabilities by meticulously examining the juncture between cover and frame. Seal any openings with weatherproof sealant, empowering your custom skylight covers to stand strong against environmental challenges. 
9. Operational Confidence
Validate the cover's functionality by engaging its mechanism – open and close. Certify its ability to effectively mitigate unwanted light and temperature influx, underpinning your comfort. 
10. Sustain Its Elegance and Function
Embrace the role of a diligent caretaker by upholding the cover's allure and operational efficacy. Abide by the manufacturer's care directives to ensure enduring quality and enduring appeal. 
Benefits of Exterior Skylight Covers Outside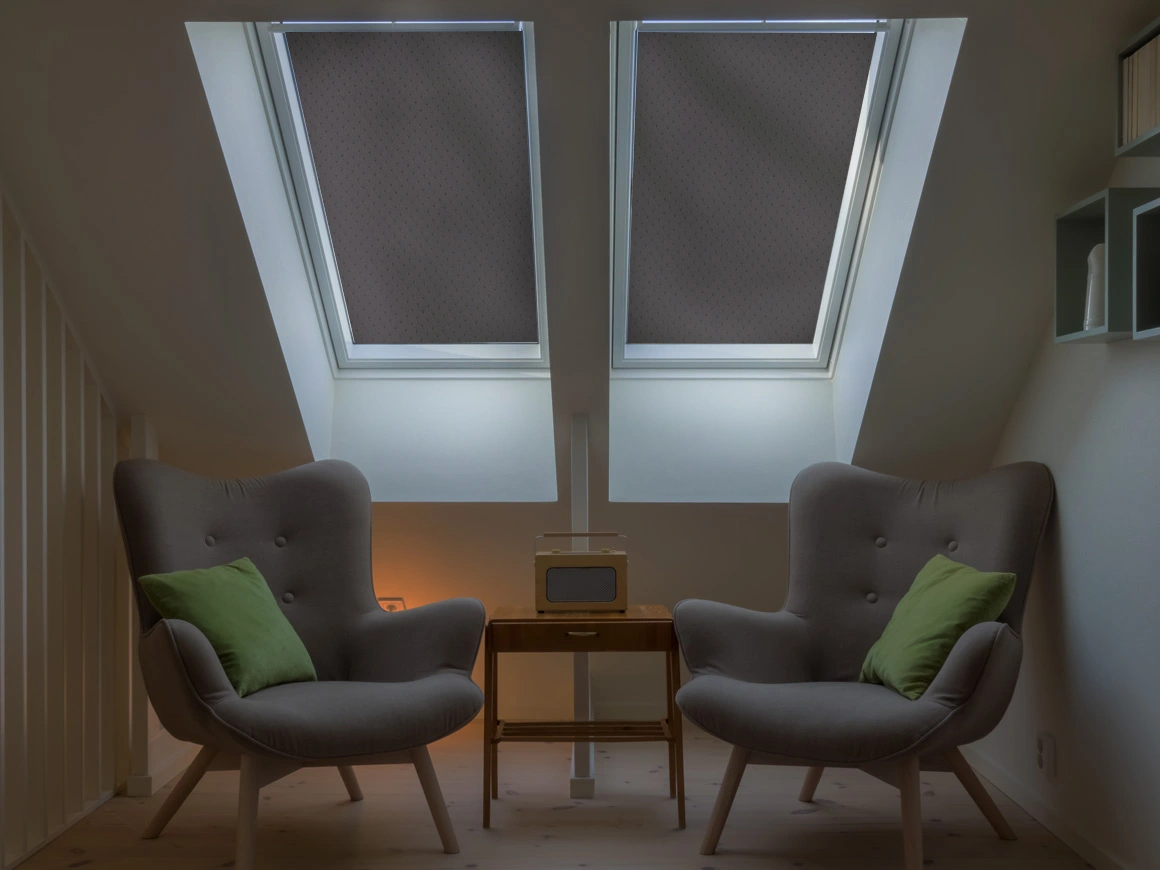 1. Energy Efficiency
Embrace an eco-conscious approach with skylight covers that offer remarkable energy efficiency benefits. These skylight protectors effectively curtail heat gain during sweltering summers, curbing the strain on your cooling systems and reducing energy consumption. Conversely, in colder months, they act as a barrier against heat loss. It gives optimal indoor temperatures while reducing the need for excessive heating. This proactive measure not only enhances your comfort but also translates to a tangible reduction in energy bills. Make them a prudent investment for your home! 
2. Glare Control
Immerse your indoor spaces in a gentle and soothing light by employing skylight covers that expertly manage glare. By diffusing the intensity of sunlight, these covers create a well-lit ambiance that's not harsh on the eyes. Bid farewell to discomfort caused by blinding glare and welcome a serene atmosphere that promotes relaxation and productivity. 
3. UV Protection
The longevity of your interiors gets elevated with skylight covers that offer a protective shield against harmful UV rays. These covers act as a barrier, and so shield your furniture, decor, and flooring from the ravaging effects of UV radiation. By preventing fading, discoloration, and deterioration, they extend the life and vibrancy of your cherished belongings. 
4. Privacy
Strike the perfect balance between abundant natural light and privacy with skylight covers. Revel in the luxury of private moments without compromising on luminosity. These covers allow you to bask in the beauty of unobstructed daylight, cocooned within your personal haven, free from prying eyes. 
5. Customization
Transform your skylight into a captivating design element with waterproof skylight covers that embrace your personal flair. Explore an array of skylight shade covers' types, sizes, and colors to align seamlessly with your aesthetic preferences. From custom pyramid and flat bent designs to a plethora of hues, customization empowers you to infuse your skylight with a touch of your individuality. It turns your outdoor skylight covers into artistic statement within your living space. 
Let's Sum It Up
Covering skylights from the outside provides an array of benefits, from controlling light and temperature to enhancing energy efficiency. Just as modern design principles have evolved, so have the solutions to manage skylights. From custom pyramid designs that capture and diffuse light to flat bent covers that blend seamlessly with sleek aesthetics, the options are diverse.
"The details are not the details. They make the design." – Charles Eames.
In covering skylights, every detail matters in creating an optimal indoor environment. With the right cover, you can transform your living spaces into comfortable, well-lit havens. Explore a variety of skylight covers at Covers & All to find the perfect solution for your needs. 
Written by Covers & All Editorial Team.