We all have a cozy corner at our home, to chill with our friends, family, or just by ourselves. Be it your breezy patio, a pleasant balcony, or by your window side, there's a common element that makes your corner comfy and elegant. It's the snuggly little cushions. They add colors to your area, make the wooden furniture plush, and instill a warm feel to the whole space.
However, the external elements of the outdoors such as drizzle, direct sun rays, dirt, dust, bird droppings, and others can damage the soft furnishings that adorn your cozy corner. There are many factors one needs to mind while purchasing, using, or storing such cushions. From outdoor cushion covers and cleaning methods to storing options and others. There is a lot to discuss. So, without any further delay, let's discuss some essential and easy methods to keep your cushions in pristine condition for a long.  
Pick The Right One
Choosing the right fabric is the first step to enjoying a fluffy cushion for a long. We all love natural fabrics like cotton, rayon, or jute that come with their unique aesthetic appeal. However, these natural materials are easily spoiled by nature. There's no doubt that they give us the homely feel we all look forward to after a long day. But, if you are looking for something durable, then artificial fabrics should be your choice.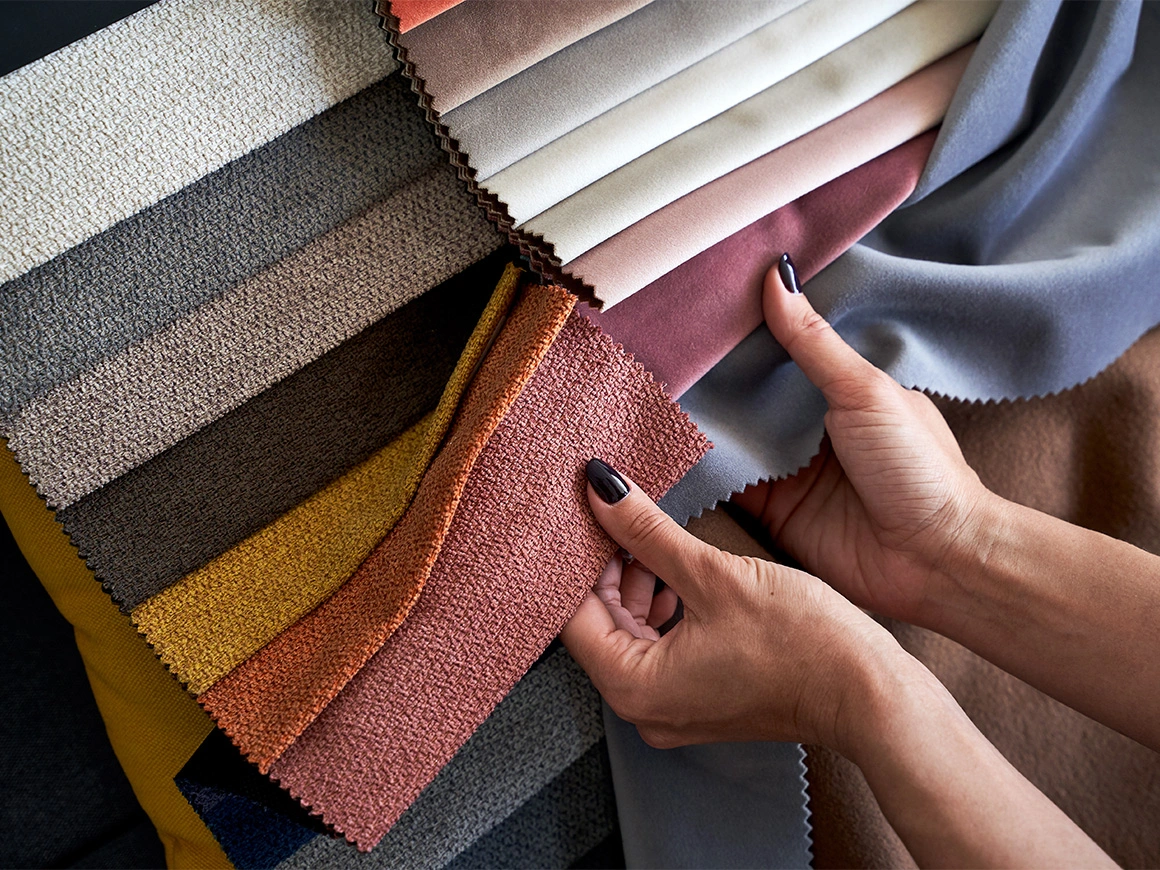 In artificial fabrics as well, not every material is suitable. Look for waterproof cushions with features such as UV-resistant & stainproof. However, if you feel that polyester fabrics do not create a lively aura in your space, then you can go ahead with cushions made of natural fabrics and get trendy custom cushion covers to sheath them. You can customize the size and design for such covers, giving your cozy corner a look, you stay hooked with. 
Dab-Dab a Little & Say Bye-Bye to Dust
Nothing beats a regular cleaning habit. You may call it old school, but it works. Every morning a little fluff-fluff and dab-dab at all the throws of your outdoor space, and ta-da! That is all these stuffy little props that need to go a long mile. But if you love your cushions (which I'm sure you do), a little vacuuming won't harm either.  
Okay, okay, I hear you. Dust is not all that the cushions go through. There are droppings from the chirpy birds, growth of mold, oil stains from alfresco dining, and more. Well, we have got a plan for all your worries. Keep reading and learn more about taking care of your patio cushion covers. 
Treat the Stain, Stay Away from the Pain
The key to removing any kind of stain is to treat it right away. It might not be possible every time, but doing this will take extra expenses off your wallet. So, enough of the chit-chat. Let's get to the point now.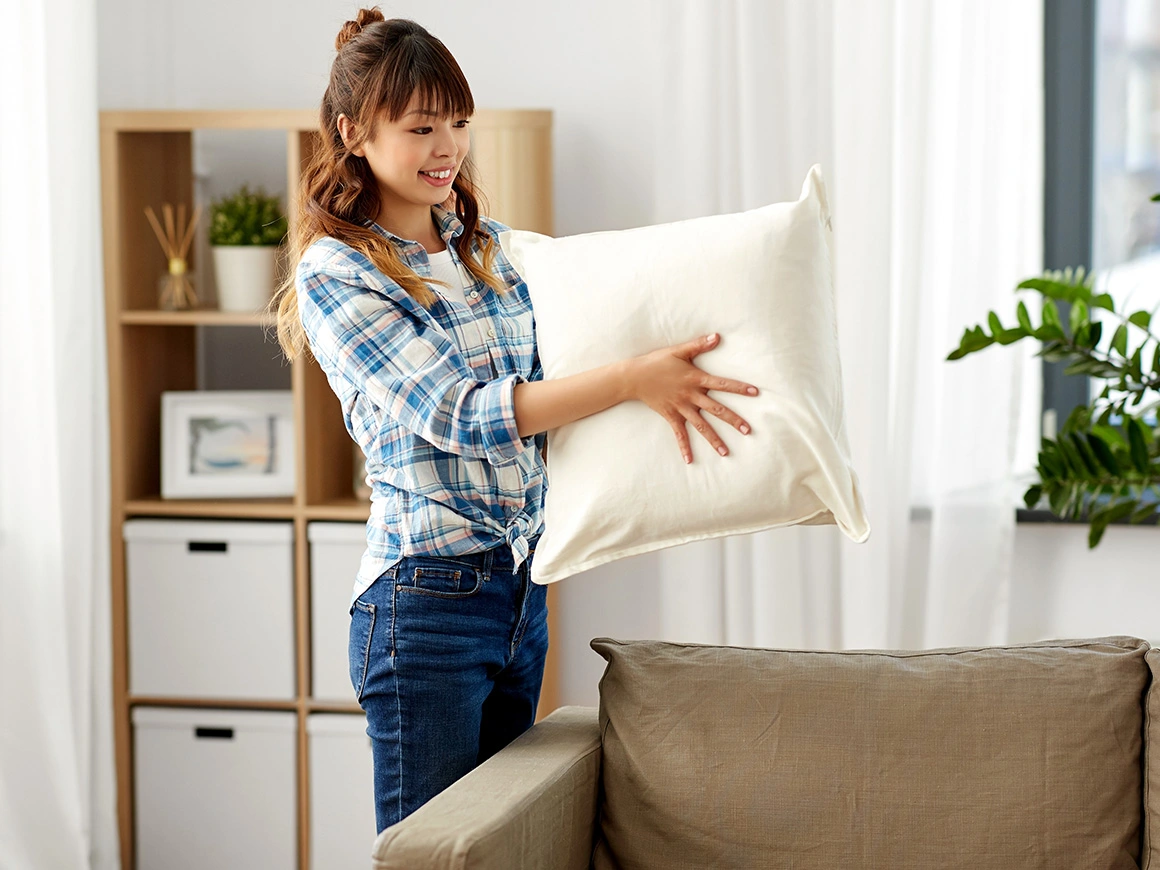 Oil/Grease: The easiest way to get rid of oil stains immediately is to scatter a little baking soda or cornstarch over the stain and wait for 15 mins. By now, the oil should be absorbed. Next, scratch off the powder using a sharp flat surface such as a ruler. Repeat the process, until the stain is completely removed. Clean the tainted area with water and let it dry in the sun.
Bird Dropping: Usually, we panic and remove the droppings as soon as they drop. But scrubbing it in wet conditions will only worsen the situation. So instead, take a long breath and let it dry. Then, scrap it off with a tool. Spray a mixture of warm water and detergent over the stain. Now, scrub the area with a brush and rinse it with water. Line dry in sun and it will be as good as new. 
Mold: No matter how hard you try to get rid of it, mildew will crawl back to any damp place and make it a home. To remove mold or mildew, the first step is to scrap it off using a sponge/brush. For a mild stain, spray white vinegar on the area and leave it for 10 minutes. For a stubborn stain, dip a cloth in white vinegar and keep it over the affected area. After a few minutes, rinse it well with water & detergent, and let it dry.  
There are numerous other cleaning agents in the market that removes the stain right away, including borax, bleaching powder, etc. However, as such solutions are powerful and can damage your cushion's material and filling, you should always test it first to a hidden portion of the pillow and then move ahead.
Resilient Covers 
Can style and safety go hand in hand? Yes, it can with some functional, yet modish couch cushion covers. There are a lot of benefits to using covers. They are removable, easy to clean and come in distinct aesthetic designs and patterns. Need custom-sized cushion? You got it. Need rectangle cushion covers or round cushion covers? You got it. Need chair seat cushion covers or window seat cushion covers? You can have it all from the comfort of your home. Today, the online market is filled with such platforms that help you get customized products within a short time frame. So, why worry when the best covers are just a few clicks away? Choose your desired shape & size, print it with a favorite quote or graphic, add other needful accessories, and let the magic happen. 
So, does it mean that you don't need to look after your cushions? Well, not exactly. But it certainly means that you don't need to keep an eye on your cushions around the clock. Routine flipping and washing are enough to keep your cozy corner decked for any surprise visit from your friends or family. And now that the cushions are covered, you just need to wash the outer covering rather than the whole cushion, saving you time and energy.
Store them Away
It's said for a reason, precaution is always better than cure. Cleaning the cushions not only consumes your valuable time but also makes the soft furnishing go through harsh wear and tear. The best solution to save yourself and your cushions is to store them away when not being used for a long time. Whether going for a long vacation or just winter knocking on your door, putting them safely in a box or cupboard is always the simple solution. You can also get waterproof airtight bags to keep the cushions safe from any external interferences.  
Above all, we always have faith in your knowledge and expertise when it comes to your belongings. This piece is just a friendly reminder to take care of those snuggly outdoor throws, pillows, and cushions, that are not just decorative items but your companions of peace, laughter, pillow fights, weeps, and many other emotions.