The constantly changing world has given many of you the choice to stay at home and still earn a decent living. Your beautiful patio area becomes all the more special, as you spend more time indoors, working from home.
From soaking in the warm morning sun to having a peaceful evening snack, your outdoor space has always been more than a seating area for you. It's a special safe spot of your home, that helps you sit back, reflect, and revisit sweet memories, giving you a much-needed break from the hustle and bustle of life.
A special spot requires special efforts. Most people invest a lot of time, money, and energy in creating the perfect outdoor space adorned with chairs, sofas, ottomans, and other furnishings. However, natural external elements like the sun, the wind, and others that are good for your well-being can be detrimental to your outdoor belongings. Here are some easy and effective ways to protect outdoor furniture from the wrath of Mother Nature.
Move the Movables
Some outdoor furniture items are small and lightweight and are at risk of blowing away in high-speed winds. For example, your cushions, small side tables, foot rests, umbrellas, and others. These furnishings can be easily moved to indoor spaces especially when preparing your patio for winter.
You can even relocate your bigger couch and table to an outhouse, a garage, or a covered patio. It might take a little time, but you will be sure of their safety until you take them out. Make sure to check for any leaks and faults, if you own a wooden shed or garage.
Moving your furniture is a good idea when you are going away for a few days. Nothing can stop you from having a worry-free winter vacation when you are assured that your precious belongings are stored safely under a protected shed.
Anchoring the Giants
If your indoors are already stuffed and you have no outdoor shed, then anchoring your huge furniture will be the next best thing. This would be super helpful if your area frequently experiences strong winds that can blow even the heaviest chair off your patio.
Use metal garden stakes or garden staples to keep the bulky seats in place in your garden. To avoid damaging your patio's finished flooring, use ropes, bungee cords, or furniture weights when repairing chairs and sofas.
Whether you secure your furniture in the garden or on the patio, remember to cover it with heavy-duty outdoor furniture covers or custom patio furniture covers in standard or custom sizes for foolproof security.
Fill in the Gaps
We all love the natural vibe that wooden furniture creates in our outdoor area. However, the wood develops cracks or crevices over time, that may hold potentially damaging moisture and dust. Now, the question that must be bugging you is how to protect your outdoor wooden furniture without compromising your leisure time.
The slits developed need to be filled using sealers, paste wax, varnish, and other protective layers for your furniture to last long. To protect wood outdoor furniture, coat it with polyurethane, a strong UV-resistant substance. They provide a finished and glossy appearance to your wooden seaters in addition to sun protection.
Painting is yet another useful and attractive trick to keep the unwanted growth of mildew and mold away from your furniture. Further, painting also protects it from sun damage caused due to its high exposure to UV rays. Add protection to your furniture and colors to your life by choosing to paint your outdoor patio furniture.
Cast Out the Crawlers
Your garden may be filled with pests and insects crawling day and night around your home. Just as its important to keep your indoors free of such crawlers, your outdoor area too needs equal protection. They easily breed on wood and fabric, inviting harmful skin diseases into your home. There are several ways to get rid of insects without using chemical substances that are harmful to your garden and your health.
To keep pests and insects out of your patio area, use outdoor roller shades. Choosing shades that are resistant to water and UV rays would be a good investment year-round. You can easily get these shades with different degrees of transparency, as per your comfort.
Further, you can also plant herbs such as lemon grass, rosemary, lavender, basil, and others around your patio. Your morning and evening coffee time is going to be more refreshing and scented with plants that cast out the crawlers for you.
Blow Off the Dust
Your outdoor patio furniture is vulnerable to constant exposure to dust, debris, winds, sun and other harsh external elements. Just like vacuuming your indoors is a necessity, outdoor cleaning is way more important given the damaging exterior agents.
A regular cleaning habit is not only healthy for your well-being, but also for your pocket. A little time spent daily can save you the future trouble of investing heavy bucks on new furnishing items.
So, the next morning, when you pick up your vacuum to clean the insides, don't forget to blow away the extra dust from your outdoor belongings as well. You can also use a damp cloth or a detergent solution that removes even the minute dust from your favorite wooden chair.
Covering it All
Finally, nothing beats using premium outdoor furniture covers to protect your furniture from harsh natural elements. These covers are usually made of UV-resistant and waterproof material, thus acting as a resilient guard for your valuable outdoor chairs and sofas.
When selecting the covers, ensure they are made of breathable material and fit perfectly to your furniture. The breathable fabric will allow sufficient air circulation, thus preventing the growth of mold and mildew.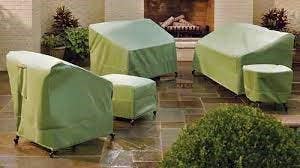 Choosing custom covers ensures that they are neither too loose nor too tight. Therefore, ensuring unfailing security for your precious furniture. Today, you can find a robust cover for almost everything, be it chairs, ottomans, dining sets, curved sofas, and others. So, cover them all and upgrade to a premium lifestyle!