Endless weather problems are the main cause of damage to your patio furniture. You can safely prevent damage by heavy downpours or excessive sunlight by using outdoor furniture covers that lend the strength to withstand rain spells and intense sunlight. Furthermore, these covers are enhanced with tear and abrasion resistance to prevent scratches, rips, ruptures, and frays. In this blog, we will explore several methods to make the covers a formidable accessory. 
1. Rock, Paper, Scissors…What Will Keep Your Covers Tethered?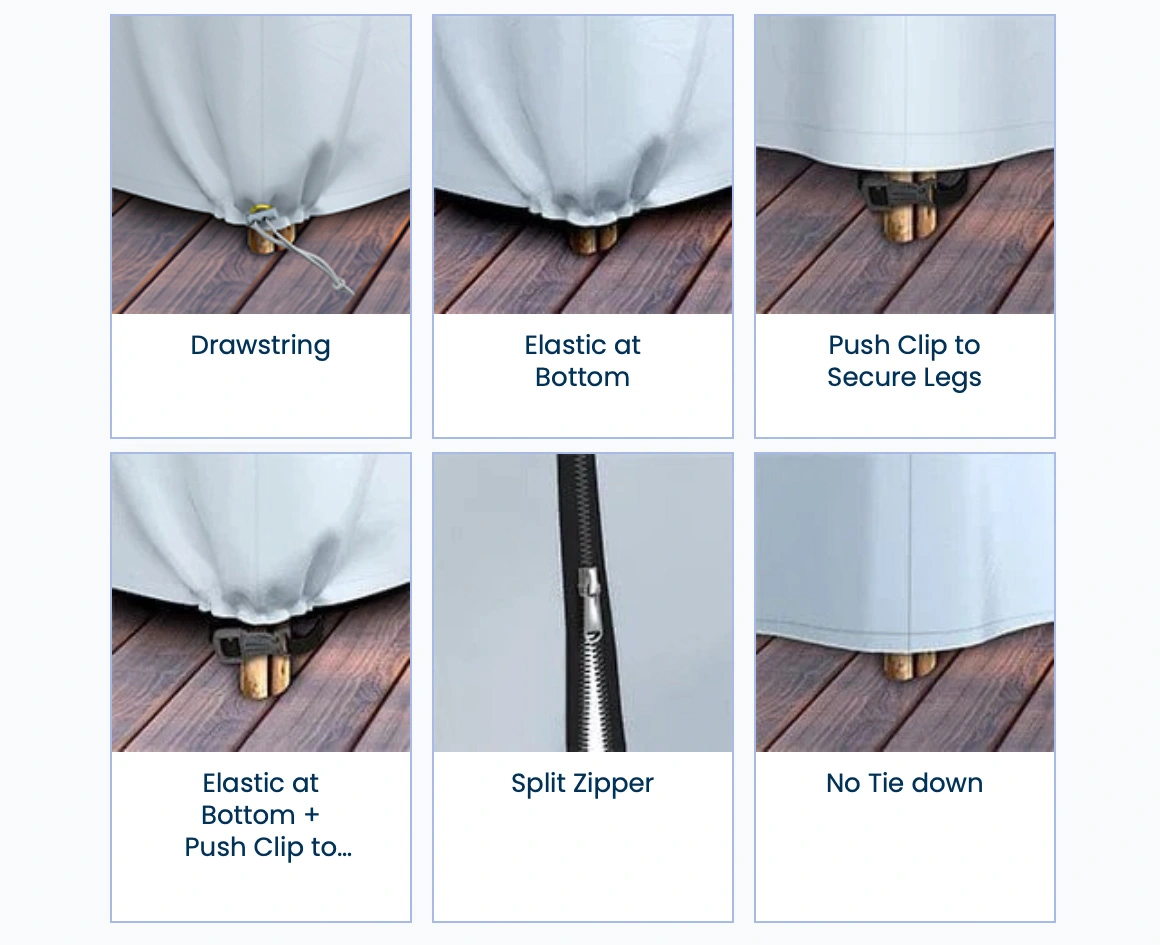 Keeping your covers glued to a spot outdoors can be a tedious task. The sweeping winds could float away the covers to your neighbor's area who may not know your return address. So, how would you keep the covers rooted to your furniture?
Using rocks may be a little unsightly while paper would just float away along with the cover. This leaves us with the option of scissors which could be used for creating DIY tie-downs.
Creating holes in the bottom of the cover for tying ropes can be a great way for ensuring stability. Other tie-down options such as push clips, elastic at the bottom, grommets, D-rings, etc. are offered with the covers for adding weight and stability.
These tie-downs may be available at an extra cost, but it's worth every cent. After all, replacing furniture is way more expensive than paying for the tie-downs!
2. Come Rain or Shine, the Covers Will Keep You on Cloud Nine!
Waterproof outdoor furniture covers can repel moisture that damages the fabric weaves and disintegrate the material with its dampness.
You wouldn't want to change your patio furniture every time it rains. This would be heavy on your pockets and your time. Instead, you could just buy heavy-duty waterproof outdoor furniture covers.  
The covers act as a moisture barrier preventing damage to the surface and cushions of your furniture. Aside from rain, some outdoor lifestyle covers are designed to withstand severe climate challenges such as snow, sleet, storms, and intense sunlight.  
The overcast sunny brightness is not only harmful to your skin but also to your furniture. It can cause discoloration, making the covers and your furniture lose their visual appeal. UV-resistant patio furniture covers will survive such exposure and retain colorfastness.
3. Forget Scratches on the Surface, Use Tear & Abrasion-Resistant Coverage
The best outdoor furniture covers are those that do not sustain unattractive marks and scratches. You can get covers that feature tear and abrasion resistance to resolve any issues that may arise from encountering sharp objects or surface rubbing.
If the covers tear up or become frayed, you may need to replace them. This is what will happen with ordinary covers but tear and abrasion-resistant covers like the outdoor chair covers will definitely rise above the challenge.  
You can expect them to retain their original appearance and keep away from the outdoor elements for an extended time.
4. One Size Does Not Fit All Your Patio Furniture
There are different types of patio furniture covers available for purchase. Some of these could be standard sizes or come in custom sizes. If you think a standard size would not suffice, then take a look at custom-sized covers.  
Customizing the size will enable you to use the covers effectively. Just take the measurements of each side and give them to the manufacturer for customizing the cover.
A sectional couch cover customized according to your couch would be ideal for keeping away dust, dirt, debris, and more.  
A perfect cover is not a fantasy, all you need is a tape measure and the willingness to take down the measurements. The rest of the work will be done by your seller.
5. Personalize the Covers for a Unique Branding Effect
Ever thought of branding your covers to popularize them? Believe it or not! Some companies give you personalized outdoor furniture covers in a font style and color of your choice.
These companies extend the option to upload an image that can be imprinted on the cover in the exact same style and shade. They can be a great gifting option or something that you use in your establishment to increase recall value or celebrate festivities.
You can come up with a funky slogan or a design that resonates with your brand to unlock marketing potential. Spread awareness about your business and make it memorable with a personalized logo or text.
6. Keep the Covers Spick & Span Without Bending Over Backwards
There is no need to be daunted by the task of cleaning. You can keep the custom patio furniture covers in mint condition simply by following the instructions given by the manufacturer: 
Regular Cleaning: Regularly clean the covers to remove dirt, dust, and debris. Gently brush off any loose particles, and then use a damp cloth or sponge with mild soap to wipe down the covers. Avoid using harsh chemicals or abrasive cleaners, as they can damage the fabric or coatings. 
Dry Thoroughly: After cleaning, make sure the covers are completely dry before storing them or putting them back on the furniture. Moisture left on the covers can lead to mold or mildew growth. This is specifically true for

outdoor cushion covers

that are water-resistant, protecting the cushions from slight moisture retention.  
Store Properly: When not in use, store the covers in a dry and cool place, away from direct sunlight. Fold or roll them neatly to prevent creases or wrinkles that can weaken the fabric over time. Your

couch covers

may not be used all year round, store them properly to keep them ready for use.  
Remove Stains Promptly: If you notice any stains or spills on the covers, address them promptly. Use a fabric cleaner or spot treatment to remove the stains, following the manufacturer's instructions. 
Seasonal Cleaning: Perform a more thorough cleaning at the beginning and end of each outdoor season. This helps remove any accumulated dirt or grime and prepares the covers for storage during the off-season.  
Replace When Necessary: Over time, covers may wear out due to exposure to weather conditions. If you notice significant damage or wear, consider replacing the covers to maintain proper protection for your furniture. 
You can utilize the covers for your patio furniture effectively if you take care of them, use appropriate tie-downs, ensure they are designed to sustain outdoor weather conditions, customize them in size, and personalize them for branding purposes.
Written by Covers & All Editorial Team.