Your outdoor furniture is an investment in your home and properly preparing it for the winter months is essential in ensuring that it will last for years to come. Now that it's getting colder, it's time to prepare your backyard and winterize your outdoor furniture for the cold weather ahead.
Step 1- Clean it Right
The first step in preparing furniture for winter is to clean it up. Moisture and dirt left on outdoor items can cause mold or mildew to grow, and you definitely don't want that! Mold can spread quickly, leaving your patio furniture unusable by spring. Different types of furniture require different cleaning materials, of course.
Wood
You can clean your outdoor wooden furniture such as picnic tables and Adirondack chairs with a traditional wood oil soap or you can make a simple mixture yourself with a mild dish detergent, water, vinegar and a few drops of olive oil. Work with the grain using a soft brush or sponge and rinse with a separate cloth dipped in warm water when finished, allowing to air-dry.
Plastic
Plastic furniture can easily become cracked in freezing temperatures, fortunately, most plastic outdoor furniture is stackable making it easy to store. But first, it needs to be cleaned! A simple bucket of soap and water and then a quick rinse with the hose will remove debris. Then allow to air dry in the sun before covering and packing up into the shed for the winter.
Fabrics
Cushions and other outdoor fabric like umbrellas will also need to be vacuumed or shaken clean, washed and dried before you put them away for the season. If you have cushions with removable outdoor fabric covers, you can put them directly into the washing machine and you would typically want them to air dry. For attached fabric, you can prepare a solution of 1/3 cup laundry detergent and 1-gallon hot water and scrub them clean with a soft brush. Then rinse cushions with the hose and let dry. After drying, cushions and pillows are best stored in sealed bins in the garage or shed in winter months.
Wicker
Wicker furniture easily collects dirt and debris and holds moisture. It's best to use a vacuum attachment to get in the grooves and be sure all debris are removed before storing. You'll also want to brush with a bleach and water mixture to remove and prevent mildew. It's always best to store wicker furniture under a cover, even in the warm months as it is prone to becoming dried out and brittle.
Step 2 – Give it a Fresh Coat
Once your furniture is clean, a protective coating will help keep it looking good for next spring. Even furniture that is treated to be weather-resistant or is under a patio cover needs to be maintained. Wood furniture can be covered with a coat of paint and wood sealant, which can be purchased at the local hardware store. You'll want to clean your metal furniture with a wire brush and finish up by spraying it with a silicone sealant.
Step 3 – Cover it Up!
Your furniture may be coated with weather-resistant paint, but it is still a smart choice to protect it with a cover. Patio furniture covers are great for added protection from the elements. Even if you are storing your pieces in a garage – moisture can still get in. That's why all our covers are fully customizable and made to order, so you'll get a snug, secure fit for every piece you need covered.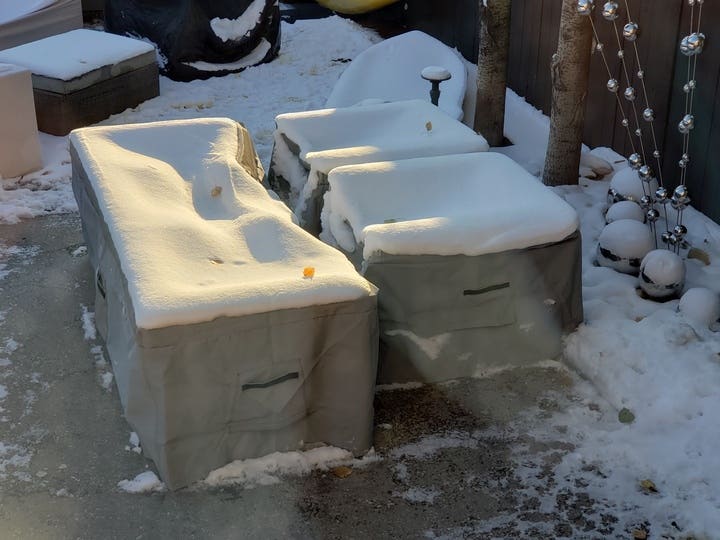 If you follow these simple recommendations for winter patio preparation it will enable you to enjoy your outdoor space again when spring comes around. It doesn't take much to provide some extra protection for your favorite outdoor living space, but it will definitely make all the difference.