If hosting events (like an ultimate super bowl party) and treating your guests to food sounds like your idea of a good time, having a regularly stocked kitchen is a necessity. Unfortunately, that can be an expensive ordeal, forcing you to either regularly buy food that goes to waste, or make constant trips to the store. But, by using these simple tips for keeping your fruits and vegetables fresh for longer— you can cut on that waste and always be prepared for the next event.
Line Crisper Drawer with Paper Towels
Keep your veggies and fruits fresh for longer with the help of paper towels. Just line your crisper drawer with sheets of kitchen rolls before you put your fresh greens and fruits inside. Paper towels absorb the extra moisture that vegetables ooze out as they chill in the refrigerator, keeping them juicy and crispy for longer. In addition, having paper towels at the ready makes for easy cleanup of any gunk or mess.
Cover Banana Stems with Plastic Wrap
To keep bananas ripe for longer, try this quick, efficient kitchen hack. First grab a roll of cling wrap. Then, when you purchase a new set of bananas, pull the bunch apart, then wrap off the crown of each one. Wrapping the crowns slows down the decomposition process and increases its shelf life.
Store an Apple With Potatoes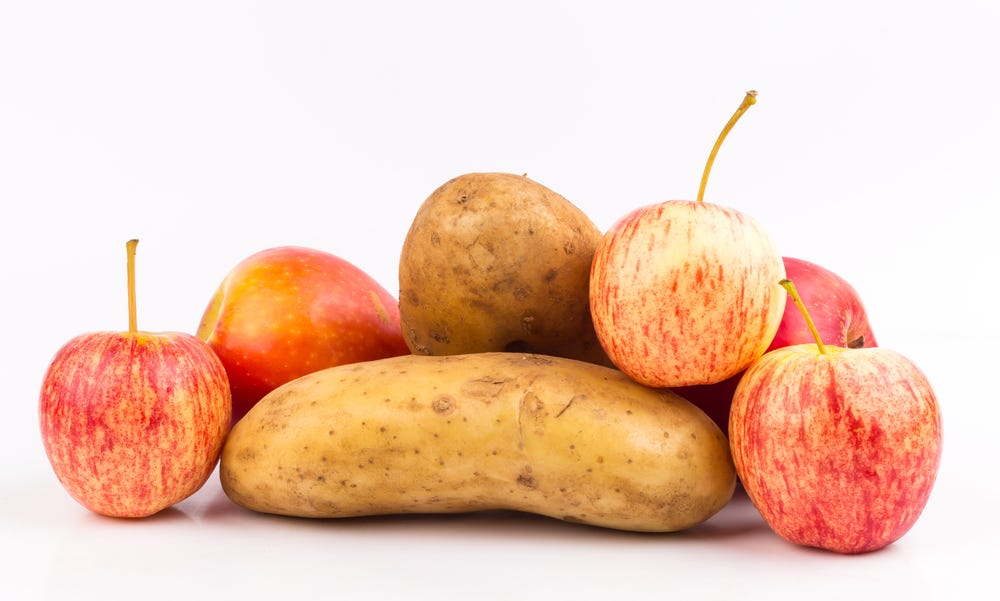 Want to make some baked potatoes without any sprouts? Next time, store your potatoes in a paper bag with an apple. Apples release ethylene gas, which prevents the potatoes from early sprouting, keeping them firm for longer. To make this trick effective, remember to store in a cool, dry and dark area of your home, and don't wash your potatoes before storing. 
Vinegar Bath For Berries
Tired of finding your brand new berries moldy in just a couple of days? Next time, simply extend their storage life by washing them with vinegar. Vinegar kills mold spores and bacteria, prolonging your berries' freshness.  Mix 1 cup of vinegar and 3 cups of water in a large bowl. While mixing, make sure your table is safe from stains with a robust dining set cover or table cover. Afterwards, dunk the berries in the mixture and stow them away to dry.  
Wrap Celery in Aluminum Foil
If you only use a couple of celery stalks at a time, you might need a new trick to keep your celery looking green. Plastic wraps can prolong the life of the vegetable by a week, but for celery, a quick swap to aluminum foil can maintain their freshness anywhere from two to four weeks. For the best results, keep celery heads whole. Then, wrap them in aluminum foil tight, but not so tight you'll lose moisture. Once done, refrigerate the celery as usual in the crisper drawer.
Stow Tomatoes at Room Temperature
For a perfectly fresh salad, you need a batch of fresh tomatoes that are perfectly ripe. But, contrary to popular belief, there's no need to refrigerate the tomatoes to keep them fresh.
Tomatoes originate from Peru and Ecuador, both warm climates, and retain their flavor, texture and coloration best at room temperature. You can easily stow them on the countertops or tabletop sheathed with waterproof dining set covers in the cool dark corner of your kitchen. 
Keep Your Mushrooms in a Paper Bag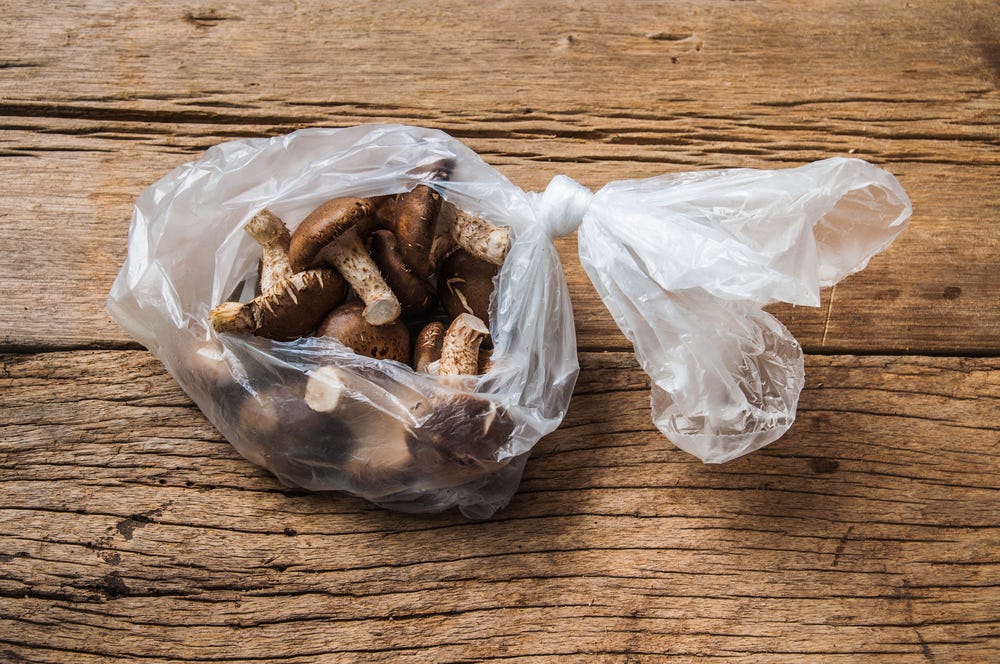 Instead of using plastic tubs, try paper bags to keep your mushrooms clean and dry. Just put the unwashed mushrooms in a brown paper bag and keep the bag in the refrigerator. Paper helps absorb excess moisture from the mushrooms, keeping them crisp for longer and preventing the growth of mold.
Stock Your Onions in Tights
Want to store some onions for months to come? Try using an old pair of stockings. After drying the onions, stack them vertically in the tights and knot them off from one another. Then use a ladder or, if protected under a robust set of chair covers, a chair to hang them. Make sure your hanging rack covers a space in a cool dark place.
Moisture accelerates the decay process for onions. The tights allow air to flow around the onions, preventing moisture from condensing in one area. Likewise, knotting off each onion prevents them from touching each other, keeping a mold growth on one one onion away from the others.
Turn Cottage Cheese Jars Upside Down
Cottage cheese and sour creams usually have a shorter shelf life. But they can remain fresh twice as long if you store the containers upside down in the fridge. The act of inverting the containers creates a vacuum and further stifles the growth of bacteria and prevents the cheese and cream from getting spoiled.
Soak Apple slices in Salt Water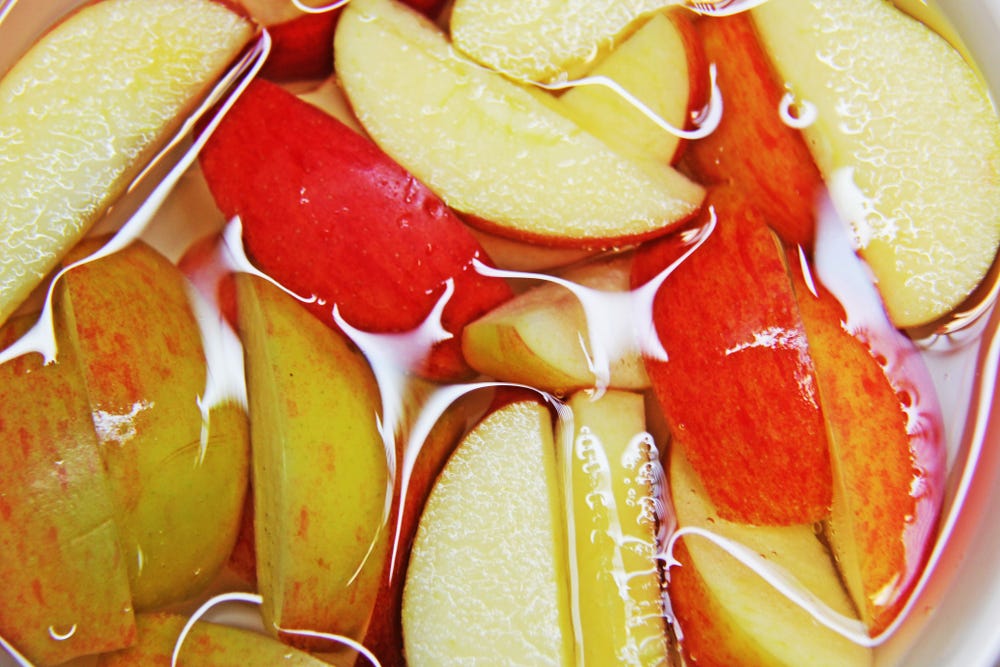 No matter how fresh and crisp apples are, they aren't appetizing once they turn brown. The best way to stop the apple slices from getting oxidized is soaking them in a bowl of cold salt water. First dunk the slices for about five minutes in the cold salt water. Dry the apple slices completely before storing them in the fridge. Make sure to keep the apple slices in airtight plastic bags.