Whether summer or winter, your outdoor sofa always remains the focal relaxation spot on your patio. From alfresco dinners to cozy moments around the firepits, it must have been a host to many warm conversations with your family and friends. As the season turns for the worse, your outdoor couch becomes susceptible to various weather woes. Why leave it at the mercy of the elements, when you can extend its life and make it functional all-season round with robust outdoor sofa covers on it?
Whether you're a seasoned outdoor-living enthusiast or a newbie, we have curated the best tips and tricks on how to use patio sofa covers and make the most of their protective utility to save time and money in the long run.
Why Outdoor Sofa Covers?
Outdoor furniture runs the risk of damage when exposed to inclement weather and elements. No matter how pleasant the weather is, your patio furniture is always under the threat of uncertain weather woes – moisture, UV rays, scorching sun, heavy downpours, falling debris, or dust. Since moisture doesn't go along with the wood, it rots your wooden furnishing faster while encouraging mold growth.
Whether it is summer, winter or wet and humid climate, stringent UV rays take their toll on your premium outdoor furniture. They fade, discolor and damage your premium upholstery and plush sofas, costing you a fortune.
So, regardless of the region you live in or climate it experiences, covering your sofa set with waterproof & UV-resistant custom outdoor sofa covers become essential. They not only protect your outdoor sofas from any weather damage but reduce the need for moving your furniture to an enclosed area every off-season. Plus, prove incredibly useful in extending your furniture's durability – saving you the extra cost on unwanted investment and regular repairs. 
Moreover, no one can deny the extra oomph the outdoor patio sofa covers endow your outdoors with. They prove a game changer when planning to revamp your outdoor aesthetics. Their bright and vivid hues enliven the patio in no time, rendering it with a fresh appeal – ready for more barbecue cookouts and relaxing lounging by the firepit.
Choose Custom Sized Sofa Covers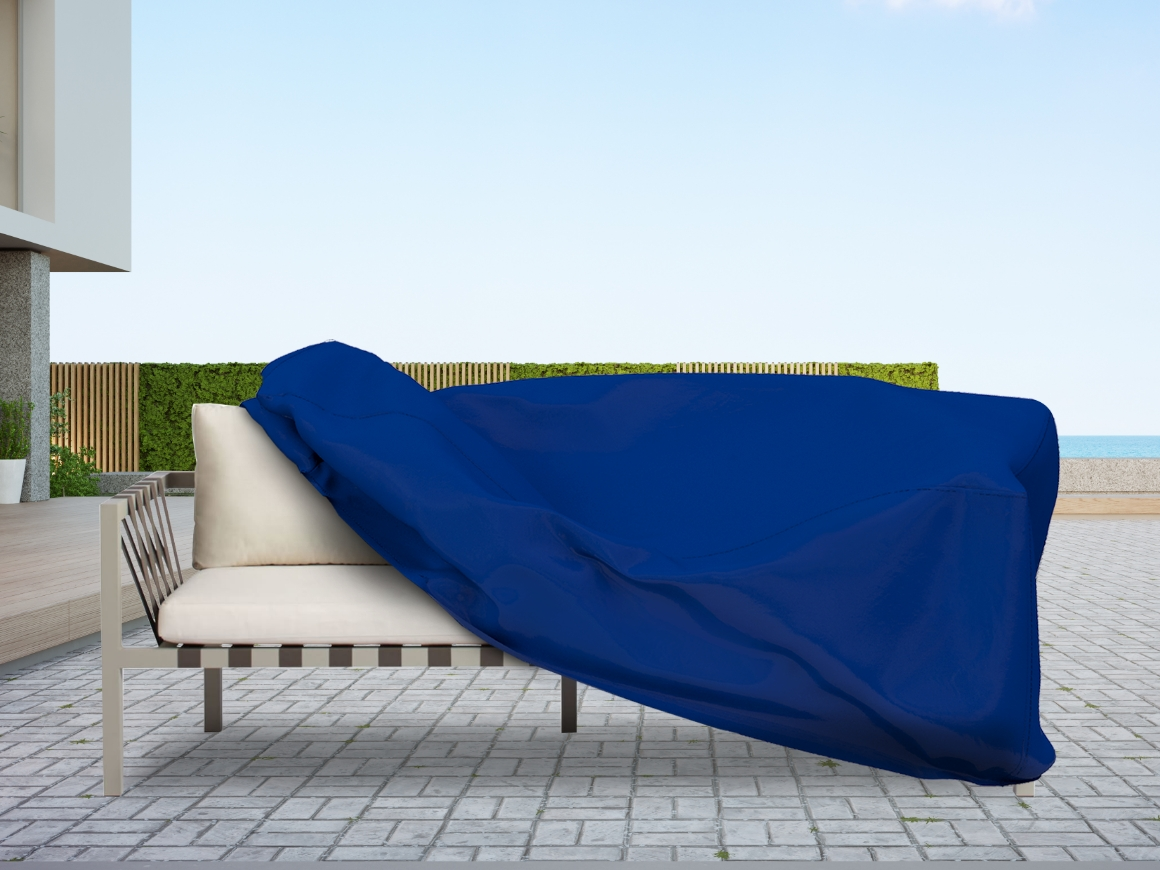 Universal covers with standard size and fit miss the mark when looking for foolproof weather protection for your unique furniture pieces. A cover that is too tight can be difficult to fit, while a cover that is too loose can be blown off by the wind, leaving your furniture exposed to the elements. So, choosing the right size of outdoor sectional sofa cover becomes crucial. A snug-fit cover not only guarantees absolute protection of your prized possessions but ensures your outdoor living space stays impeccable for years to come.
For that perfect fit, go for custom made sofa covers that are tailored to fit the exact dimensions of your unique sofa cover. Whether it is L shaped outdoor sofa cover, curved sofa covers, U shaped outdoor sofa covers, extra-large sectional sofa cover, or any other outdoor sectional sofa cover, accurately measure each side – edge by edge and customize the cover accordingly.
Go for Quality Over Quantity
To steer clear of unwanted repairs and damage that cost a fortune, investing in quality outdoor couch covers is critical. With numerous products available online, you might fall for patio covers that appear solid and durable at first glance but fail to perform when put to test. To avoid their replacement season after season, look for covers that have passed through stringent quality tests.
Invest in high-performing covers that minimize the need for maintenance, offer long-lasting usage and further extend your asset's durability. Prefer covers that are:
Sturdy & Durable: When looking for complete protection and coverage, sturdy and durable fabric is the only savior. Instead of paper-thin plastic off-the-shelf covers, go for quality weatherproof fabrics that are robust yet lightweight.
High quality PVC coated fabrics prove to be the best bet. They not only act as a shield against weather but endow your outdoors with a sheer plush feel. Their lux velvety texture makes all the difference.
Waterproof: Moisture is a potential threat to your outdoor sofa. It rots the wood, sags the upholstery and causes mold and mildew growth. Therefore, premium sofa covers with a waterproof coating are imperative, especially if uncertain showers and accidental spillage are the usual norms.
Choose waterproof covers that are strategically designed to wick away moisture as soon as water droplets hit them and keep your belongings under the outdoor sofa cover waterproof.
Anti-Mold & Mildew: Damp covers are an open invitation to mold and mildew growth. They thrive unhygienic conditions putting your pets and children at the risk of diseases while turning your outdoors into an unsightly spot. Best opt for covers with a protective lining that instantly wards off moisture and prevents it from getting soaked into the furniture.
Breathable: Look for covers with air vents as they make the cover breathable. By allowing proper air circulation, the covers thwart the slightest chances of trapping moisture. Leaving you with dry and cushy outdoor sofa.
UV Protected: Just as water, UV rays majorly affect the quality, color and newness of the furnishings. For prolonged exposure, especially during summer's scorching sun, UV-treated outdoor sofa covers deem fits. By blocking the harmful radiation, the covers protect your upholstery fabric from weathering, turning discolored, or faded.
Secure Curved Sofa Covers in Place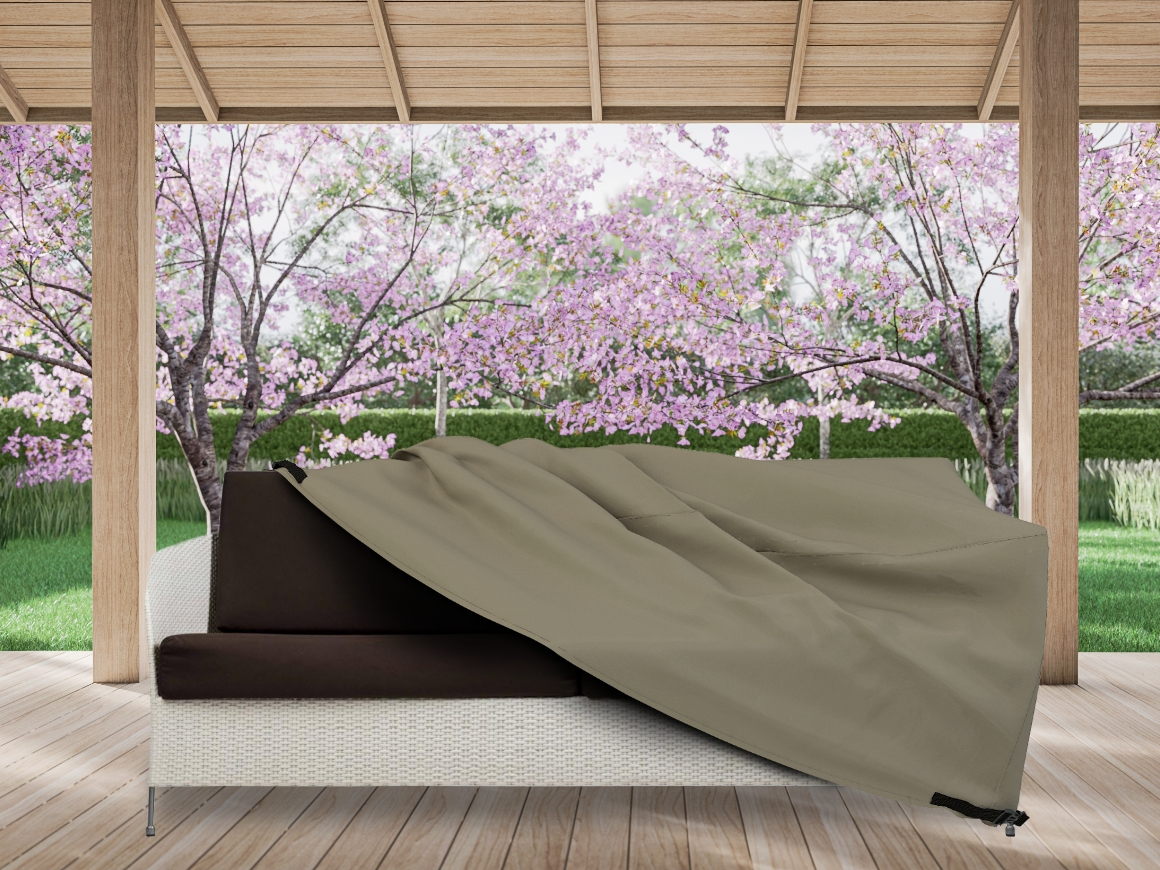 To protect your alluring U shaped outdoor sofa covers from ballooning on a windy day, anchor it down with sturdy tie-downs. If your furniture has unusual angles or wind is a concern, don't forget to customize your covers with various tie-down options available online. Get your covers equipped with drawstrings, push clips, elastic or even grommets that make sliding a rope through them easy for convenient tying.
Don't have any of the above options? Fret not, use clamps – affordable and easily available tying option to secure your covers in place – no matter how windy the weather turns. Additionally, they ensure flexible placement and removal of covers.
Use Air Bags & Prevent Water Accumulation
Proper placement of cover is a pre-requisite when looking for surefire water safety. Sometimes, due to heavy downpour, there are chances of water accumulation on the sunken or sagging cover portions. When not elevated properly, the water tends to pool in those craters and raises the likelihood of leakage, putting your valuable at risk.
The best way to combat this issue is investing in air bags. When placed underneath the low points of your cover, they allow easy water run-off and ensure reliable protection against water & debris. You can choose air bags in any shape to accommodate the unique style of your patio furniture.
Easy Placement
Finding sheathing and unsheathing sofa covers a Herculean task? A little assistance is what you need. Ask your family to participate in this outdoor revamping activity. Make them choose a side and hold the cover over the sofa. Stretch out and roll down the sides as you slip the cover onto the furniture. Secure with the tie-downs and your cushy sofa is ready to lounge in to soak up the sun.
Convenient Storage
Why pile up your sofa covers over a chair in the explored corner of your home, when you can store it nicely when not in use? To ensure your sofa covers offer long-lasting usage, make sure you clean them before storing. Once completely dry, nicely fold them and place them in a storage box for the next use.
Care & Cleaning Tips
Protecting and refreshing outdoor furniture can help extend its lifespan and keep it looking good all year round. Here are some tips:
Regular cleaning is key to maintaining outdoor furniture. Wipe down the furniture with a damp cloth to remove dirt and grime. For more stubborn stains, use a gentle cleaner or a solution of mild soap and water.
Never machine wash or use harsh chemicals on your patio cover. Prefer hand washing them with a mild soap and garden hose.
If needed, use a soft-bristled brush and scrub.
Use patio furniture covers to protect your outdoor furniture from sun and harsh weather conditions.
Don't place or store a damp cover over the furniture. Allow it to air dry completely before placing or storing it.
Apply a protective coating to your outdoor furniture to help prevent rust, corrosion, and fading. There are many products available that are specifically designed for outdoor furniture.
If your outdoor furniture is starting to show signs of wear and tear, consider giving it a makeover. You can sand down the surface, apply a new coat of paint or stain, or seal the surface to protect it from the elements.