The best way to celebrate the return of the cool fall nights is with a fall harvest dinner party. Between the warm autumn colors and the coziness of the firepit, this is an ideal time of year for an intimate gathering with friends.
Fall Themed Menu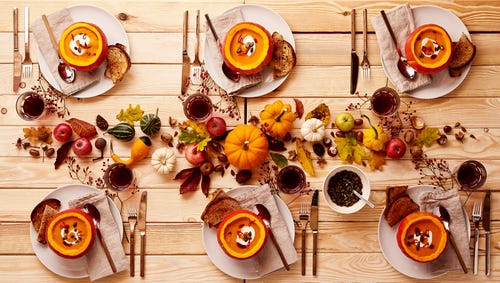 With just a little bit of planning, you can easily create a cool-weather comfort food menu that your guests will be sure to love! Most people first think of spring or summer when they think of harvesting fresh vegetables from the garden, but hearty November harvest vegetables are equally tasty and versatile.
Delicious fall flavors such as a warm butternut squash soup or a hearty kale salad with arugula and fennel will both pair well with grilled chicken thighs and roasted corn. It's also a great way to get a little more use out of your backyard grill before it's time to cover it up for the winter!
You can easily roast root vegetables such as carrots, turnips, and beets in the oven drizzled with olive oil, salt, and pepper for a simple side dish that your guests are sure to love. A fresh fall coleslaw can be made with chopped purple cabbage, carrots, dried cranberries, red onion, and apples.
Serve warm roasted pumpkin seeds, alongside assorted cheeses, cranberry jam, and apple slices for a quick and easy, but delicious appetizer that is sure to please your guests. When it comes to drinks, you will want to have plenty of warm options such as spiked mulled apple cider, hot toddies or even hot chocolate to keep guests cozy and warm, along with some seasonal brews and red wine.
For dessert, caramel apple dumplings or pumpkin pie are both sure to be a hit for any guests with a sweet tooth.
Enjoy The Fall Weather
If you are lucky enough to live in a climate with nice weather in the fall, you should take advantage and throw your harvest party on your deck or patio — this is also prime time for your guests to enjoy a bonfire. Be sure to provide plenty of comfortable seating and cozy blankets around the fire pit to keep your guests comfortable on a crisp fall evening.
Fall Decor
Now that you've planned your menu, don't forget to give your table a fall makeover to create the perfect ambiance! Setting the table is the way to set the mood for your party. Pale yellows, deep blues and greens, creamy whites, and burnt orange can all work for your fall color palette. A beautiful fall centerpiece can easily be made up of a combination of pumpkins, gourds, leaves, corn, and berries. A burnt orange or deep red table runner and a bouquet of fresh sunflowers can warm up your table. You can even add in some hay bales for extra seating. This is the time to go all out with your fabulous fall decor!
Since the autumn days are shorter, you'll want some outdoor string lighting or some rustic lanterns, and fall scented candles so that your gathering can continue into the evening hours.