Step-by-step guide to choose the right covers for L-shape or U-shape Couche
Are you overwhelmed with the care it takes to keep your outdoor sectional furniture in mint condition? You may be in a dilemma whether you should be spending a fortune for having the old, raggy couch reupholstered or just throw the whole thing in a dumpster.
To put you in a better position, we urge you to consider a Sectional Couch Cover. Whether you have an L shape couch or a U shape couch, these covers have the potential to enhance aesthetics as well as the functionality of any furniture. They offer a cost-effective solution for protecting your new couch or revitalizing an old one. They are simple to maintain and can help you save tons of money.
In this guide, we'll explore the process of selecting durable custom covers that will refresh the look & feel of your outdoor setting and keep the furniture looking great at all times.
We are going to talk about material, durability, fit, comfort, workmanship, and other parameters which are the forming pillars for this drill.
Let's get started with this 101 guide for choosing the right kind of covers for your sectionals.
Fabrics that Work Best for Outdoor Furniture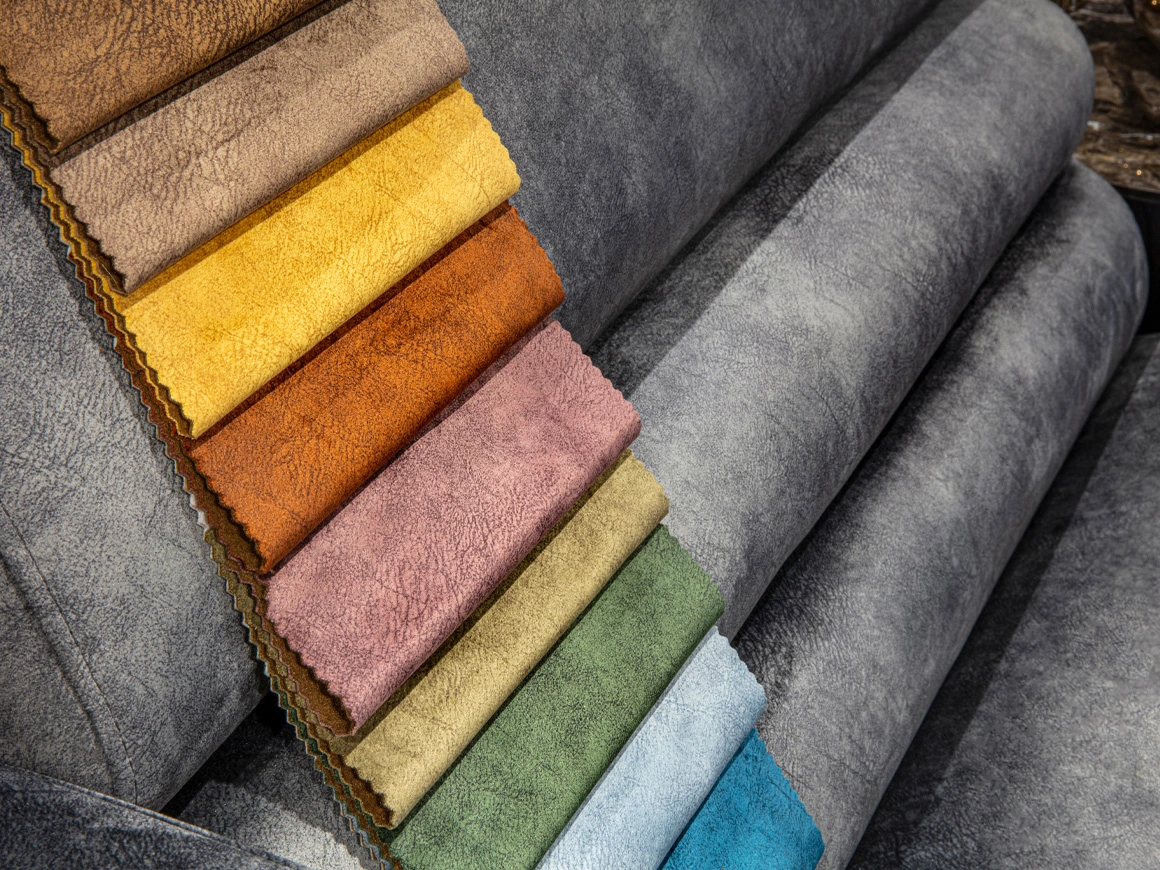 The most common couch problems are worn-out covers, stains and dirt & dust. Worn out covers are the worst of them. The key factor that determines the durability of outdoor couch/sofa covers is the material it is crafted with. Choosing a material with optimum thickness, ability to repel moisture and capacity to withstand elements will automatically have a better shelf-life. Here are some materials that are best suited for L-shaped outdoor couch covers.
Polyester: This material is naturally resistant to the damaging effects of UV rays, rain, and mildew, making it an ideal material for outdoor use. This sturdy material does not easily fade, crack or become brittle when exposed to the elements, making it a reliable choice for outdoor furniture covers. Polyester is a lightweight material that is easy to handle and store, offering convenient usage. It is also very easy to clean and maintain.
PVC-coated fabrics: This material is completely waterproof, making is ideal for use as outdoor sofa protector. They protect furniture from precipitation, preventing them from getting wet and damaged. They do not easily rip or tear, and can resist scratches, abrasion, and other forms of damage. PVC-coated fabrics are also resistant to UV radiation. They do not fade or deteriorate when exposed to the sun and can help protect furniture from UV damage. PVC-coated fabrics are versatile as they are available in a wide range of colors and patterns, making it easy to find a cover that matches your outdoor decor.
Vinyl: This material is a practical and functional material for outdoor sectional covers that can provide excellent protection and durability, making it an ideal choice for homeowners looking to protect their outdoor furniture investment. Vinyl is resistant to the effects of sunlight, down pour and other weathering effects. It can easily withstand temperature fluctuations. Vinyl is a non-porous material, which makes it easy to clean and maintain. It is a cost-effective option too as it is economical compared to other materials like leather or canvas.
Olefin: It is a synthetic material that is durable, resistant to fading and moisture, and easy to clean. It is also lightweight, making it a good choice for waterproof l shape couch covers. Olefin is a synthetic fiber that is naturally water-resistant, which helps to keep your sofa dry in wet conditions. It is also resistant to the damaging effects of UV rays and won't fade when exposed to sunlight for long durations. Olefin is also resistant to mold, mildew, and abrasions, which makes it ideal for use in outdoor environments. Olefin is a low-maintenance material as it is easy to clean. This lightweight material is easy to handle, which makes putting the cover on or off the couch.
Custom-fitted Covers that Fit like a Glove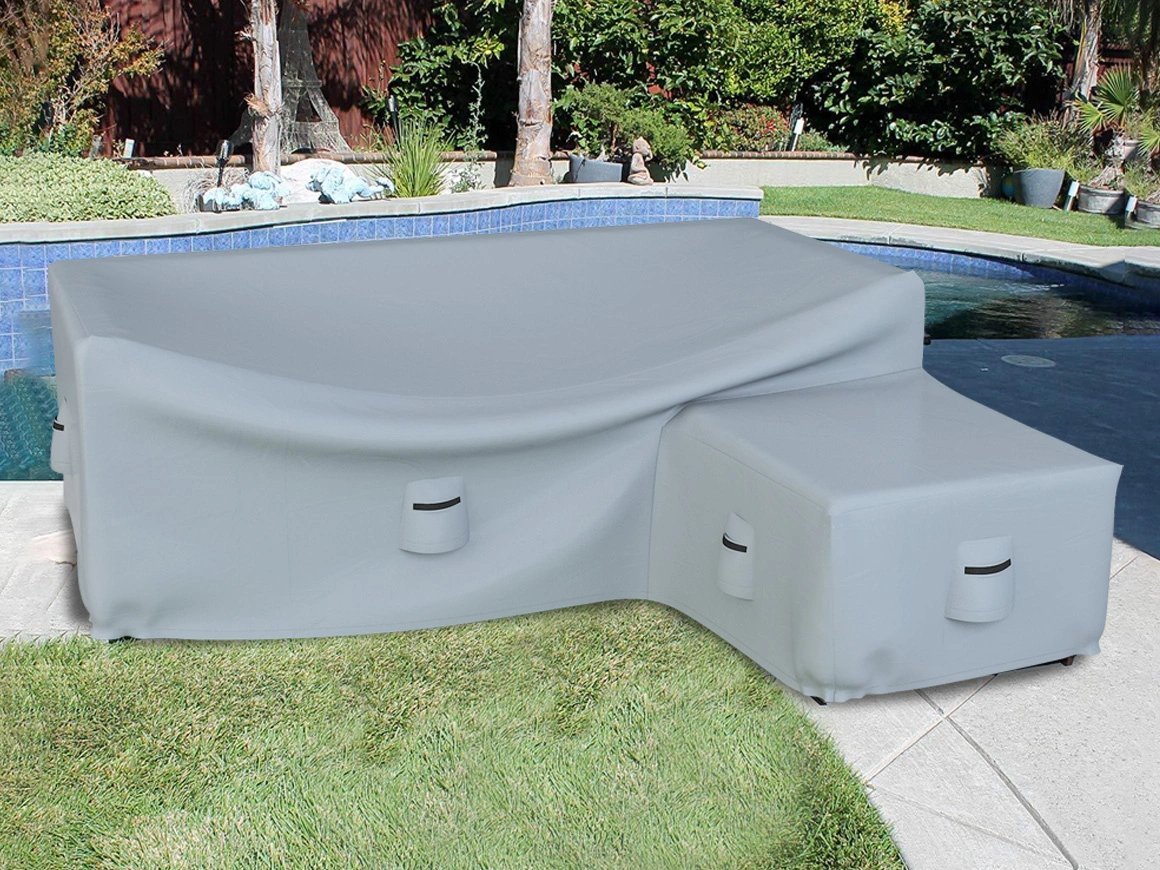 Purchase of patio couch is triggered by both functional and emotional needs. Backyards, patios, and pool areas are considered to be the comfiest lounging space in a home and the seating is the most important piece of furniture there. And to have this furniture stay as new as when you got it, it is imperative to save it from to wrath of mother nature. The best way to go about it is to pick a custom couch/sofa cover. Here's how custom sectional covers are a better choice over pre-made generic covers.
Snug Fit: It can be taxing to find l shaped couch covers or U shape couch covers that offer a snug fit. Custom patio sectional covers are made to fit the exact size and shape of your furniture, so they fit perfectly and hug every curve. A perfect fit makes sure that your sectional is completely protected from the elements and also makes your outdoor living space aesthetically better.
Personalized Design: Custom covers can be crafted to fit your needs, so you can choose the material, color, and features that work best for you. You can choose from a wide range of fabrics, colors, and patterns that will go with your outdoor decor and create a cohesive look.
Durability: Custom patio sectional covers are made with high-quality materials and construction techniques, ensuring that they are durable and long-lasting. Since you can choose quality materials that can withstand harsh weather conditions, resist fading from UV rays, and remain intact despite regular use, they will last a long time.
Savings in the Long Run: Custom patio sectional covers may cost slightly more than pre-made covers, but they can save you money in the long run by protecting your unique shaped furniture and reducing the need for costly replacements. Overall, getting a custom cover for your outdoor furniture is a smart way to protect it and keep it looking good for years to come.
Accessories for Secure Fit:
Strong winds and hail storms can cause your couch covers to tear or fly away. Covers that are constructed with reinforced seams or come with tie-downs, can help prevent tearing and other forms of damage. Tie-downs for L shape couch covers or U shape couch covers become even more necessary because of the unique shape of the sofa. To keep your l shaped outdoor couch cover in place at all times and enhance the overall appearance of your living space, pick custom grommets and tie-downs.
Secure Fit: Grommets and tie-downs make sure that the sofa cover fits well and stays in place, so it doesn't move or slide. This is especially important for outdoor furniture, where wind and other elements can cause covers to come off.
Improved Shelf-life: Custom couch covers can also last longer if they have grommets and tie-downs. They give the corners and edges of the cover extra support, which makes them last longer and have less wear and tear over time. With grommets and tie-downs, custom sofa covers to protect your furniture even more. The tie-downs help keep the cover in place so that moisture and dirt can't seep in and damage the couch surface.
Aesthetically Pleasing: Grommets and tie-downs can also improve the look of your couch, as the cover fits perfectly from all corners. They can be made to match the color and style of your furniture for an aesthetically pleasing look.
Customizable: Grommets and tie-downs can be customized to fit the specific needs of your furniture. You can opt for drawstrings, elasticized bottoms, push clips to secure legs, split zipper, air bags and any other accessories that work best for your furniture. You can also choose the size and placement of the grommets, along with the length of the tie-downs
You can create a checklist from our guide before shopping. May this help you maneuver through the process of picking the right cover that your outdoor couch deserves!