If you know you know' when summer knocks at your doorstep. The temperature raises its bar, and shade becomes indispensable to enjoy your outdoor seating with friends and family. You may or may not require a particular kind of shade, but you might need a shade that suits your geographical location, weather patterns, décor, outdoor setup, etc.
A sun shade sail is a prudent solution for outdoor space. They can make your landscape more comfortable and favorable to outdoor amusement without worrying about the sun and harsh UV rays. 
You may see multiple shade options but a sun shade sail is quite lucrative and versatile. Earlier they used to be quite voguish amongst business professionals, but seeing their versatility, we must admit that they are now every household's favorite summer backyard accessory. In short, they are a classic example of a BBQ setup, pool shade, garden shade, sheathing your brand-new furniture, and much more.
However, shade is something you don't buy every day. Therefore, it's essential to understand all important factors before buying a sun shade sail.
Planning Essentials: It's imperative to have a solid plan for a foolproof installation all season round. Question yourself if you want the shade for your entertainment, privacy, weather protection, or want to unwind in the late afternoon.
Consider your space layout and how you intend to use it. For instance, the sun's angle keeps on changing throughout the day and it's quite intense and direct at some point. Other factors that you should keep in mind are wind direction, fabric, hardware, shapes, anchor points, its usage in different seasons, etc.
Deciding the Location
Determining the correct spot to place your sun shade sail will decide your comfort level. You obviously don't want to face the direct sun or wind. The position of the sun, the size of the sail, the anchor locations you'll employ, and any impediments to your path are all important considerations.
The Angle of the Sun
Preferably, you will want to align your sail's position with the movement of the sun for optimal results. The sun rises in the east (let's assume it's on the left side of your location) and keeps on moving throughout the day until it makes it to the west (let's assume the right side). So, positioning your sunshade from left to right will maximize its effectiveness. The correct angle will determine whether your shade is in the ideal spot or not throughout the day. 
Wind Exposure
The wind poses a significant threat to your shade sail. Like the sails you see on boats, your shade can easily be propelled by the wind. In the case of extreme updraughts, the shade can drift away easily. The level of wind exposure your shade sail is subjected to will impact the material tension required during installation. Shaded areas exposed to more wind will necessitate more tension than those in protected areas.
Right Size Matters
Assess the size of the area you want to cover using a shade sail. A single shade sail may suffice for smaller areas, while larger areas may require multiple sails or an extra-large sun shade sail for optimal coverage. Keep in mind that the distance between your anchor points must be greater than the size of your sail. So, it's best to install a slightly smaller sail than the area you wish to cover.
The area size may also influence the shape of the sails you choose to install. For example, triangular shade sails work well for corners and compact spaces, whereas circular or rectangular shade sails perform best in large spaces with no interference from overhead structures.
Determine the Anchor Points
Determining strong anchor points is equally important as a sturdy shade sail. The right anchor points can impact your sail's placement and performance during poor weather. Since the sail itself carries some weight, it is crucial to have strong anchor points. From an exterior wall to a steel pole or even a mature tree can work as anchor points.
However, if your area lacks readily accessible natural anchor points. You will need to prepare for the installation of reinforced steel posts to prevent the sail from being blown away or falling on you and your visitors.
Time of Use
Before installing a shade sail in your yard, it is important to consider the time of day when you will use the shade structure the most. Since the position of the sun changes throughout the day as the Earth rotates, this can impact the amount of shade the sail provides.
To ensure optimal protection, determine the sun's position in the sky during your anticipated outdoor activities and position the shade sail accordingly.
Choosing the Best Sun Shade Sail
Now that you have considered all the essential factors such as location, sun direction, etc., you know what kind of properties to choose for your sun shade. Beginning with fabric, there are multiple fabrics available nowadays with excellent properties such as waterproof, UV resistance, tear, and abrasion resistance, and durability. All these factors are equally important when choosing the best sun shade sail fabric.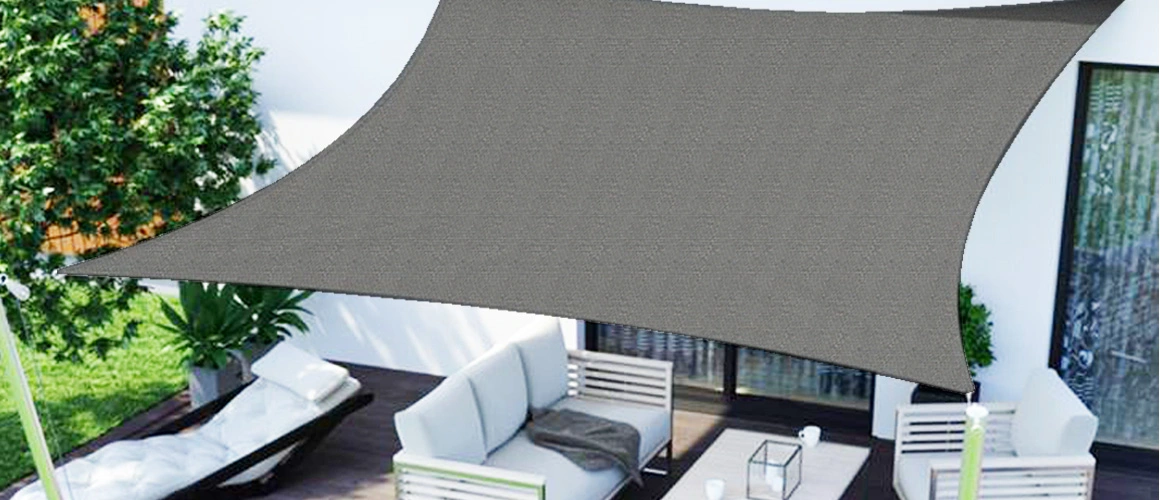 Weather-Specific Shade Sails: Suppose you live in moderate weather conditions, then a sail specifically designed for moderate weather will be perfect and if you live in unpredictable and inclement weather conditions, you can go with a shade made to brave harsh weather patterns.
Various Colors, Shapes & Configurations: Upon fabric selection, comes colors, patterns, shapes, sizes, costing, and warranty coverage.
Colors: Colors and patterns instantly accentuate the décor. Pro Tip: Choose a lighter color sail to block max. UV rays. 
Shape: Shapes are great contributors to sprucing up your décor theme. The most common shapes are sun shade sail rectangles, square sun shade sails, and sun shade sail triangles. 
Size: If your sizing requirements are unique then you look for a custom sun shade sail for a precise fitting.
Warranty: Don't forget to consider a min warranty coverage of up to 6 months for your peace of mind.
Should You Use Single or Multiple Shade Sails?
A shade sail surely is a great alternative to a basic shade structure you can look for. With geometric shapes, these ergonomic shade sails look nothing less than state-of-the-art. They are easy to set up and quite multi-faceted. For compact spaces, you can use a single-shade sail. Going forward you can add more sails with different shapes to have a playful décor. For example, for corners, you can use a triangle-shaped shade sail or a rectangular waterproof sun shade sail, while for the center go with round, hexagonal, etc
A Waterproof or a Regular Shade Sail?
Standard sunshade sails are permeable that let the water run straight through. But if it is UV resistant, at least you can enjoy it during soaring heat. The only drawback you will find is you won't get protection from rain, or dust storms. If you don't mind rain or dust running into your patio, a standard sun shade sail for patio will be an ideal choice.
A waterproof sun shade sail has some obvious advantages, that cannot go amiss. First, they keep water elements at bay. Second, if they are UV resistant as well, voila, you have a match made in heaven.