While you're planning to make your household more convenient, it's important to keep our animal companions in mind. It's essential to keep your pet happy, but can take a lot of time and effort in your already busy schedule. To take the hassle out, here's a guide to streamlining your pet care tasks.
Create Pet Storage Station
The items you keep for your pet can easily turn into clutter. For an organized, easy to access set of pet supplies, start by establishing a pet station in your home. Designate a specific area for storage. Then, set aside a cabinet for all your pet-related items in one easily accessible spot.
To maximize the space, outfit the area with hooks, baskets, and bins for extra storage. If you're worried about your pet's cabinet turning into an eyesore, try covering the cabinet with custom covers to turn this functional station into a piece of decor.
Donate Unused Supplies
The key to an organized pet storage station is keeping exactly what you need. First, clear the clutter by throwing away expired food, broken toys or worn out bedding, and store useful, but rarely used, articles safely away in storage bags. So your overstock doesn't go to waste, consider donating unused or gently used articles to your local animal shelter.
Here's some prime candidates for donation:
Unopened food and treats
Leashes and harnesses that no longer fit/ duplicates.
Toys your pet didn't truly love.
Extra blankets, crates, and carriers.
Grooming tools.
Add A Food Storage Container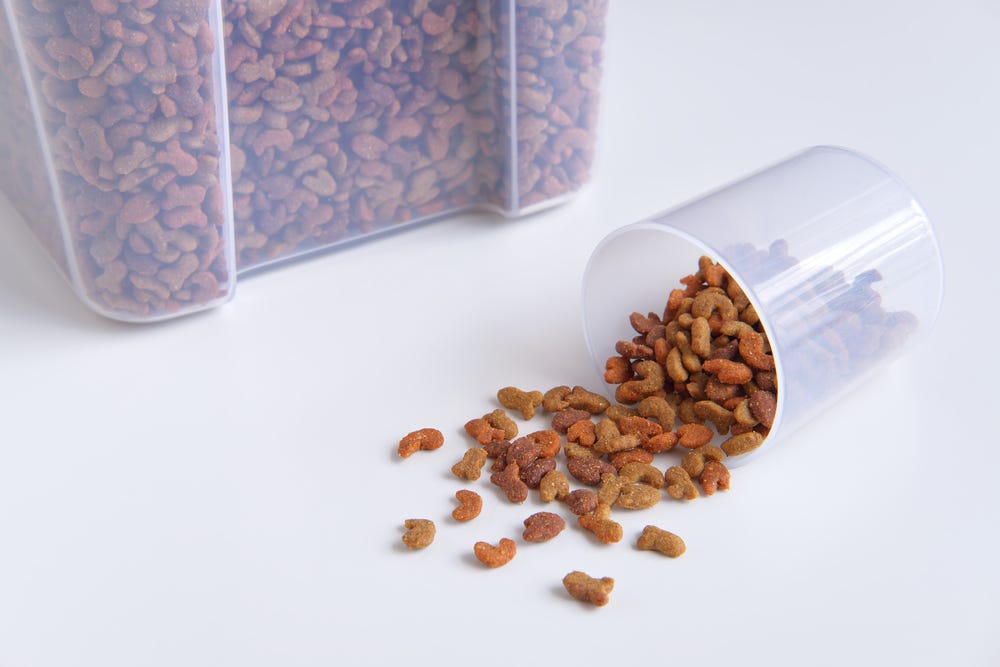 Bags of pet food are a quick recipe for disaster. Instead, keep your pet food in glass jars or food-grade plastic containers with an airtight seal. Whatever you choose, make sure your container is airtight to keep your pet's food fresh and away from pests like rodents and ants. Remember to label the jars for easy access and better identification of pet treats.
Incorporate A Built In Feeding Station
Tired of continuously laying out and picking up your pet's dishes? Invest in a built-in feeding station. Built in feeding stations place your pet's dishes directly into a bottom cabinet or drawer. Just open the door, or slide out the drawer, when it's feeding time and add the food you need.
PRO TIP: To further centralize the process, add your built in to your pre-existing Pet Storage Station to give your fluffy family members one central place for all their needs.
Create a Walk Station
The entrance of your home seems the best spot to house all the necessary items you might need to grab and go while heading for a walk with your pet. It's best to keep all your gear on one set of hooks near the door.
To further build out your walk station, place a set of baskets under a storage bench, and keep it all covered with a perfect custom cover. While hooks are convenient to peg harnesses and leashes, baskets help hold poop bags, sweaters, rain boots and other hard to hang items in reach.
Make a Toy Basket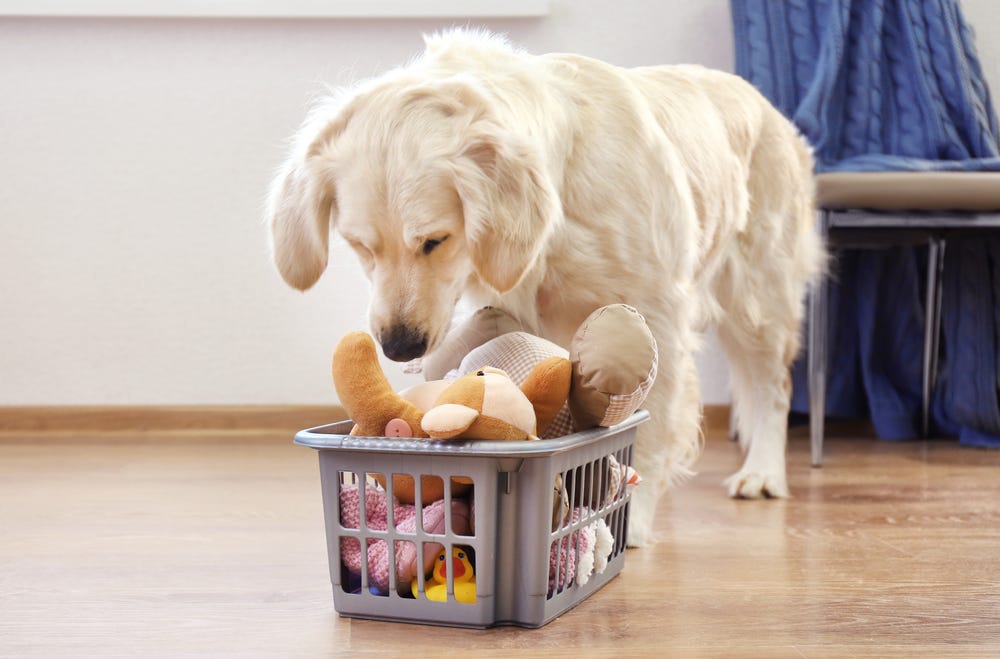 If your pet loves to play in the yard, designate a dry spot in your garage to stow items like frisbees, balls, and water dishes. For cats, this can easily be translated into a basket near a scratching post in the living room. Keeping your pet's toys near the areas you traffic encourages companionship and promotes daily play.
When picking a toy basket, select one with pre-installed toy storage compartments, so your pet doesn't scatter all their toys looking for their favorites. Remember to wash toys occasionally to ensure bacteria and rot don't take over their ragdolls.
A Couture Caddy for Grooming
No matter where you groom your pet, it can be difficult to transport all the necessary tools around the house all at once. But with a cute caddy or tote, you can conveniently corral all the basic grooming essentials in one place. With a caddy, you can conveniently groom your pet with outdoor baths, indoor showers, and even vacation cleanings.
Place Pet Beds Properly
If you're gonna invest in a nice bed for your furry friend, remember to put it in a place that keeps you and your pet happy. Don't place pet beds in heavy traffic zones, and choose an area where your pet likes to gravitate towards.
Areas such as the laundry room or close to the kitchen are perfect for housing your furry pal. For a truly luxurious space for your companion, tuck your pet bed under a shelf or in a small nook, providing a peaceful place to sleep happily.
In case your wandering friend knocks over a dish or decides to relieve themselves, remember to lay waterproof custom tarps under your pet bed to keep stains and spills off the floor. And don't forget to make the bedding extra cozy for your pooch by including warm blankets and cushy pillows!
Keep an Animal First Aid Kit Ready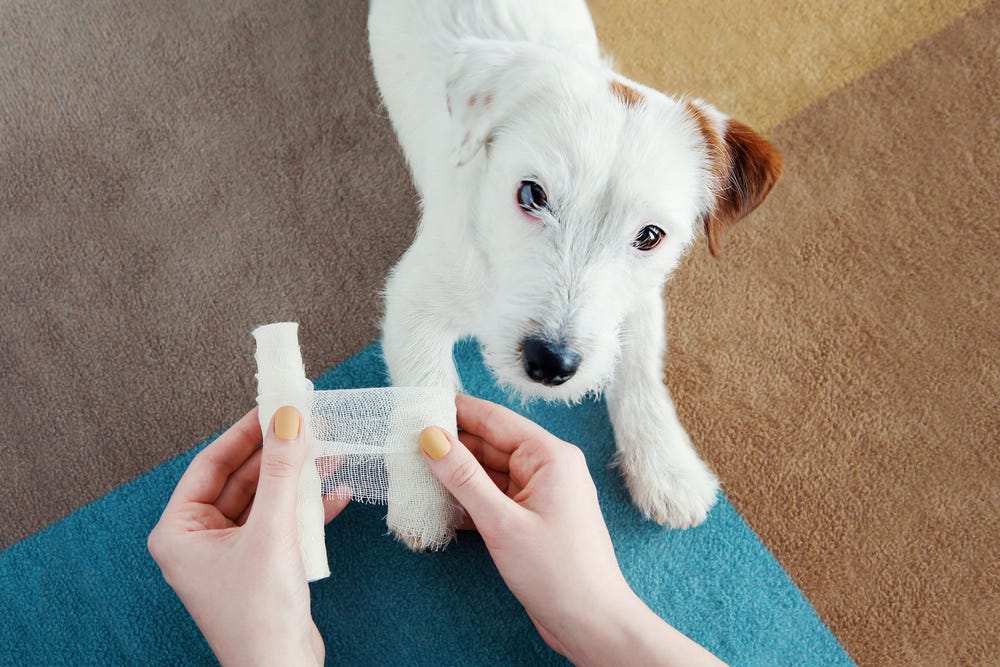 For times when your vet is out of reach, keep an animal first-aid kit handy for immediate medical assistance. Having a kit at hand is useful in treating numerous issues such as removing ticks, rinsing debris from the eyes, and treating scrapes.
Nevertheless, a kit should not replace vet care when needed. Make sure to save the number to your local emergency vet.
Maintain a Pet Binder
From medical records to vet's emergency numbers to insurance policies, pets can come with an array of paperwork you need to keep a track of. To keep all this info easy to access, create a pet binder to store all the necessary records in one place. Remember to label the binder and keep it safe so it's accessible when you most need it.