Your lifestyle investments may become a burden on your pocket if they are left exposed to the elements. You can go through the reviews of the website and understand the choices available to make an informed decision about buying the right type of outdoor furniture covers for your patio.
Review the Website and Follow the Cover Up

The website is a goldmine of information that brings forth a delightful customer experience. There are several aspects that you can consider before making a purchase.
Broken Gateways and Navigation Roadblocks: The buying experience of patio furniture covers should be seamless without trapping you in bad gateways and unclickable links. Steer away from websites that have a faulty wireframe and make purchasing a hassle.
Negative Reviews & Reputation: The company that hopes to gain a name for itself will try to maintain its reputation by addressing negative reviews if there are any. Look for testimonies and reviews of genuine customers to determine the reputation of fulfilling promises.
A leading e-commerce website for custom patio furniture covers would be the right choice. They would extend the warranty on their product and facilitate a smooth buying experience for their customers. They would provide a 24/7 support system to address queries with specific timelines for resolutions.
Size Should be Right
Dimensions play an important role in patio furniture covers. An ill-fitting cover would leave your furniture vulnerable to damage from the elements such as rain, snow, sun, and wind.  
Many brands extend the option of customization. This is a superb technique to get a snug-fit outdoor patio furniture cover for your office or home. A measuring guide would be helpful to understand how you can take the dimensions for your outdoor furniture.
Customization in size is a popular technique that allows you to perfectly cover the furniture according to its shape and dimension. However, customers might face challenges if they don't have a measuring guide or a customer support person to help them.
You should look for a brand that makes it effortless for you to customize the size by providing an essential guidebook or PDF for reference. They should also have 24/7 customer support to help you gain a better understanding of customization.
Covers Keep the Mighty Weather at Bay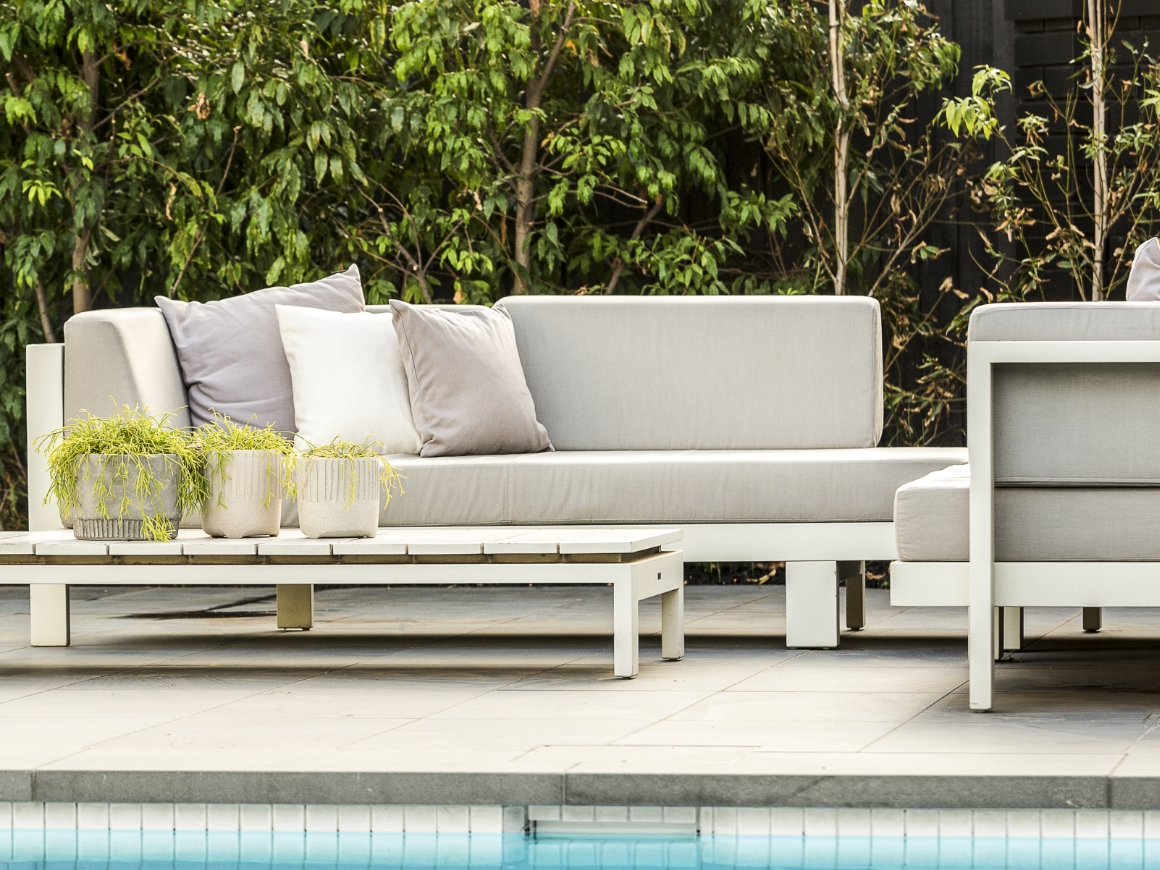 Variations in weather can make it impossible to use your patio area judiciously. The weather could be rainy one day and turn sunny the next day. This may damage your furniture irrevocably causing you a huge loss of investment. You should look for the following features before purchasing custom outdoor furniture covers.
Waterproof outdoor furniture covers: Moisture permeation can be detrimental to your furniture and covers. We recommend using waterproof covers that will inhibit moisture infiltration and prevent the growth of mold and mildew. It will also keep your furniture ready for use at any time thus making the outdoor area usable when the rain stops.
UV Resistance: The glaring sun will not just make you close your eyes; it will also lead to the discoloration of your furniture or covers. You can use UV-resistant covers that will preserve the colors and make your covers always look factory-fresh.
Tear and Abrasion Resistance: A sharp object may collide with your heavy-duty patio furniture covers rendering them useless. Any wear and tear can impair the cover's quality and expose your furniture to the elements. A viable option would be buying a tear and abrasion-resistant cover that will protect it from scratches, scuffs, external impairments, frays, and ruptures.
Dust & Dirt Protection: The best outdoor furniture covers will keep dust and dirt away from your furniture. They will shield your patio furniture from unpleasant bird droppings, debris, etc. This helps reduce the upkeep charges as the furniture remains unharmed from damage.
Uncover the Story Behind the Fabric
The outdoor furniture protectors come in various fabric options. You could choose PVC polyester fabric as outdoor lifestyle covers or you could opt for vinyl fabric to keep the water at bay. Choose the fabric according to the weather conditions and exposure: 
Location: The geographical location of the furniture plays an eminent role in deciding the fabric. For example: In Las Vegas, Nevada, individuals are likely to prioritize safeguarding their outdoor furniture against extreme weather conditions such as heat, snow, rain, wind, dust, and sun exposure. However, the most critical concerns in this area are the potential damage caused by intense sunlight and dust. A highly UV-resistant fabric should be considered for this region.
Affordability: The cost of the fabric can make a huge impact on your buying decision. For example, cotton canvas would be more expensive as compared to polyester fabric. A breathable canvas allows air to circulate preventing decay while polyester may not be as breathable as canvas fabric. The difference in cost may be a determining factor in what you end up buying.
Weight and Flexibility: The fabric weight may be such that it may require more manpower for hauling and installation. You could opt for lightweight fabric with approx. weight of 7 oz or 8 oz. A heavyweight fabric would weigh about 16 oz to 18 oz. The flexibility of the covers may also be a determining factor. You may need flexible outdoor chair covers that fit snugly onto the chair rather than a rigid one.  
Tie-Downs are Mightier than the Sword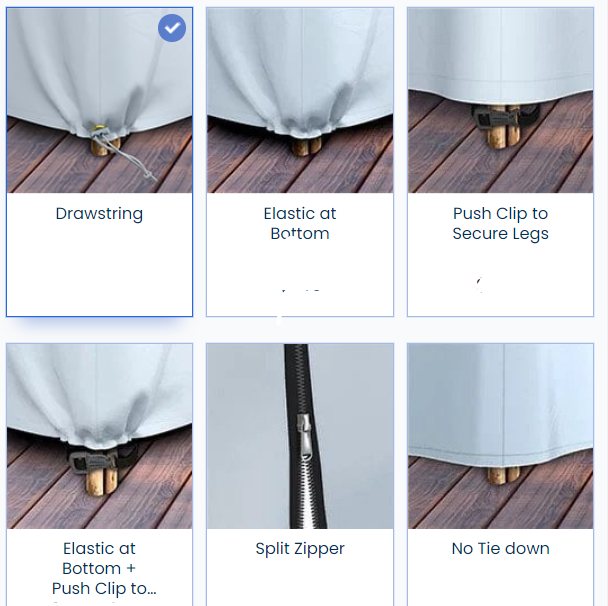 You may have heard of the pen being mightier than the sword, but tie-downs are no less. They add stability to the covers lest they turn into balloons during windy days. There are several tie-down options available to you:
Elastic at the bottom: For outdoor table covers, you could opt for elastic at the bottom. It would allow you to place the covers on the table and they would automatically fit snugly onto the legs.  
Drawstrings: The drawstrings allow you to manipulate elasticity so that the covers lock in place according to the tightness you intend for them.  
Push Clips at the Bottom: If you need a lock mechanism to keep the covers glued to your furniture, you should opt for a push clip.  
Split Zipper: A sturdy zipper on your cushion or pillow covers is the right choice to keep the pillows intact. Your zipper gives easy accessibility to the cushions inside the cover. A concealed zipper would be the best choice for aesthetical appeal.  
Using outdoor furniture covers can be the ultimate solution for protecting your furniture. These covers are no longer just industrial-style covers but come with a choice of personalization. This means you imprint a logo or design of your choice onto the cover. Combine the power of style and protection with custom covers.